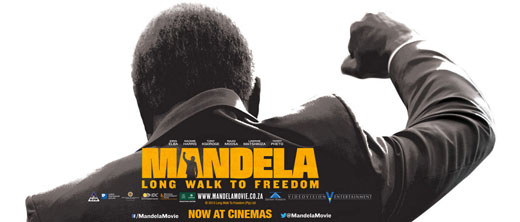 Mandela: Long Walk to Freedom, directed by Justin Chadwick and starring an inspiring Idris Elba in the title role, is visually stunning, unfolding professionally within a familiar bio-pic template. In an era of insanely budgeted big studio monstrosities, Mandela is a must for serious filmgoers, a useful complement to all the commentary surrounding the recent death of Nelson Mandela.
Based on Mandela's autobiography, the film traces his origins in the Xhosa tribe – Rolihlahla, his name in his native language, means "troublemaker" – and spans seven decades, ending with his becoming president of South Africa in 1994.
William Nicholson's screenplay examines both sides of the Great Man vs. the Movement of History debate. The heroic figure of Nelson Mandela in the film is an idealized version of an intensely dedicated but thoroughly human individual. The film does not skimp on details of Mandela's early struggles to contain his urges and emotions. These incidents provide counterpoint to Mandela's later development as a master strategist in imperfect but ultimate control of his feelings and thoughts in the all-out fight against apartheid.
Madiba, the clan name by which Mandela was popularly known in South Africa, is shown as a young lawyer, married to his first wife. But he is nearly overwhelmed by the stress of representing black clients seeking impossible justice in a system utterly stacked in favor of the white minority. His frequenting of bars and "entertaining" female acquaintances put a fatal strain on his marriage, and separate him from his two young children. Cleverly using Afrikaner prejudice to his advantage in court, Mandela has a case dismissed for a client working as a domestic who is accused of stealing from her white housewife employer – a harbinger of the tactics he successfully utilizes later in the anti-apartheid struggle to turn the opposition's fear and hatred on their head to advance the movement. We witness the undisguised contempt with which Mandela is treated, as a black man in an otherwise white courthouse.
Ever more radicalized by life experiences, Mandela is approached several times by activist members of the African National Congress to join the cause, and in 1942 he becomes a member. The ANC's young leadership pushes the organization to adopt boycotts, strikes, and civil disobedience as vehicles for social change. The brotherly bond Mandela shares with these comrades is a focus of the film, revisited often at significant junctures over the decades.
At the scene of the 1957 Johannesburg bus boycott, Mandela's commitment to the struggle is pointedly portrayed: His choice between domestic family life and direct involvement in the events of the day is made (possibly for dramatic effect) at that very moment. Incidentally, that boycott occurred roughly two years after Rosa Parks' refusal to give up her seat on a Montgomery, Ala., city bus. The struggles against U.S. Jim Crow and South African apartheid reveal numerous instances of mutual inspiration. History in that anti-colonial era was definitely on the move, and Nelson Mandela stood in the front lines in his country.
The infamous 1960 Sharpeville massacre showed the regime responding to democratic demands with violent fury. It also showed to the ANC, which had up to that point embraced nonviolent protest, the necessity to adopt armed struggle in the form of sabotage and guerrilla tactics.
As a consequence of his anti-apartheid activities, Mandela becomes a fugitive from "justice," hiding out in rural safe houses until captured. He and other members of the ANC leadership are sentenced to life imprisonment and are taken to Robben Island en masse to serve their time. The courtroom scene, with ANC supporters' raised fists and freedom songs and chants in the air, is a high point of the film. Mandela's association with the South African Communist Party goes unmentioned here, perhaps a mandated omission for the sake of commercial distribution.
An active storyline involves Mandela's complicated relationship with his second wife, Winnie (the gifted Naomie Harris). Isolated though he was from the outside world during his long imprisonment, Mandela's skills as a leader ever searching for greater unity continue to emerge, even as Winnie is profoundly impacted by life on the ground in the stewing tumult that was South Africa.
The global outpouring of appreciation for Madiba's life can be explained by his unique position at the fulcrum of South African history. Change had to come one way or another, but only this one Great Man could have channeled it toward a resolution in relative peace, with reconciliation and respect for law. His work will long serve as required study for activists for change.
Movie information:
Mandela: Long Walk to Freedom
Directed by Justin Chadwick
Starring Idris Elba, Naomie Harris
2013, UK/South Africa
PG-13, 139 min.
Photo: Mandela film website