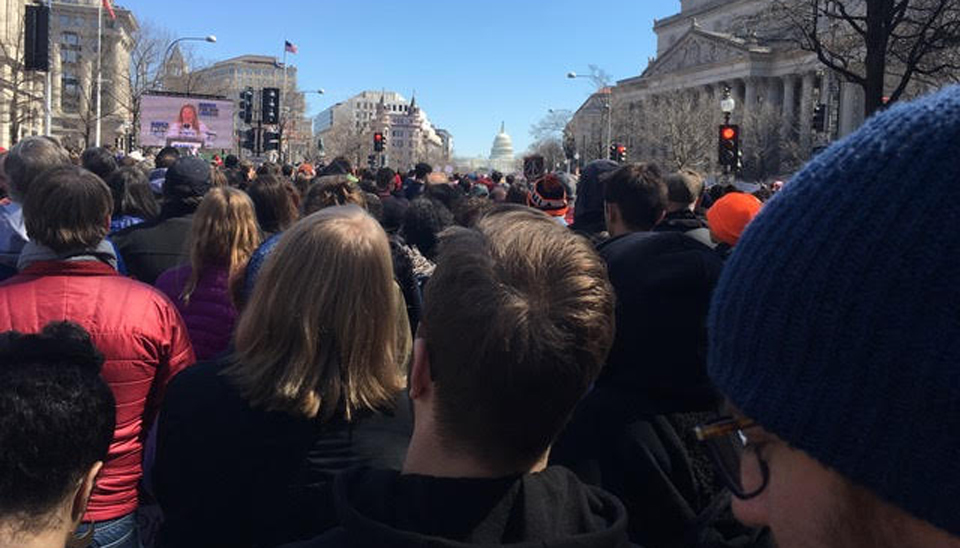 People's World received the following correspondence from a reader in Philadelphia discussing his family's experience at and impressions of the March for Our Lives last weekend.
Even though Philly had its own event, my sons, Taylor and Evan, and I were in Washington, D.C. Saturday for the March for Our Lives. With too many people to permit a real march, we stood for three hours on Pennsylvania Ave., midway between the Capitol and the White House, for a riveting rally led entirely by young people.
The oldest of 20+ speakers was 19 years old. The youngest was 9…the granddaughter of Martin Luther King Jr.  I don't remember shedding so many tears at a rally before. On the one hand was the reality that the leadership of our country has been ignoring a nightmare of gun violence and the daily trauma caused by it in the name of a Constitutional Amendment passed when muskets were the weaponry of the day, at the behest of well-funded NRA.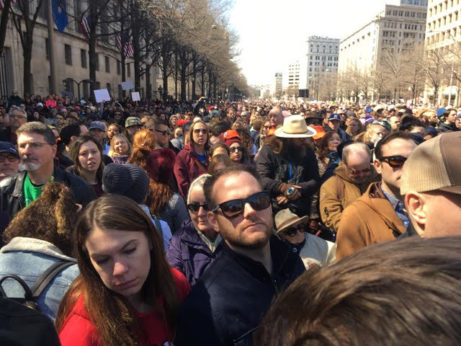 On the other hand was the hopeful spirit of so many people and so many smart, determined young people who just kept urging us on, understanding that our hope is in the voting booth. The most-heard chants: "Vote them Out!" and "Register! Vote!"
Especially encouraging was the recognition by those from Stoneman Douglas High School that they are being heard because they are relatively affluent and have access to sources of media that others who have for years experienced their own personal hells of violence do not. (And their eloquence may cause the likes of Betsy DeVos to shiver a bit, as proof that well-funded public schools actually produce thinking, smart students!)
The presence of students from Chicago, Brooklyn, Baltimore—not scenes of school shootings, but daily shootings on their streets—with the Douglas students was powerful. We have all had enough. The heart aching stories of daily traumas of families destroyed by gun violence, so common now they are barely reported, should no longer be part of this country's narrative.
The demands were straightforward and clear: Assault weapons are for armies, not our citizens. Get the NRA out of politics. Keep all weapons out of the hands of those who can't pass rigorous background checks. 70 percent of the country agrees. Our government is not representing us and the messages of those who attempt to belittle these voices will be repelled by all of us.
It was a moving day. I know we all hope it will finally be the beginning of the end of the stranglehold by the well-funded radical fringe on our politics that justifies even more guns rather than healthy and happy lives for our citizens through well-funded schools, housing, health care, and social services. Perhaps the majority of the sane will finally overcome the insanity of the controlling minority.
Dennis Barnebey
Philadelphia