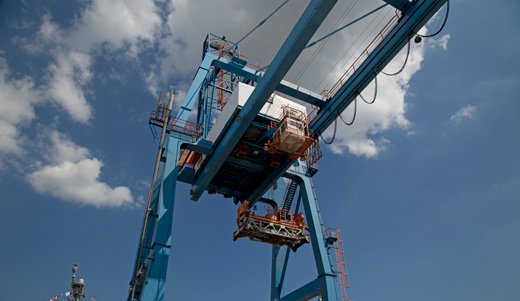 PINEY POINT, Md. (PAI) — Maritime unions and the U.S. industry joined forces to try to reverse a last-minute provision inserted in the new highway-mass transit law that threatens at least 2,000 U.S. seafarers' jobs while decimating the domestic cargo fleet.
The provision axes U.S. payments to U.S.-flag ships to carry Food for Peace aid abroad.
Without them, cheap non-union foreign shippers would bid and get the work.
One estimate puts the "savings" by axing the pro-U.S. law at $15 million.
Now the unions and maritime companies are meeting with bipartisan leaders from both houses of Congress to try to undo the damage, said Dan Duncan, Secretary-Treasurer of the AFL-CIO Maritime Trades Department.
"We don't know who put this in or where it came from," Duncan said of the section that dumped what's called "cargo preference," which mandates using only U.S. mariners and U.S.-flag ships to transport U.S. food aid worldwide. "But the unions and the industry are meeting with the leadership to find a way to restore it."
USA Maritime, a joint union-industry group, says that including mariners, farmers, shippers and inland transportation firms that get the food to U.S. ports, the U.S. food foreign aid shipments support 33,000 jobs and $523 million in household earnings. The AFL-CIO Maritime Trades Department also points out that keeping U.S.-flag ships afloat makes them available to transporting troops and supplies when needed for combat.
Photo: Port of Baltimore crane for loading cargo on to ships. CC BY 2.0