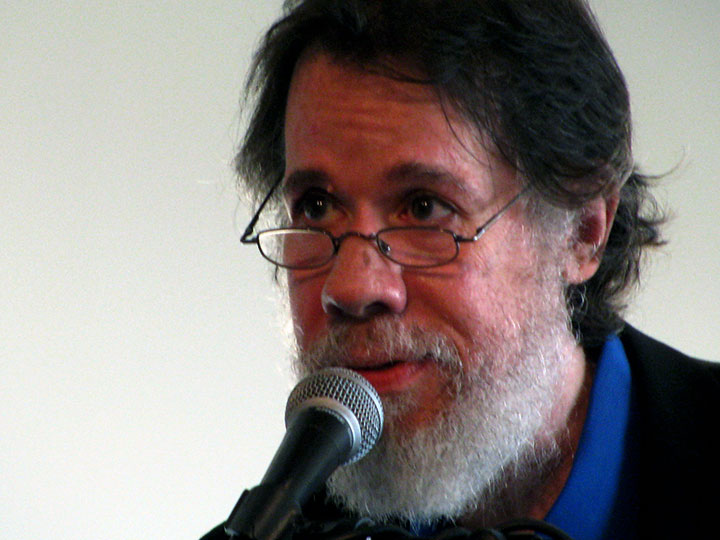 Raised in Brooklyn in a housing project in a community with strong ties to Puerto Rico and its histories of political resistance, Martín Espada is now recognized as a major poet of his generation. But unlike others who come out of a working-class background and then write about it as something they were able to "overcome," Espada has stubbornly insisted on writing from, for, and with the communities he grew up in. That is the great strength of his work.
Espada writes about the sorts of people and experiences that don't usually show up in poetry, except perhaps as colorful background to show that the poet has been "down and out" at some earlier point. Like fellow Brooklyn poet Walt Whitman, he celebrates the everyday heroism of working people.
In "The Janitor's Garden," we learn of Felix Rodriguez, who has cleaned the same office building in New York for half a century. Unlike the executives who notice his work only if it isn't done, Espada does the math: sixty floors, mopped and waxed every night, five nights a week, fifty weeks a year, for forty-five years: 675,000 floors gleaming.
In the many other poems about the dignity of work – especially the work still most often done by immigrants and people of color, whether washing floors, picking produce, stacking legal pads, waiting tables, driving cabs, or "bouncing" unruly bar customers – Espada combines humor, compassion, and a deep sense of outrage at the lack of respect these people often endure.
This outrage is expressed in ingenious ways. In one very short poem about his anxiety over Latino immigrants, "Governor Wilson of California Talks in His Sleep," in Imagine the Angels of Bread, we imagine a year in which justice finally comes for those to whom it is usually denied:
This is the year that squatters
evict landlords …
this is the year
that shawled refugees deport
judges …
This is the year that those
who swim the border's undertow
and shiver in boxcars
are greeted with
trumpets and drums
at the first railroad crossing
on the other side.
While Espada's gaze is fixed firmly on the injustices of the present, he is careful to link them with past struggles for justice. He writes about the Abraham Lincoln Brigade and the solidarity of workers who put aside their tools to fight for their class in Spain:
… across the earth, thousands
laid hammers
in toolboxes, holstered drills, promised letters home,
and crowded onto ships for Spain …
The handle of the hammer
became the stock of the rifle.
("The Carpenter Swam
to Spain")
There are poems about Sacco and Vanzetti and Chilean singer Victor Jara, murdered by Pinochet; in another, Chilean Communist poet Pablo Neruda is imagined at a New York Yankees game, unable to restrain himself from loudly reciting poems in praise of the players from the stands.
But even when remembering past political struggles, Espada dwells most often on those who died without leaving behind a famous name. In "All the People Who are Now Red Trees," he sees a red maple leaf, which reminds him of the red flamboyan flower, which reminds him of two poets jailed for supporting Puerto Rican independence and then of "a war in Spain / and nameless laborers / marching with broken rifles." The red then moves into the present: "I think of union organizers / in graves without headstones, / feeding the roots / of red trees." The red leaves become "red wreaths in the treetops to remember, / … all the people who are now red trees."
Espada has written a long poem in praise of the 43 members of Hotel Employees and Restaurant Employees (HERE) Local 100 who died while working in the Windows on the World Restaurant on Sept. 11 – in heaven, these men and women teach the souls of those who then died just as needlessly in Afghanistan to dance. The poem will be included in a collection to be published next year.
Martín Espada has published five books of poetry and a collection of essays (Zapata's Disciple); he has also edited a fine collection of translations of political poetry by Latino and other poets, Poetry Like Bread: Poets of the Political Imagination. All are available in paperback and at most libraries.
During the darkest days of Nazism, Bertolt Brecht wrote a poem in which he asks, "In the dark times, will there still be singing?" The response? "Yes … there will be singing about dark times." Martín Espada sings during these dark times, and dances, too. He's someone you want to read.