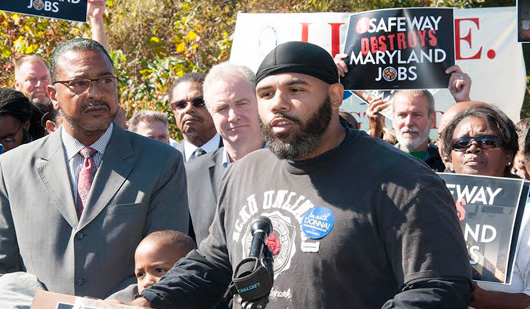 UPPER MARLBORO, MD. – "This is an example of corporate greed," said Rep. Chris Van Hollen, D.-Md, at a rally here in support of some 900 Safeway supermarket employees who have been notified they will lose their jobs a few days before Christmas.
The employees are warehouse workers and truck drivers employed at the chain's distribution center located here in Upper Marlboro, the county seat of Prince George's county, a majority African American jurisdiction..
The Safeway supermarket chain is one of the largest in the mid-Atlantic region. Even though the distribution center has been generating an estimated profit of $100 million a year, the corporation plans to shut it down and move to Pennsylvania.
At the rally, Prince George's County Executive Baker said that for years Safeway has been receiving tax concessions and other incentives to remain, but without warning or discussion it announced it is pulling up stakes, "leaving high and dry the men and women who made the company a success.
"This is totally unacceptable. This is nothing but corporate greed."
Rep. Donna Edwards, D.-Md., echoed the remarks of Van Hollen and Baker, as did former Maryland Lt. Governor Anthony Brown, several state delegates and senators and several members of the Prince George's County council, including the chairperson.
State Delegate Jimmy Tarlau said, "This is a perfect example of the redistribution of wealth – from workers to the corporate class."
Rob Washington, one of the workers who received a layoff notice, said, "I've dedicated myself to this business for over a decade. When I was hired, I was assured there was a future here for me. I work hard; we all do."
Washington pointed to his young son, standing beside him. "Now I have to figure out how to feed my child, how to support him," he said.
"We built a strong union here," Washington continued, "The company is moving out to get rid of it." The workers are members of Teamsters Locals 639 and 730.
Along with officers of the Teamsters locals, also attending the rally were representatives of the Operating Engineers, the Service Employees International Union and Local 400 of the United Food and Commercial Workers.
"Here in Maryland, labor is united," said Richie Brooks," president of Teamsters Local 730.
"When you mess with one of us, you mess with us all."
Photo: Larry Rubin/PW