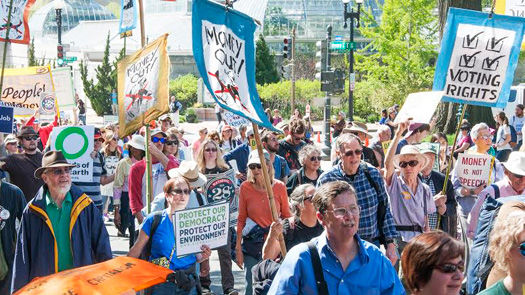 WASHINGTON – Determined to start building a mass movement for democracy, this week people came here from every state in the union and every walk of life. They staged sit-ins, held teach-ins, gathered in rallies and marched to the Capitol. Some had marched here from Philadelphia at the beginning of the week.
They're angry that our democratic system is being undermined by voter suppression laws and the legalized ability of billionaires to control American politics.
But, as Wenonah Hauter, executive director of Food and Water Watch, said "… a mass movement can build the political power necessary for taking back our democracy and ousting the plutocrats who've stolen it."
Hauter spoke at a rally preceding the march to the Capitol. Other speakers included Cornell Brooks, president of the NAACP; Rev. William Barber, head of the North Carolina Moral Monday movement; Delores Huerta, civil rights leader and Robert Weissman, president of Public Citizen.
Several union leaders also spoke, including Tefere Gebre, executive vice president of the AFL-CIO. He told the crowd that "the AFL-CIO is proud to be part of this Democracy Awakening. The unions of the AFL-CIO are committed to broadening our democracy; to having the voices and votes of working people heard. That's why we will continue to fight the corrupting influence of corporate cash."
Aaron Mair, Sierra Club president, said, "When our democracy is not working, it is our most vulnerable communities that bear the brunt of dysfunction. Low-income communities and communities of color that already face disproportionate impacts from pollution also face disproportionate disenfranchisement from assaults on voting rights.
"To protect our environment, we must protect our democracy."
At the rally, speaker after speaker called on the Senate to hold hearings to fill the Supreme Court vacancy created by the death of Anthony Scalia.
After the rally, participants marched to the Capitol building to dramatize their call for "Congress to stand up for democracy."
They then continued the march to a nearby park and held a faith rally.
Rabbi Mordechai Liebling and Rev. William Lamar retold the parable of the "Golden Calf" to illustrate how "idolatry of money" in the U.S. is stifling our democracy.
Sit-ins, teach-ins
Saturday, some of the nation's leading experts on voter suppression laws and the effects of money in politics participated in "teach-ins."
Ari Berman, author of Give Us the Ballot: The Modern Struggle for Voting Rights in America, pointed out that "in the 22 presidential debates, not once has the erosion of voting rights been discussed.
"Yet," Berman continued, "there have been some 180 new voting restrictions adopted by 41 states in the past two or three years. These include ending early voting, disenfranchising ex-felons, and requiring sometimes hard-to-get IDs.
"The whole purpose of these restrictions is to make voters older and whiter, to stop the fastest growing demographic groups from voting."
Derek Cressman, author of When Money Talks, concluded a teach-in by urging the crowd not to be afraid of being arrested to fight for democracy. "It's not scary," he said, "it can be fun."
Throughout the week, some 650 people were arrested for siting on the steps of the Capitol building and in the rotunda to dramatize their demand that Congress pass four bills that would create a public campaign financing system, put in place strong voting rights protections and overturn the Supreme Court's decision in the Citizens United case that allows corporations to spend unlimited sums in elections.
Many of those arrested said the experience helped them gain understanding and to become better equipped to nurture the growth of a new movement.
Throughout the week, the Ben and Jerry's ice cream company gave out free ice cream.
Overall, all week the mood was more festive than angry because people from a wide range of organizations gave each other hope by pledging to work together over the long haul.
More than 300 groups began to work together to forge strategies aimed at protecting democracy. These include student, civil rights, environmental and peace groups; also unions and organizations advocating for LGBTQ rights and for the right of women to control their own health care.
The groups have formed two closely allied coalitions: Democracy Spring and Democracy Awakening.
The week-long mobilization is scheduled to end Monday, April 18, with a large demonstration including civil disobedience. Union leaders and heads of Democracy Spring and Democracy Awakening organizations have pledged to participate.
"Now that we've woken up, we're going to stay awake," says Cornell William Brooks, NAACP president.
"This is just the beginning," adds Robert Weissman, president of Public Citizen. "We're going to reach out to working people. We're going to say: 'you're right to be angry about low wages, no job security and poor healthcare. But many of you are looking in the wrong places for solutions.'
"Join our movement to take back the government. This is our country … our time."
Photo: Larry Rubin/PW