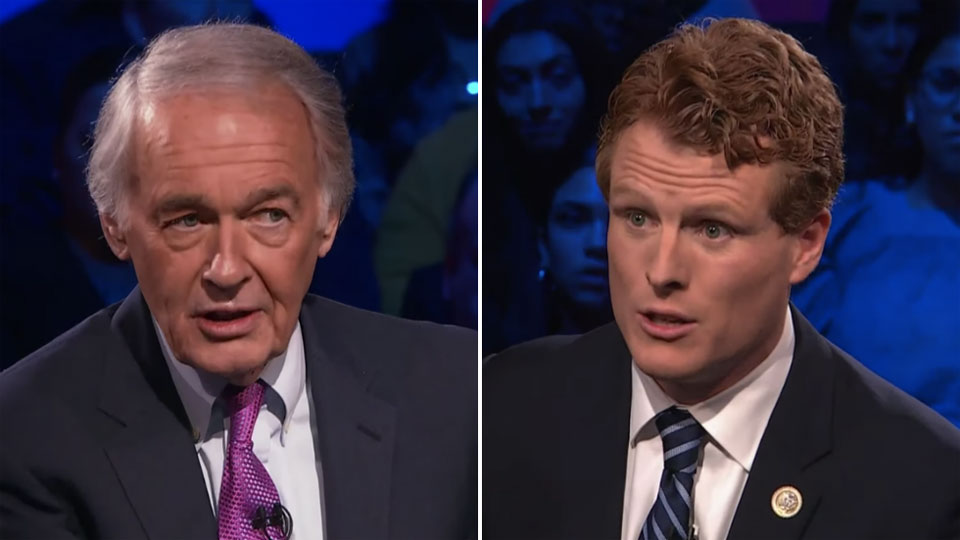 BOSTON—The Sept. 1 Democratic congressional primaries in Massachusetts feature what may be the last two rounds pitting progressives against challengers around the country—but with a twist.
In one race, the progressive is the incumbent, Sen. Ed Markey. The challenger, Rep. Joe Kennedy III, claims it's time for a new generation of politicians in the Bay State, who Markey says is no progressive. Kennedy retorts he'll fight for those left behind and that establishment politics doesn't work anymore. "The old insider system won't solve our problems," he declares.
In the other contest, in western and south central Massachusetts' First Congressional District, the progressive is the challenger, Holyoke Mayor Alex Morse, 31. The incumbent, 15-term Rep. Richard Neal, chairs the powerful House Ways and Means Committee, which handles health care, Social Security, Medicare, tax and trade legislation, all issues vital to workers. In questionnaires, both say they're pro-worker.
The Markey-Kennedy race is the headliner. The Neal-Morse race may be closer—and the state has been flooded with mailed-in ballots, thanks to the coronavirus pandemic.
The catch to Kennedy's claim is that Markey, 74, has taken the Senate lead on a key progressive cause, the Green New Deal, and endorsed Medicare For All long before Kennedy did. That's brought him the endorsement of the GND's author, Rep. Alexandria Ocasio-Cortez, D-N.Y., along with Sen. Elizabeth Warren, D-Mass., and progressive groups such as the Working Families Party and the Sunrise Coalition.
"When it comes to progressive leaders, it's not your age that counts, it's the age of your ideas," Ocasio-Cortez says.
Markey can also cite leadership on issues running from the nuclear freeze—when he too served in the U.S. House—to the GND, as well as substantive achievements in areas from telecommunications to cybersecurity, which Kennedy, a junior congressman from the Boston suburbs, cannot.
Markey also retorts, on his campaign website, that he "has never been afraid to disrupt the status quo." And he touts his "working-class upbringing" in his native Malden.
His work on the freeze, environmental issues, LGBTQ rights and workers' rights have brought him the backing of the Sierra Club, MoveOn, NARAL, peace groups, gay-lesbian groups and a host of unions, plus—among other local officials—Boston Mayor Marty Walsh, a member of the Laborers.
"We don't always need to elect a new Democrat. We have some great Democrats who are currently serving our nation and one of them is Ed Markey," Our Revolution organizer Hal Ginsberg tweeted. And when Kennedy claimed the Sunrise Movement backs him, they shot back, also in a tweet: We have never endorsed you @joekennedy. Also, the majority of our endorsement slate is filled with challengers, not incumbents. Young people have spoken, and we want @EdMarkey in the Senate, not you. #MASen
Virtually all Massachusetts and national unions that have issued endorsements of Markey. They include the Association of Flight Attendants-CWA, the CWA itself and Locals 201 and 1400, the Teachers (AFT) and their Massachusetts affiliate, SEIU 32BJ, the Government Employees and locals and councils for AFSCME, Unite Here, UFCW and the Postal Workers.
Kennedy dismisses endorsements as meaningless, except for the one he got from House Speaker Nancy Pelosi, D-Calif. She said she backs Democratic U.S. representatives even when they seek higher office. Markey, who served for decades in the House with Pelosi, graciously praised her leadership, and even congratulated Kennedy, by name, on getting her backing.
Pelosi's endorsement also irked progressives, notably the Justice Democrats, who noted Markey's more-progressive stands and leadership. They called her hypocritical for backing Kennedy while having the Democrats' campaign finance committee, which she controls, declaring it would yank business from supporters of progressive insurgents against incumbent Democrats.
All this brouhaha leaves Kennedy with the call for generational change as well as the magic of the Kennedy name. At 39, he's RFK's grandson. His other top issue is questioning why Markey spends so much time in his D.C.-area home rather than in the Bay State. Markey refutes that by citing the many town halls and local meetings he hosts.
And while Kennedy had outspent Markey by $1 million through August 12, the senator had $8.35 million in the bank on that reporting date, to Kennedy's $1.38 million.
Both candidates have controversial votes to defend. Markey, in the House, voted to authorize the use of force for GOP President George W. Bush's Iraq War, a vote he now says he regrets. Kennedy, also in the House, voted to provide military weaponry to the nation's police—weapons cops now use against peaceful protesters for racial and economic justice. On the campaign trail, he's switched to opposition.
The Markey-Kennedy contest started in February as a statistical tie, but Markey then took the lead in opinion polls. The most recent one, August 13-21 by YouGov and the University of Massachusetts-Lowell, gives Markey, 74, a 52%-40% edge. The poll's margin of error is plus or minus 4%.
There are no polls in the Neal-Morse tilt. There is controversy over the influence of big-money interests. Neal takes contributions from special interests. Morse doesn't. And the primary decides the seat, as no Republican filed for the general election.
"I'm running because the people of Western and Central Massachusetts deserve a congressman who fights for us, not big corporations and wealthy donors," Morse told the Springfield Republican/MassLive in response to the media firms' joint questionnaire.
The difference shows up in the campaign finance numbers. As of August 12, the Center for Responsive Politics reported Neal had raised $3,764,220 and spent $4,313,912, while Morse had raised $1,316,654 and spent $1,019,930. All but $10,011 of Morse's money came from individuals, while 61% of Neal's came from campaign finance committees. Neal had $2.76 million left in the bank, to Morse's $297,000.
"Richie Neal has taken more money from corporations and lobbyists than any member of the House, and instead of using his power as chairman to stand up to Donald Trump, Neal repeatedly sided with Republicans to enrich the corporate interests that fund his campaigns, hurting his own constituents. I'm not taking any money from corporate PACs or lobbyists, so the people of MA-1 will always know I'm fighting for them," Morse said on the questionnaire.
All the issues Morse cares about, including high health care costs and crumbling infrastructure "start with a Congress—and a congressman—that cares more about big money donors than regular working people," he added. "I'll push for Democratic reforms that get money out of politics. I would also break from institutional Democrats and offer bi-partisan support for enhancing Buy-American policies to support our labor unions and small businesses."
Morse also backs Medicare For All, a key progressive cause which Pelosi sidelined, by sending it to Neal's committee for one of four congressional hearings. But she ordered the panels to take no action after that. Neal has followed that order.
Three weeks before the primary, allegations surfaced that Morse, who is gay, used his position as a UMass professor to proposition a student. That prompted the Massachusetts Nurses Association board to call an emergency meeting on its prior endorsement of Morse. MNA wound up reaffirming its stand.
"MNA nurses and healthcare professionals are especially sensitive to these types of allegations and do not take them lightly. In his statement, Alex said he supports and will participate in the UMass investigation because students have a right to their voices being heard and their concerns addressed. The MNA echoes those comments."
"Alex Morse is a strong, progressive leader. His history as an elected official and his positions on legislation and policy empower working people…Alex champions causes such as Medicare-for-All alongside MNA nurses and healthcare professionals. We stand with Alex Morse for Congress."
Neal blames the GOP for the economic depression hitting the nation in general and his district in particular. "Much of the gap between Western Massachusetts and Boston stems from Republican policies that cut the taxes of the wealthy and multinational corporations but do nothing to help regular families," Neal retorted in his questionnaire answers.
"That's why I fought so hard against the 2017 Republican tax law. Lifting our middle class will help close the gap. As chairman of Ways and Means next year, I would strengthen Social Security, Medicare, the earned income tax credit, the child tax credit, and unemployment insurance. I'd also expand access to higher education and workforce development, raise the minimum wage, defend workers' right to organize, and enhance the ACA."
There are two other congressional races of interest in the Bay State. In the Eighth District, first-time candidate Dr. Robbie Goldstein, an infectious disease specialist at MassGeneral Hospital, is challenging 20-year Rep. Stephen Lynch. Goldstein is particularly hitting Lynch's votes ten years ago against the Affordable Care Act. Goldstein told HuffPost private polls put him within seven percentage points.
Like Morse, Goldstein strongly supports Medicare For All, the Green New Deal, universal child care and federal aid to the jobless until the coronavirus pandemic is over. He also has backing from Sunrise, Indivisible and Our Revolution, the movement Bernie Sanders supporters set up after the 2016 campaign.
And there's a traffic jam in the Fourth District, with nine Democrats, seven of them still in the race, jockeying to succeed Kennedy. Six are working to keep the other, former Republican and ex-Marine Jake Auchincloss out. They're all progressives of one stripe or another, jockeying to take the lead. There is no runoff.
Win or lose in the other races, progressives are guaranteed to have one of their incumbent leaders return to the U.S. House next year. Rep. Ayanna Presley. The first-termer from Boston had no Democratic primary foe, and there's no Republican on the general election ballot.