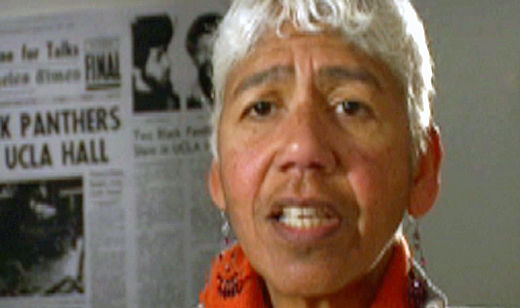 The 18th annual Pan African Film and Arts Festival, which takes place yearly during Black History Month, is one of Los Angeles' cultural jewels. Arguably America's top Black movie venue, PAFF is a leading U.S. showcase for independent, studio, student, foreign (especially African) political and progressive pictures. Many movies have their U.S. debuts at this venue, and over the years some have found distribution deals, such as on Black Entertainment Television and other channels that focus on independent cinema. From Feb. 10-17 PAFF screened 125-plus features, shorts, documentaries, and videos from the 'hood to Mother Africa to the Black Diaspora scattered worldwide. PAFF includes entertainment industry-oriented panel discussions, an arts exhibit, and an awards ceremony.
This year PAFF's Opening Night Gala was the civil rights drama "Blood Done Sign My Name" about 1970s organizers, such as Dr. Ben Chavis (portrayed by Nate Parker, who previously co-starred in Denzel Washington's 2007 "The Great Debaters"), who became the NAACP's executive director and participated in a panel discussion after Blood's screening at the Directors Guild of America's Sunset Strip theatre.
This well-attended Black-themed cultural extravaganza is the vision of founder Ayuko Babu, a former Black Panther Party member. Appropriately enough, "41st & Central: The Untold Story of the L.A. Black Panthers," which is as exciting as any Hollywood shoot-'em-up, won PAFF's Audience Favorite Award Documentary. The award was presented by actress CCH Pounder who, fittingly, plays the wife of the indigenous inhabitants' chief in the anti-colonial sci fi blockbuster "Avatar." "41st & Central" is directed by Gregory Everett, son of ex-Panther Jeffrey Everett, who is among the doc's interviewees providing eyewitness accounts, along with Panther icons Kathleen Cleaver, Elaine Brown, Ericka Huggins, and longtime political prisoner Geronimo Pratt (aka Geronimo Ji Jaga). The two hour-plus film is a riveting saga of the creation of the Panthers at Oakland and the Black Power organization's spread to Southern California, with the formation of what was arguably the Party's most militant chapter at L.A. by ex-con Alprentice "Bunchy" Carter and John Huggins. The doc recounts the socialist-oriented Panthers' clash with the so-called "pork chop" cultural nationalists of Ron Karenga's U.S. Organization, which apparently led to the 1968 shootings of Carter and Huggins at UCLA.
The film's title refers to the climactic shoot-out between LAPD and Panthers at their L.A. HQ at 41st and Central in the 'hood. One of the survivors of the tense confrontation declares onscreen that during this violent five or so hour standoff he never felt freer, as he was a Black man deciding who would and would not enter the Panther office, which was even aerial bombed during the armed clash. While "41st & Central: The Untold Story of the L.A. Black Panthers" is indeed a story about heroic resistance, it's also a cautionary tale about reckless bravado and an implicit critique of the Panthers' philosophy of what Minister of Defense Huey P. Newton dubbed "revolutionary suicide": in revolution, the goal is to kill your enemy, not get killed. In any case, after PAFF's screening the onscreen events — plus the plight of African Americans today — was discussed by a historic panel that included ex-Panthers, a U.S. Organization representative, and ex-LAPD Police Chief and current City Councilman Bernard Parks — whom L.A. leftists accused of police brutality during the 2000 Democratic Convention, when unprovoked LAPD riot police attacked unarmed demonstrators after a Rage Against the Machine outdoor concert. So "off the pig!" remains a resonant slogan for contemporary Angelenos, as it did for the Panther branch even Huey found too hot to handle, purging them from the BPP circa 1970.
Other powerful nonfiction films screened at PAFF included "Freedom Riders," which details the dramatic campaign to desegregate the Deep South largely by committed young Black and white students who violated apartheid-like racial segregation laws by riding Greyhound and Trailways buses below the Mason-Dixon Line in 1961. Stirring, heart-rending archival and news footage is combined with contemporary interviews with freedom riders, such as John Lewis, who went from Student Nonviolent Coordinating Committee chairman to Congressman (ironically, Lewis didn't initially support Barack Obama during the 2008 primary contests). The most important lesson Freedom Riders teaches is how a small yet devoted cadre of freedom fighters can change and re-set the government and public's agendas to focus on otherwise overlooked issues.
Additional docs from that struggle included "Good Fight: James Farmer Remembers the Civil Rights Movement" and "Soundtrack for a Revolution," about the role songs such as "We Shall Not Be Moved" and "We Shall Overcome" played in the people's crusade to end Jim Crow. "GO-BAMA Between Hope and Dreams" is Afro-German filmmaker A. Rahman Satti's account of Obama's presidential campaign in America and Germany.
As PAFF has an internationalist vision, it has a history of showing South Pacific films, such as this year's "Forgotten Bird of Paradise," a documentary short about the struggle of the West Papuan people, who are Melanesians, against their Indonesian colonizers. Caribbean pictures are screened too, including many Cuban films over PAFF's 18 years. "Haiti: The Sleeping Giant" covers that troubled island's history all the way from slavery to the anti-French uprisings to the recent earthquake; proceeds from its ticket sales were donated to the Haitian recovery effort. On the other side of the world, another former French colony was featured in Clay Claiborne's "Vietnam: American Holocaust," narrated by actor/activist Martin Sheen.
While Hollywood has made features about the 1990s genocide in Africa, "Rwanda: Beyond the Deadly Pit" is directed by Gilbert Ndahayo, a survivor of that mass murder, who confronts, on-camera, his parents' killers, in a nonfiction work as personal as any French auteur's fiction film. "Nollywood Babylon" took a look at Nigeria's film/video industry that — although this is not widely known — is the world's third largest in terms of sheer output, after Bollywood and Hollywood.
Probably the most controversial film screened this year at PAFF was the Australian doc "Stolen," which, according to co-director Daniel Fallshaw, started out as a documentary about the plight of people in refugee camps as a result of the West Sahara liberation movement against Morocco led by the Polisario. But, in the process of filming, Fallshaw and co-director Violeta Ayala purportedly stumbled upon something quite unsettling: the existence of slavery in these resettlement centers, with some Blacks owned by Arabs in the camps. (Perhaps, as Regis Debray put it, "Revolution in the Revolution" is needed?) This turned the doc into a tale of intrigue, with the filmmakers becoming the story more than Michael Moore has in any of his docs, as the Polisario resistance movement, Moroccan agents, et al, are hot on the trail of the co-directors and their coveted videotapes. Following a PAFF screening, some attacked the film during an emotionally charged Q&A that was as dramatic as many of the festival's films. Nevertheless, an undaunted PAFF awarded "Stolen" its Best Feature Documentary prize.
Among PAFF's fiction films this year was "Hurricane Season," which like the Nelson Mandela drama "Invictus" and "The Blind Side" is a Black-themed crowd pleaser based on a true story about how sports can inspire. Forest Whitaker is as natural as a Brando, Clift, or Dean as he portrays real life coach Al Collins in post-Katrina New Orleans, whose never-say-die spirit rallies his basketball team and then his ravaged city, much as the Saints also did at 2010's Super Bowl. Those who overlook the power of athleticism to arouse the masses should remember that one of the greatest revolutionaries ever was an athlete: Spartacus (currently featured in a STARZ cable TV series).
As usual, PAFF presented a number of African features. Daniel Kamwa's "Mah Saah-Sah" is an entertaining look at sexual customs and political corruption in Cameroon that also wryly illustrates how Africa's cinema is influenced by Hollywood. A businessman and government official tries to pressure the far younger Mapon to become his fourth polygamous wife, although she's already betrothed through indigenous rites to Nchare, a young skilled craftsman. Kamwa's pic actually ends up becoming a clever African reworking of the 1967 Dustin Hoffman classic "The Graduate," as Nchare hilariously rushes to get to the church on time — on a motorcycle, instead of in an Alfa Romeo — to stop the marriage and rescue his beloved from a life of materialism. Bravo!
Similarly Minky Schlesinger's "Gugu & Andile" is the best remake of Romeo and Juliet since West Side Story, transporting Shakespeare's romance from Verona to South Africa. There the young photographer Andile has goo-goo eyes for Gugu, a teenage beauty. The trouble is, she's a Zulu, while Andile is a Xhosa. Set against the dramatic backdrop of the anti-apartheid struggle, with racist whites whipping up tribalism in a divide-and-conquer campaign, Gugu & Andile's grand finale is twice as tragic as Shakespeare's.
Tinseltown has given us features about 9/11 by Oliver Stone and others, and the Kenyan movie "From A Whisper" is a sensitive drama about the impact the 1998 bombing of the U.S. Embassy in Nairobi had on Africans. Wanuri Kahiu's film won PAFF's Best Feature Narrative Award and closed the Festival with an encore screening. Of course, not all of PAFF's features were politically charged; the commercial romantic comedy "Speed-Dating" had its world premiere at the filmfest.
For a complete listing of PAFF's films and award winners see: www.paff.org.
The Pan African Film Festival is the brainchild of Ayuko Babu who has, well, a Pan African vision, with a nationalist, internationalist, and class solidarity sensibility that he brings to the arts. Founded in 1992, PAFF's mission statement is "the promotion of cultural and racial tolerance and understanding through the exhibition of film, art and creative expression. It is PAFF's goal to present and showcase a broad spectrum of Black creative works, particularly those that reinforce positive images and help to destroy negative stereotypes."
The Festival's Executive Director says PAFF is different from other filmfests because "White festivals don't have Black audiences," Babu contends. "If a Black filmmaker enters a film, and tries to convince a distributor your film is worthy, you can't prove there's a Black audience because there's no Black audience attending Sundance, Cannes, or Berlin. In a Black festival, you can say this many Black people came, different genders, classes, gay, straight, a whole cross-section. Also, there's very little public space where African people can come together and hang out among themselves, check out other people and see what Nigerians, Cubans, Guatemalans, etc., are doing. It's a chance to get different aspects of the African personality together. Non-Blacks get a whole new sense of what Black culture is," asserts Babu, who previously worked for Stevie Wonder.
The onetime UCLA student maintains that a Black-themed festival is necessary because "For the most part, Black folks' stories are not represented at the general white festivals. They're primarily interested in the latest European and white independent films. They have few films from the Black community, Diaspora and continent. We're not the focus — Pedro Almodovar or Jim Jarmusch is their main agenda. Whereas a Black festival makes Black filmmakers its main agenda. For instance, we brought a film from Papua New Guinea, "Tinpis Run" — it didn't get into Sundance. We think it's important to hear from brothers and sisters in the South Pacific — very seldom do you get that chance. . . . [We've] shown "The Tracker" – starring Walkabout's David Gulpilil, about an Aborigine's encounter with vigilantes in Australia's outback. Everybody passed on that film in Toronto," Babu notes.
Another reason the frequently dashiki-clad elder cinematic statesman believes a Black-oriented film festival is necessary is to counter celluloid stereotypes. "I don't see much difference between 'Soul Plane' and 'Amos and Andy' — which may have been better than 'Soul Plane,'" laments Babu, who has a strong sense of movie history. "You always had a character like Andy, reasonable, a little bit more complex than Kingfish, a stereotype. That stereotypical behavior was in those films, but you also had some authentic Black humor — more than buffoonery and chicanery. I've seen Cedric the Entertainer in person, and he really hits right on with Black humor. With "Barbershop" — it takes a skilled director to avoid stereotypes and buffoonery. To get authentic Black humor, you've got to really direct and know Black culture, but they weren't able to do this in "Barbershop," so they covered up with bathroom humor and cussing, cheap ways to get laughs," the ex-Panther grouses.
For Blacks in Hollywood, "There's significant barriers," adds Babu. "We're in the best of times, and the worst of times. Nothing has changed relative to power, the ability to greenlight, distribute, finance, and pick stories — Blacks are basically nonexistent. A few more of us get projects made. There's a few more stars — in 1966, there was one major star, Sidney Poitier, and a few character actors, like Brock Peters. Today, you've got four or five stars — but one versus five is still real thin. In terms of the kind of films getting made, not much has changed. In some ways, you might say it declined, from when you had Blaxploitation. "Superfly" is more relevant and authentic to the Black experience than "Soul Plane," which perpetuates the same old thing. On the other hand, you have some independent films, such as "Woman Thou Art Loosed." Now there's more independent Black films than 30 years ago. There's a whole bunch of young filmmakers out there — we had [hundreds of] submissions this year."
Babu describes the state of Black cinema as "fluctuat[ing] between [1993's] "Sankofa" [about the Trans-Atlantic slave trade] to "Soul Plane" — between those two poles, conscious entertainment and buffoonery. [African cinema] fluctuates between making 'noble savage' simplistic village films financed by a funder in Sweden or some place versus authentic films like [Sengalese director Ousmane Sembene's female genital mutilation drama] "Moolaade," dealing with social and cultural issues from an African standpoint. It's how to balance commerce and culture. African filmmakers also battle censorship, like Chinese — such as Zhang Yimou — are."
Although this film fete may be Afro-centric, Babu is quick to insist that you don't have to be of African ancestry to attend and enjoy PAFF, a real African filmfest. "We have a difficult time convincing non-Blacks to come. Absolutely, the whole city is invited. What makes L.A. interesting is the city's diverse culture. . . . Anybody who wants to become a sophisticated, cosmopolitan person should come. White educated intellectuals come — Tom Hayden, Robert Scheer, Kevin Thomas review[ed] for The Times," says Babu, who tells great yarns about being an eyewitness at Huey Newton's murder trial and the like.
For the executive director, PAFF high points over the years include Sidney Poitier receiving the Lifetime Achievement Award and talking about his career. The hunger of the people coming out to see these films. Having the opportunity to showcase new films from South Africa – "Hotel Rwanda," "Soldiers of the Rock," about miners who own mines due to Black empowerment — helping these films get wider audiences is a highlight."
Babu and PAFF skillfully manage to walk a cultural, political, and financial tightrope. On the one hand the Festival presents power-to-the-people pictures such as PAFF's 2008 Opening Night Gala, Charles Burnett's "Namibia: The Struggle for Liberation," co-starring Danny Glover, about the war for independence in that nation and the role Cuban revolutionary troops played at the decisive 1987 battle of Cuito Cuanavale, defeating South Africa's racist army. On the other hand, existing inside the belly of the beast, PAFF courts corporate sponsors as well as support from the political establishment. This year, soft drink ads ballyhooing their brand's role in saving the environment and promising happiness (if you'll only drink this beverage!) were screened, along with commercials for African airlines, a bank, a museum, etc., which were played prior to most screenings. Congresswoman Maxine Waters (who endorsed Hillary Clinton, not Obama, during the Democratic primary season) attended the awards ceremony and showing of Freedom Riders, while Councilman Parks, as noted, also participates in PAFF.
The Pan African Film Festival has given Babu, the onetime BPP revolutionary, a sense of empowerment, of being a cultural avatar and player. "Like everybody, I was a film fan, before being involved. The privilege of being involved in that magic and wonder and trying to have some influence over that is a highlight. Coming from Cheyenne, Wyoming, the opportunity to influence your life was almost nonexistent. Since I was a kid, I wanted to be in a place where you had some say so over what's going on," ruminates Ayuko Babu, an ex-Panther who believes that political power grows out of the barrel of a camera lens.
From greyhounds to Panthers to Obama, PAFF has it all.
Ed Rampell was named after CBS broadcaster Edward R. Murrow and is an L.A.-based freelance writer who wrote Progressive Hollywood, A People's Film History of the United States. This is reprinted from Monthly Review with the author's permission.


Photo: Ericka Huggins was an L.A. Panther member and wife of slain Panther John Huggins. For the first time ever on film, in "41st & Central: The Untold Story of the L.A. Black Panthers"she speaks about her husband's work and the events surrounding his murder. Ericka Huggins is currently a professor of Women's Studies at Cal State University, East Bay. http://41central.com/