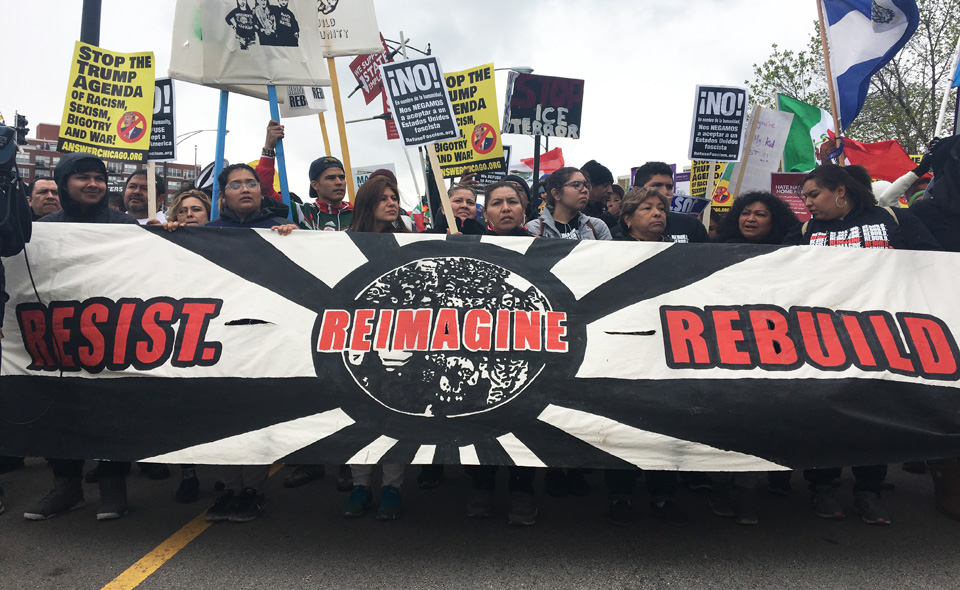 CHICAGO – Hundreds of thousands of workers, immigrants and their allies took to the streets of America's cities on International Worker's Day to demand immigration rights and to take issue with the Trump administration's anti-worker and racist policies.
The marches and rallies in New York, New Haven, Boston, Washington D.C., and many others including here in Chicago, were the largest May Day rallies in decades.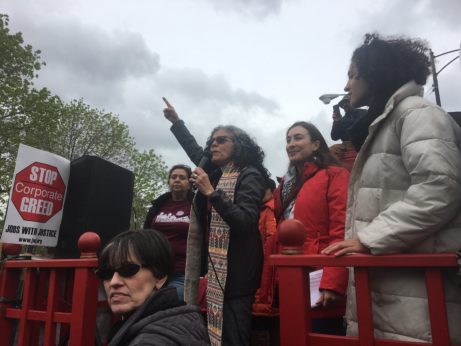 Since Donald Trump has made no bones about his intention to up-end the lives of workers, Muslims, immigrants and LGBTQ people, the tens of thousands who marched from Chicago's Union Park to Daley Plaza understood the battle lines have never been clearer.
Trump's election has galvanized the movements anew, forcing them to look to one another like never before. Here in Chicago events were put together by over 130 organizations united by demands for justice for immigrants and rights and decent wages for all workers.
Chicago's two-part May Day was kicked of with a rally in Union Park. Hundreds of flags representing nations on each continent of the globe flew in the brisk wind.
Sophia Zaman, executive director of Raise the Floor Alliance condemned the labeling of worlers as "illegal."
"We live in a world where multi-national corporations move freely across borders to hunt for better profits, and where our people are economically displaced and end up here in the U.S. only to be further exploited," said Zaman.
Donald Trump himself is an exploiter of the undocumented, despite his anti-immigrant rhetoric.
"Our capitalist economy requires an undocumented workforce it can oppress for its profits," elaborated Zaman. "Wage theft, discrimination, and unsafe working conditions become the norm and standing up for your rights can mean losing your job."
And that's just at work. Even in their homes, the undocumented workforce country enjoys little security.
Under Donald Trump, ICE (Immigration and Customs Enforcement) has increased the frequency and ferocity of their raids, leading to at least one shooting in Chicago. In the face of that, the city's leadership has maintained their commitment to Chicago's sanctuary city status.
Organized Communities Against Deportation is one organization on the front lines of that struggle. Tanya, an undocumented activist, addressed the crowd as it was forming into a column, preparing for the march from Union Park to Daley Plaza where the city's unions were holding a large rally.
"We are ready to march, we are ready to do civil disobedience, we are ready to sue anyone who threatens to separate our communities," said Tanya, "and we're asking more of Chicago. We need a sanctuary city that calls itself sanctuary, but that actually means it so that all people, not just immigrants can be safe."
Shortly after Tanya finished speaking, the march began and so did the rain. The rain didn't damper the spirits however, drumlines continued drumming and chanters continued chanting slogans of unity and radical dissent.
Even though police flanked the march, there were no scuffles between them and protestors for the extent of the over 2-mile march.
A workers' rights rally in Daley Plaza
When the march arrived at Daley Plaza in Chicago's Loop, the sun came out, but the rain didn't let up.
Given Chicago's centrality to the story of May Day, the Chicago Federation of Labor, which represents over 3 million workers in the Chicagoland area, always turns out thousands of its members for May Day events. This time it was no different with the event even drawing an important national guests.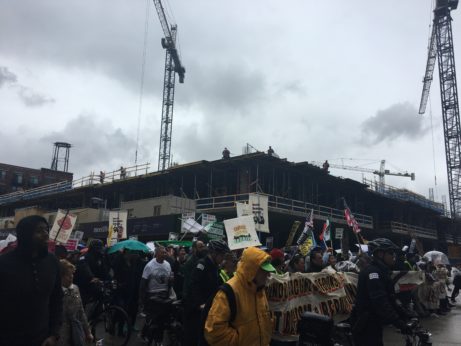 Among them was Tefere Gebre, executive vice president of the AFL-CIO,  the highest-ranking immigrant in the labor movement. Born in Ethiopia, his story is the story of many immigrants in the U.S.
"I chose to be in Chicago because May Day is about Chicago," said Gebre. "There are 350 million people marching around the world today because you started the worker's movement."
Gebre continued, "Today is a day for workers. Not workers with papers or workers without papers, today is the day for all workers. On this May Day, I want you to say 'My America is not a fascist America.' My America is going to resist Trumpism, my America is going to resist racism and xenophobia."
Chicago workers have many looming labor fights ahead of them. For one, over 5,000 at 53 Chicagoland nursing homes have voted to go on strike as soon as May 4.
Tanisha Shepherd, member of SEIU from the city's Southwest side never thought she'd be a part of a rally of this size. She is a nursing home worker and a certified nurse's assistant.
"I take care of people with disabilities in Evergreen Park who can't take care of themselves," said Shepherd.
"Workers struck on May 1, 1886 for an 8-hour work day, but most workers today don't have an 8-hour work day either. If I didn't work between 14 and 16 hours of overtime each week, I wouldn't be able to make ends meet. I don't know a single person at my nursing home that doesn't have to regularly work overtime to make ends meet.
"What I want is what workers wanted then: time with my family, time for myself. I don't want a life that's just work and sleep. It's time away from work where people can feel awake and alive again."
The president of the Chicago Teacher's Union, Karen Lewis, rounded out the day's event by talking about inclusion and looking past people's differences to their common humanity in order to fight against oppression.
"We're all in this hot, buttery mess together," said Lewis, "and we have to stand shoulder-to-shoulder, back-to-back…
"We can't allow people to come into our schools, take children out and separate families and we can't use the excuse that someone isn't respectable to separate our interests. Sisters and brothers, this is movement work."
She talked about how, if folks came to May Day and are not prepared for "the long haul," then they may be wasting their time.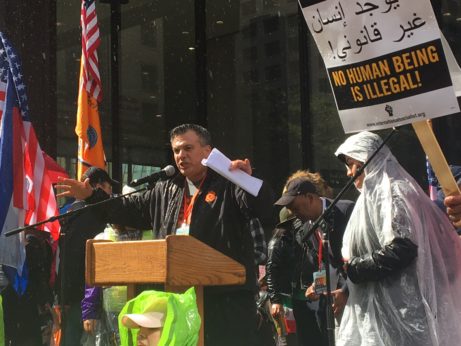 "We have to figure out a way to look at the person next to you who is not your friend and not your family and say 'c'mon sister, let's take this on,' if we're a solid front, how can we lose?"
In a statement that elicited gasps from the audience, the avowed South-sider declared her willingness to work with anyone, including Cubs fans.
In all, Chicago's May Day event was a testament to the big-heartedness of the city. There was no violence, nor were there any serious counter-demonstrations.
Chicago's May Day even stood as anathema to everything the Trump agenda seeks to accomplish.
Note: All photos by Patrick J. Foote/PW