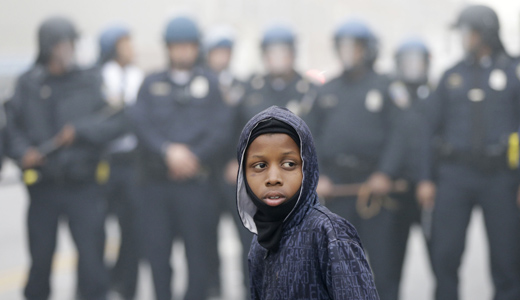 BALTIMORE – After a week of numerous peaceful, daily protests throughout Baltimore City over the police murder of 25-year old African American Freddie Gray, something suddenly and dramatically changed on Monday.
News reports were showing students jumping on police vehicles and throwing rocks at police, looting and smashing windows.
And people across the city were asking each other and googling an answer to the question: "What is this "Purge" phenomenon?"– a phenomenon which spread on social media Monday afternoon and helped to spark violence at the close of the school day.
PW readers might Google the word "Purge" and look at the trailer to the movie The Purge: Anarchy to hear the incredibly inflammatory idea promoted in the movie that "all crime including murder will be legal for 12 hours."
The students in question left Douglass High School in West Baltimore at 3 p.m. and headed to Mondawmin Mall where they normally catch the bus to go home. Police, falsely expecting gang trouble, held up the buses. Frustrated and agitated, the students started throwing rocks at the police who by now were in riot gear, and the ensuing mayhem was looped over and over again on wrap-around news Monday and Tuesday.
Frederick Douglass High School, established in 1883 for African Americans in Baltimore, is the oldest continuously operating public high school in the United States. In not-too-distant history the school was known in Baltimore for its premier academic and music programs, producing award-winning marching bands, nationally known musicians such as Cab Calloway and Metropolitan Opera star, Junetta Jones, as well as Supreme Court Chief Justice Thurgood Marshall.
After a recent period of decline, the school is now in its third year of a "school turnaround," making strides in various academic areas.
But in the overall context of Maryland's public education system, inequality in school funding, exacerbated by cuts to Baltimore City in this year's state budget under Republican Governor Larry Hogan, puts tremendous pressure on the city's schools. Sports, art and academic programs are often considered unaffordable "luxuries."
For years musical instruments have remained in closets, unused, for lack of "excessed" music teachers. There was an uproar by parents and students earlier this month when it was announced that the popular and successful Advanced Placement Summer Academy, Baltimore's only summer enrichment program for academically advanced students, will be eliminated this summer.
Despite intense lobbying by the Baltimore Teachers Union and community groups in the just-ended legislative session in Annapolis, the education budget for the Baltimore City Public Schools was dramatically cut by the state. City schools CEO, Gregory Thornton, was forced to propose in mid-April a budget cut of $17.8 million to city schools, effectuated "through cost-cutting and departmental reorganizations and the cutting of 120 funded positions," according to the Baltimore Sun.
Ironically this pared-down BCPS budget was scheduled to be voted on Tuesday, April 28, the day that the Baltimore City Schools and government offices were closed down because of the civil unrest in the city.
At the precise time that the school board was scheduled to vote on its slash and cut budget Tuesday night, Baltimore youth were organizing to show the world an accurate picture of Baltimore's youthful talent and potential. Leaders of a Beautiful Struggle, a self-described "grass roots think tank" which had mobilized the public to engage in lobbying efforts in Annapolis in the wake of Ferguson to advance 17 police accountability bills, cancelled its "Protests to Policy" forum and put out instead a call for people to come to downtown Baltimore to discuss "sustainable solutions to end police brutality in Baltimore."
The meeting started at 6:30 to guarantee that people could get home before the 10 p.m. curfew set by Mayor Stephanie Rawlings Blake, which is scheduled to be in effect for a week.
Three hundred young (mostly young) and old, black, Latino, and white citizens met at the Real News Network (therealnews.com) building, one block from the barricaded City Hall, to discuss short, mid and long-term strategies proposed by Davon Love, a leader of LBS. The event was moderated by a young woman from Baltimore's Algebra Project. Discussion was informative and unifying.
At the end of the meeting I spoke with Justin Whye, president of the International Student Association of the University of Baltimore who was at the meeting with some members of his association. Since their university was closed, they had spent the day at Pennsylvania and North Avenues, an intersection of West Baltimore where damage to buildings had taken place on Monday, helping many other citizens clean up the rubble.
There was a heartening sense of community and solidarity, even a marching band, Justin reported. He watched an older Korean woman symbolically "shoving back" a police up-armored vehicle.
Justin said he was sickened by the repetitive images of destruction of property being shown in the mass media which takes away from the real message of the protests, the need for systemic change in the police department.
He felt that Baltimore City is at a "tipping point." Will it now address the underlying issues of racism, poverty, jobs, poor housing which the weeks of protest highlighted, or will it emerge from this week unchanged?
At first I misunderstood what Justin was saying about why the University of Baltimore was closed for the day. It was closed, Justin said, to give students the opportunity to interact with the community. "Our campus is the city," he said. "People were marching through our campus." The tee shirt Justin was wearing, designed by a friend, said "Our History is Your History" – referring to the need to understand the interconnectedness of black and white struggles in Baltimore. "You have to have allies," he said.
Just as social media apparently played a negative role in mobilizing high school students to assemble at Mondawmin for a "purge," so too was Justin Whye's point of view spread through social media. "Because we're international, we have the input of people all over the world. They hold us to a higher standard. Their energy fuels us to do our job better," he said.
On Tuesday Gov. Hogan declared a "state of emergency" and actuated the Maryland National Guard, ostensibly to bring order to Baltimore City. Numerous faith-based and community groups, schools and young citizens like Justin had other creative solutions.
Two hundred students from Morgan State University in NE Baltimore, as reported in an email blast by its president, Dr. David Wilson, "ventured into several neighborhoods throughout the city to engage in a massive clean-up effort." In the afternoon neighbors from my community, Winston-Govans, held signs, "We love our community" at three busy intersections, encouraging cars to honk. Today the Baltimore Symphony Orchestra played a "run-out" open air concert at noon to bring hope and courage to the City.
This coming Friday held expectation for the people of Baltimore. It is the day we were led to believe we would be told if criminal charges would be brought against the six police officers involved in the death of Freddie Gray. A Baltimore Sun poll on Tuesday asked: Do you expect criminal charges to be brought against any of the police officers involved in the fatal arrest of Freddie Gray? 61 percent of respondents said yes.
Now we are being told that we were mistaken, that we were never promised a statement on Friday. We were also asked to believe that Freddie Gray's neck wasn't broken when police dragged him to the police van on April 12. People know what they see and hear. The protests will only continue and grow until justice is served and the people are listened to.
Photo: AP