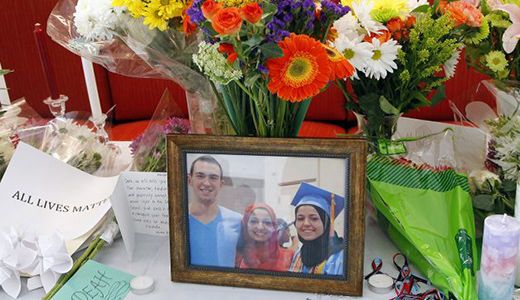 CHICAGO – Calls for unity to end hate and bigotry in all forms echoed throughout Northeastern Illinois University's memorial here Feb. 17 for the three slain Muslim students slain in Chapel Hill, N.C. last week. Vigils and tributes across the country are being organized for newlyweds Yusor Mohammed Abu Salha, 21 and her husband Deah Shaddy Barakat, 23, and Yusor's sister, Razan Mohammad Abu Salha, 19, who were killed Feb. 10 by a neighbor, a white male identified as Craig Hicks, 46. Hicks has since been arrested on three counts of murder, however in dispute is his motivation: was it hate and Islamophobia or a dispute over parking without any bias?
Local law enforcement officials say they are investigating possible hate crime charges. A federal investigation was announced after Muslim and civil rights groups demanded more scrutiny be brought to the case. The disturbing murders seem to represent a watershed moment for U.S. Muslims, and for the country's long-standing need to confront what has been a pervasive and growing anti-Muslim bigotry that also affects people of Middle Eastern, South Asian, and African descent regardless of religion.
The victims' families, and many other people, question the parking scenario. The only people Hicks killed were Muslim, although he reportedly had had other altercations with neighbors about the issue.
Student and faculty speakers at the memorial connected the crimes to hate and intolerance. "It saddens my soul. It's heartbreaking that it took so many murders to recognize Islamophobia," said Meriem Benrahmani of the university's Muslim Student Association. Wearing a headscarf, also called a hijab, she said that before the Chapel Hill murders she lived safely and comfortably in the United States. "Now I wonder," she said.
Vice President for Student Affairs Dr. Frank Ross said the global community has witnessed outrageous acts of hate and this memorial is a way to "stand in solidarity to confront Islamophobia, to end bias and hatred."
Many speakers identified themselves with Yusor, Deah, and Razan in multiple ways: as Americans, as students, as Muslims, as young people just starting their adult lives, as human beings.
"Yusor, Razan, and Deah were college students working for their degrees just like you and I. They are remembered for their community service, selflessness, kind interactions with family and friends, and their short-lived marriage," said Amani Abutaleb, a social work major and student aide.
"The Chapel Hill shooting was unacceptable and unjust," Abutaleb said. "Such incidents should never occur with any religion or race or how one chooses to look or dress. All lives matter and as a college student and worker here at Northeastern, I am hurting inside because this could have been any of us."
Perhaps the saddest words uttered during the event, held at the university's Alumni Hall, were Abutaleb's when she said Yusor and Deah "did not even get to see their own wedding photographs."
In a poignant slideshow, two of those wedding photographs were projected onto large screens, along with other family photos which showed these three vibrant young people on the beach, the basketball court and dance floor, radiating a contagious enthusiasm for life.
Mateo Farzaneh, assistant professor of history, sketched with bold outlines the "root cause of every loss of precious lives – ignorance and greed." While remembering Yusor, Deah and Razan, Farzaneh said, other victims of ignorance and hate should be remembered too, including Matthew Shephard, James Byrd Jr., who paid the ultimate price for being different, and Dr. Prabhjot Singh, a Sikh man beaten brutally in New York in 2013.
Continuing the grim list, he added, the 21 Coptic Egyptians "slaughtered like sheep in Libya" last week, the killings in Denmark also last week, and the rape and burning of a Turkish student.
"Let us not forget," he said, the Native Americans, the Jews, Roma, and Poles in concentration camps, those who jumped out of the tall buildings on Sept. 11, those who were defecated on in Abu Ghraib, the young victims in Norway, the Kurdish women, Charlie Hebdo.
But even with such hateful acts, he said, "we have to be hopeful."
Quoting historian Howard Zinn, he said:
"To be hopeful in bad times is not just foolishly romantic. It is based on the fact that human history is a history not only of cruelty, but also of compassion, sacrifice, courage, kindness. What we choose to emphasize in this complex history will determine our lives. If we see only the worst, it destroys our capacity to do something. If we remember those times and places – and there are so many – where people have behaved magnificently, this gives us the energy to act, and at least the possibility of sending this spinning top of a world in a different direction. And if we do act, in however small a way, we don't have to wait for some grand utopian future. The future is an infinite succession of presents, and to live now as we think human beings should live, in defiance of all that is bad around us, is itself a marvelous victory."
The audience then rose for a moment of silence.
Photo: Chris Seward/AP