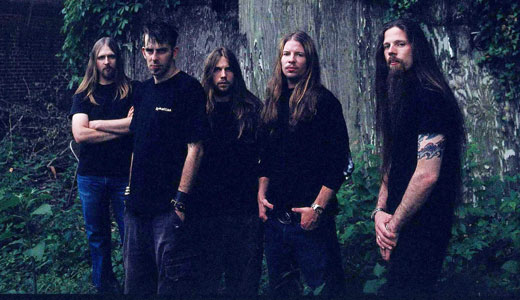 The ripple effect of the recent school shooting in Newtown, Connecticut has touched those from all subcultures and walks of life. On December 14, Randy Blythe, frontman of metal band Lamb of God, called for 60 seconds of silence to honor the victims of the massacre, while performing at his show in Medford, Oregon. Many fans, however, refused to pay their respects, opting instead to scream and curse. Outraged, Blythe criticized what he viewed as the disconnect of America's youth culture from tragedies like the one at Sandy Hook Elementary School.
After the massacre that left at least 27 – including 20 children – dead, Blythe asked his fans to join him in mourning for just one minute; many did so, but others utterly disregarded the request, according to Crave Online. Infuriated, Blythe took to his Instagram account that evening and vented.
"I have never been more disgusted with an audience in my life," he said. "I wish we hadn't played. We asked for sixty seconds of silence during our first set break to honor the dead children and teachers in Connecticut. It seemed appropriate – it's a goddamned national tragedy. Most of the crowd complied, but several didn't – some cursing, and some even laughing. I wanted to walk off stage. I am so disgusted right now. If you were one of those who wouldn't shut up for sixty lousy seconds to honor murdered children, go look in the mirror. You are looking at a piece of sh*t."
The school shooting has cut like a knife through the metal community, which itself has experienced its own fair share of tragedy, including the horrible, fatal 2004 shooting of Pantera guitarist Dimebag Darrell by the hand of a mentally ill individual.
Other metallers and hard rockers also offered their condolences. All That Remains vocalist Phil Labonte tweeted, "It's tragic what happened in Newton. We need to focus on mental health issues."
"Another one," lamented Disturbed frontman David Draiman on his Twitter account. "It's time for a change, people."
"To the fans [at the show] who were respectful," added Blythe, "thank you. I am also sorry you have so many goddamned assh*les in your community. This would not have happened at a Lamb of God show where I live, and that is a fact. We have more manners." He noted that not only do those who mock the tragedy give metal music a bad name; they "give humanity a bad name. Grow up." He concluded, "With that I will go to bed, say a prayer for those suffering, and hope for a better day tomorrow."
In the wake of the deaths of children aged between 6 and 7, the debate over gun control in the U.S. has been re-energized. In the end, most would agree that sparing sixty seconds to honor this American tragedy is not much to ask at all – and that those with true decency ought to have done it.
Photo: Randy Blythe, second from left. Greg Watermann/AP