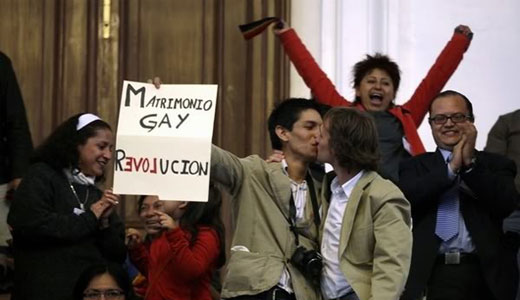 Mexico is moving closer to marriage equality. A Supreme Court ruling last week allows same-sex couples to legally marry, if they request special legal protection from federal tribunals.
The Supreme Court ruled that the Mexican state of Oaxaca discriminates against same-sex couples wishing to marry. The state marriage law only allows opposite sex couples with the intent to procreate to marry, and therefore violates the country's constitution, which forbids discrimination on the basis of sexual orientation.
State legislatures in Mexico are in charge of marriage laws. While the Supreme Court cannot revise or throw out Oaxaca's or any other state law dealing with civil and family law, gay and lesbian couples wanting to marry can apply for federal legal protection that will override Oaxacan law.
"The court's decision does not mean the legalization of same-sex marriage. What the court decision means is something deeper," according to Armando Rivera Barragan, a Mexico City-based lawyer during an interview with the People's World.
"State laws cannot contradict the Constitution or international treaties in material of human rights that Mexico adheres to. If the laws discriminate, same-sex couples can demand federal legal protection," he said.
"Same sex couples can marry in states where local legislation prohibits it only if they go to the Federal Tribunals and solicit that the homophobic law does not apply and only the Mexican Constitution and international treaties apply,"Rivera said.
With the exception of the Federal District and Quintana Roo, all other Mexican states only allow marriage between opposite-sex couples. The state of Coahuila allows same-sex civil unions.
The court ruled that Oaxacan law is discriminatory in two ways: it denies same-sex couples the right to marry, as well as all the rights and privileges that all other married couples are entitled to, such as joint medical and pension benefits.
The matter went to the Supreme Court after local authorities denied three same-sex couples the right to marry in Oaxaca.
On Dec. 9, 50 members of the gay and lesbian community marched through Oaxaca City to celebrate the court ruling. Alex Ali Mendez Diaz of the Oaxacan Front for Respect and Sexual Diversity said that the court decision represents a parting of waters in all of Mexico as many gay couples are now requesting the special legal protection to marry.
Like most of Latin America, Mexico is a conservative society where homosexuality is still considered a taboo. Gay rights groups report that violence and discrimination against gays and lesbians is widespread.
However, in recent years there has been a decline in homophobia and growth in acceptance and legal rights. On Dec. 21, 2009, the Federal District's (FD) legislature legalized same-sex marriage in a 39-20 vote, which includes the right to adopt children, apply for bank loans, inherit wealth and be included in the insurance policies of their spouses.
The FD is a large state that includes Mexico City with more than 20 million people (out of a population of 101 million people). Opinion polls at the time suggested strong public support for allowing same-sex marriage. The legislature has also passed laws protecting gays and lesbians from discrimination and harassment, even allowing transgendered people to change their names and gender in official documents.
In the southern state of Quintana Roo, same-sex couples have been marrying since 2011, after it was discovered that the state's marriage laws do not mention gender, only specifying "people interested in getting married." In the northern state of Coahuila, the legislature in 2007 legalized same-sex civil unions, giving property and inheritance rights to same-sex couples.
Photo: Gay and lesbian couples celebrate marriage equality victory in Mexico City (GLAAD)