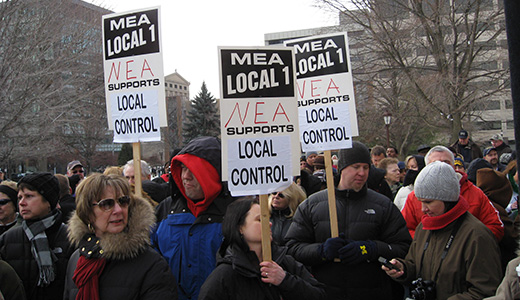 DETROIT – Twenty-eight plaintiffs from across Michigan announced Wednesday they are taking the state's controversial emergency manager law to court. Their lawsuit charges Gov. Rick Snyder and the legislature with implementing an unconstitutional law that will silence citizens.
They said the law, Public Act 4, passed by the Republican-dominated legislature in March, gives Republican Gov. Snyder the power to appoint emergency managers for cities and towns across the state for any of a broad set of criteria.
Detroit Councilwoman JoAnn Watson termed the law a shameless power grab, noting that some have called it a "dictator law."
Speaking in Detroit, at one of seven press conferences held across the state on June 22, attorney John Philo, one of the lawyers for the plaintiffs, said Public Act 4 is unconstitutional because it establishes "a new form of government," unlike anything we have seen before.
Philo, legal director of the Maurice and Jane Sugar Law Center for Economic & Social Justice here, said the law gives financial managers and the governor "dangerous" powers over not just financial matters but every aspect of policy. Those powers, he said, enable un-elected managers appointed by the governor to nullify local laws and contracts and replace locally elected town councils and school boards, thereby abolishing the right of citizens to vote for their representatives.
Emphasizing the significance of the lawsuit, Philo said the court will decide whether the "Constitution has any meaning."
Up to 150 Michigan cities and towns are in financial distress and therefore potential targets for appointment of emergency managers. Philo noted that communities of color are among the first to be affected. Benton Harbor and Pontiac, two cities with large minority populations, have already had emergency managers appointed. Benton Harbor's emergency manager has suspended the decision-making power of the city commissioners. Pontiac's manager has begun to void union contracts.
Philo said that emergency managers are a wrong response to an economic crisis that was not caused locally but rather by an unregulated Wall Street and federal policies.
Philo was joined in the press conference by two of the plaintiffs, Edith Lee-Payne and Evelyn Forman.
Lee-Payne said that 48 years ago she marched with Dr. Martin Luther King for the right to vote. Nearly half a century later, she said, this legislation violates the Voting Rights Act that the civil rights movement had fought to win.
We are experiencing a "turning back of time," she said. "They are taking my vote away."
Foreman, a retired Detroit school teacher, remarked that conditions in the city's schools have declined, not improved, during the state's takeover of the Detroit Public Schools. Because of inadequate funding, she said buildings have gone without heat and their ceilings are falling down.
New York Center for Constitutional Rights attorney Darius Charney said there is an attack on fundamental constitutional rights taking place around the country, but he singled out Michigan's law as "a huge abuse of executive power."
Pointing out the nationwide importance of the case he said, "We have to stop it here or we'll see other states do the same."
Photo: Signs at a rally at the Michigan state Capitol in Lansing earlier this year. PW/John Rummel