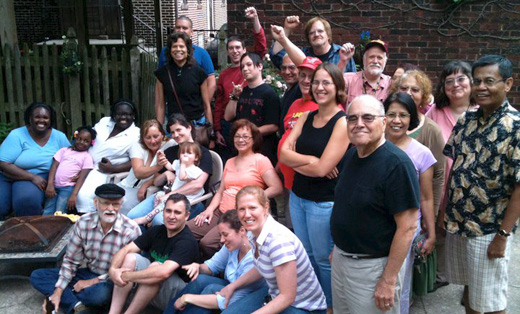 Mike Giocondo has died in the Community Hospice of Northeast Florida in Jacksonville one week after being admitted for heart failure.
Giocondo was a member of the Camden 28, the group that broke into Camden, New Jersey's Federal Building in 1971 to destroy draft board files they said would be used to prosecute the unjust war in Vietnam.
At different times in his life Giocondo was a journalist in the mainstream media, a Catholic brother, a labor reporter for the Daily World and later the Peoples World, a union organizer and a member and supporter of the Communist Party USA. Throughout all those years he was a fighter for peace and justice. For 36 of those years he was the loyal husband and comrade of Carroll Krois, whom he married in 1978.
He is survived by Carroll, his brother Gerald Giocondo of Warrenton, Va., his niece Janice Beaucar of Middletown Conn., many nephews, several grand and great grand nieces and nephews and two sisters-in-law. He was preceded in death by his sister Gloria Whistler.
Mike, the second of three children of Michael and Virginia Sposato Giocondo, was born and grew up in Syracuse, NY, attended LeMoyne College there the first year it opened and completed his bachelors degree in journalism at the University of Maryland in the mid-1950s. He worked three jobs at a time to pay his way through school.
Giocondo's first job as a reporter was with the Post in Frederick, Md. Then he moved back to Syracuse and worked as a night reporter for the Post-Standard.
Mike entered the Conventual Franciscan Friars in Syracuse, passing his novitiate year in Watertown, N.Y. He served in Washington, D.C. at a Franciscan House affiliated with Catholic University.
He asked to be stationed at a mission outside the U.S. and was sent to San Jose, Costa Rica at a Franciscan school where he taught English. Many of his vacations in Costa Rica were spent visiting missions outside the city where he would have preferred to have been stationed. Wanting more meaningful work, Mike planned to leave the Franciscans but was persuaded to go to a parish in Camden, N.J. to work with the Latino, predominantly Puerto Rican community. He helped obtain a grant to found El Centro, a social service agency and published the Center's newsletter.
Mike left the Franciscan Order in the early 1970s and began to train as a substance abuse counselor with the State of New Jersey. He was fired from this job when he was arrested inside the Camden Selective Service Office as a member of what is now known as the Camden 28.
Their story is told in the award winning documentary, The Camden 28 : "In 1971, a group of 28 people," wrote Liz Larabee in a review, "including four Catholic priests, one Lutheran minister, and 23 Catholic laypeople, ranging in age from 20 to 46 organized a break-in at Camden, New Jersey's Federal Building to destroy draft files, in hopes of wrenching an unjust system out of commission 'in the name of that God whose name is peace.'"
The Camden 28 were members of what the media then called the "Catholic Left," one of the most persistent and inventive forces in the anti-war movement. Between 1967 and 1971, the Catholic Left raided over 30 draft boards and destroyed almost 1 million Selective Service documents, and the Camden 28 were seeking to continue those tactics in that summer of '71.
After the group's acquittal, Giocondo traveled to the Soviet Union and then began covering the labor movement for the Daily World in 1974, working primarily in New York City.
In 1978 he married Carroll and in 1979 they moved to Chicago so she could attend graduate school in social work. Mike continued to write for the Daily World from Chicago, calling in his stories daily for transcription in New York until a huge "portable" computer was delivered to his apartment.
Eventually Mike stopped working at home and began to work at the Peoples World and CP of Illinois offices. Throughout the 1980's Mike traveled in the Midwest covering the struggles of coal miners, steel workers and meat packers among others. He was thrilled to cover Harold Washington's winning Chicago mayoral campaign.
Mike retired from reporting at age 62 and began his final career as a teacher of English as a Second Language at outposts of Olive-Harvey College, finally working at the South Chicago Center from which he retired at age 77. He was an active union and board member of his local.
He retired in large part due to a diagnosis of Normal Pressure Hydrocephalus, NPH. Mike's primary care physician had never diagnosed NPH in anyone previously, but his recognition of it gave him seven additional years of active intellectual life. Mike very much wanted people to be aware of this little known condition, which, without a shunt leads to dementia. NPH is highly reversible if caught early and is recognized by serious problems with one's gait. A simple spinal tap is used to diagnose NPH.
Mike and Carroll discovered Amelia Island in Florida in the winter of 2013, bought a condo, and left in December, 2013 to spend the winter. Mike's heart disease worsened and he had two more bouts of pneumonia before he was hospitalized on March 16, dying a month later. His interest in social justice and human rights remained intense even during his last illnesses.
Long after his retirement, Mike Giocondo occasionally sent in articles from time to time. Here are links to some of his writing for Peoplesworld.org:
Progressive alliance charts new course for Latin America
Secret-spiller Assange appears in public
Elderly vent anger over flu shot crisis
Bill Hogan, peace and justice activist
Photo: Mike enjoying a wonderful summer afternoon with family, neighbors and friends at a Chicago backyard fundraiser for the People's World. Roberta Wood/PW