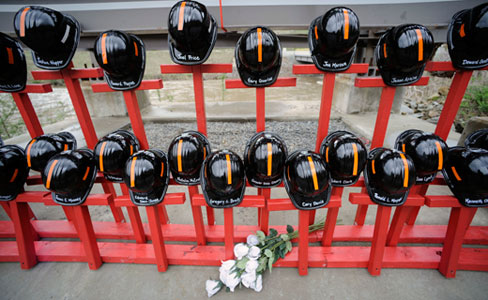 The owners of the West Virginia coal mine where 29 died in an explosion agreed yesterday to pay $210 million, the biggest ever payout for a disaster the government blamed on "the ruthless pursuit of profits ahead of safety."
The $210 million will be used to compensate the shattered families, to fund new safety procedures and their accompanying state-of-the-art equipment, and pay fines for years of violations by Massey Energy, owner of the Upper Big Branch mine when it was ripped by the deadly April 2010 explosion.
The new equipment that will be required includes digital devices to monitor airflow velocity and direction underground, and real-time meters to ensure compliance with limits on the presence of methane gas and coal dust. The company must also build a new high technology training center, and set up aggressive schedules of training programs for supervisors.
In exchange, Alpha Natural Resources, which purchased Massey for $8.5 billion earlier this year, will face no criminal charges provided it adheres to the deal, U.S. Attorney Booth Goodwin said.
"But no individuals are off the hook," Goodwin warned, adding that federal prosecutors are still investigating former Massey officials.
Early today the Mine Safety and Health Administration began circulating its final report, which essentially seconds its own preliminary report and earlier independent investigations by mine safety expert David McAteer and the Miners' union.
All the investigations agree, to the slightest detail, that the blast started with ignition of a tiny amount of methane gas that turned into a catastrophic coal dust explosion because of Massey's inadequate safety procedures. The ignition was sparked by worn-out longwall cutting teeth hitting sandstone. The tiny spark grew out of control because water sprays weren't working. The blast turned into a conflagration when it hit large amounts of coal dust Massey had improperly allowed to build up in the tunnels.
MSHA's just-released final report lists 329 safety violations at the Upper Big Branch Mine, including illegal tipping off of personnel that mine inspectors were on site and failing to conduct safety inspections.
United Mine Workers of America President Cecil Roberts said, "Responsibility must be placed where it belongs, on upper level management at Massey who created the safety-last culture at that company. We firmly believe the evidence is there for such criminal prosecution. Until someone goes to jail, there will be no justice done here."
While AFL-CIO President Richard Trumka called the settlement announced yesterday a "welcome beginning step toward justice," he echoed Roberts by quickly adding, "The only way to make a real down payment on justice is to ensure the guilty serve appropriately stiff jail sentences."
Charges have been brought against only one individual thus far, the mine's former security chief, Hughie Elbert Stover. He was convicted in November of lying to investigators and trying to destroy mine records, and is awaiting sentencing.
Relatives of the dead miners are not at all happy with some aspects of the settlement and say they will not rest until charges are filed against individuals responsible for the worst mine disaster in the United States in 40 years.
Gary Quarles, whose son Gary Wayne Quarles died in the explosion, told the press: "I want to here names, and I want to know what they're going to be charged for. Today (at the announcement of the settlement) would have been a fine day for them to have told us."
Clay Mullins, whose brother Rex was killed in the mine, said in a phone interview, that he wants to see criminal charges brought against executives at Massey, not just against "low level managers. It was an act of murder. They murdered 29 men, and I'm not satisfied one bit." He said that even MSHA bears responsibility and that it should have shut down the mine.
MSHA spokespeople have said that they shut the mine down 48 times in the year leading up to the disaster but had to allow it to reopen when problems were fixed because they lacked the authority to shut it down permanently.
The blast led to renewed calls for stronger mine safety legislation and increased enforcement powers for MSHA. The House rejected that legislation in 2010 and safety and health advocates say such legislation would have little chance of passage as long as it remains under Republican control.
The compensation aspects of the settlement are also a problem for some. The agreement provides $1.5 million each for families of the 29 who died and for families of the two who were most seriously injured. That amount, however, is not in addition to any settlements already reached in suits against Massey. In addition, any future settlement would count toward the $1.5 million.
During the press conference in Charleston yesterday, Goodwin said the government was trying to "provide a floor" or a minimum amount each family would get, but could not answer questions about why he did not set the floor at $3 million – the amount Massey had already agreed to pay some families.
UMWA President Roberts summarized the settlement as a "mixed bag."
"On the one hand," he said, "Alpha will invest in new safety equipment to be installed in all its mines, and must report its ongoing compliance to the U.S. attorney. That should serve to improve the health and safety of all the coal miners. That's an important step, provided this reporting duty has some real teeth so corporate leaders are personally held accountable in a way that hasn't happened before."
Roberts said, however, that the union is "very disappointed with the 'non-prosecution clause.' That means neither Massey nor Alpha admit, as companies, to any criminal wrong-doing, and the U.S. attorney has agreed not to pursue criminal charges against them."
Roberts said he nevertheless remains "hopeful, since the government is saying it has not waived its right to pursue individuals. We remain hopeful that responsibility will be placed on those upper level Massey officials."
MSHA's report notes that 18 Massey executives, including retired CEO Don Blankenship, who was pushed out when Alpha bought Massey, recited their Fifth Amendment constitutional rights when they were questioned by its investigators.
Photo: Mine helmets and painted crosses at the entrance to Massey Energy's Upper Big Branch coal mine in Montcoal, W.Va., represent the 29 coal miners who were killed in an explosion at the mine in 2010. A settlement was bitterly criticized by some of the dead men's relatives, who said they won't be satisfied until charges are filed against those they consider responsible for the catastrophe, the nation's deadliest mine accident in 40 years. (Jeff Gentner/AP)