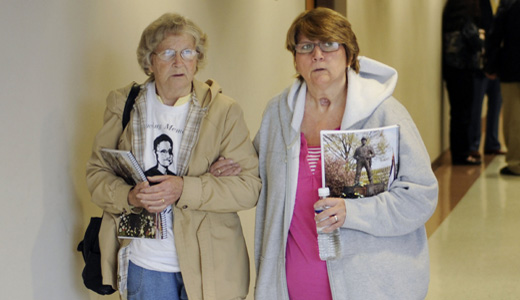 CHARLESTON, W.Va. – Despite the release of an independent report Thursday that said "corporate risk taking" resulted in the deaths of 29 Upper Big Branch miners, "some still aren't getting it," Mine Safety and Health Administrator Joe Main said in a phone interview. His agency, only three weeks ago, found that the conditions that caused the April 5, 2010, deaths at Massey Energy's Upper Big Branch mine existed in yet another Massey-owned mine in West Virginia.
He noted that on April 29 MSHA issued citations against Massey's Randolph Mine in Boone County, W.Va. Government inspectors seized control of the Randolph mine's phone network to prevent advance warning of their arrival and found a ventilation system that was not working properly.
"Miners were being exposed to dust hazards that could result in permanently disabling injuries such as black lung and other diseases," Main said. "Combustible materials in the form of loose coal, coal dust and float coal dust were allowed to accumulate, which can contribute to a mine explosion.
"The conduct and behavior exhibited when we caught the [Randolph] mine operator by surprise is nothing short of outrageous," said Main.
Thursday's report on the Upper Big Branch mine disaster by David McAteer, former head of the Mine Safety and Health Administration, found that a combination of methane gas and huge amounts of coal dust in the poorly ventilated and improperly monitored non-union mine turned a small ignition into a massive explosion that killed the workers as it roared through miles of underground tunnels.
McAteer's report, commissioned by then-Gov. Joe Manchin, describes a horror show in the mine in which safety practices were virtually non-existent. Air filled with deadly gases routinely flowed in the wrong direction, including on the day of the explosion, because of broken ventilation systems.
Miners, gasping for air, were regularly forced to wade through chest-deep water because of broken pumps. The rising water squeezed out even more of the precious air they needed to breathe.
Managers responsible for checking methane levels did so without turning on their detectors.
United Mine Workers President Cecil Roberts said, "Mine management failed to carry out even the most basic functions required of it to keep the mine safe." He said the report's citation of "a culture of intimidation and repression" in the mine showed clearly the importance of the right of workers to form a union. "Listening to workers' voices on the job is critical to making things safe. Punishing workers for speaking up is what made Upper Big Branch become deadly."
Roberts said that there is also a flaw in mine safety laws that should be corrected immediately. "Necessary safety fixes are delayed when company appeals violations," he said. The union leader made the same point about company foot-dragging on repairs when he testified May 4 before Congress. "When Congress acts, we can save miner's lives," he told the lawmakers at the time.
Roberts said mine owners must also be ordered to purchase and install more modernized safety equipment, including personal-use devices that measure buildup of atmospheric and coal dust. He also said higher fines are needed for safety violators and laws should be enacted that make it a crime for mine operators to warn shift supervisors in advance about safety inspections.
Hard economic times have hit the coalfields, as they have everywhere else. Workers struggling to make ends meet suffer when mines are shut for safety violations. Currently they receive only one week's pay as compensation.
Roberts said that amount is inadequate and should be increased. "This must be done if we are serious about protecting the health and safety of miners," he said.
Massey officials today said they disagreed with the findings of the McAteer report and that they are conducting their own investigation.
In July, former Massey CEO Donald Blankenship said the deadly explosion was "an unavoidable act of God," not the result of lax safety practices.
In December, in a move to turn down heat the company was feeling from regulators and to make the company attractive to suitors, Blankenship resigned. In February Alpha Natural Resources bought Massey for $8.5 billion and is set to take over operations next month.
Photo: Joan Mullins, left, and Sherry Mullins Scurlock, mother and sister of deceased coal miner Rex Mullins, leave a briefing with families May 19, in Beckley, W.Va. Families connected to the Upper Big Branch mine explosion that killed 29 coal miners on April 5, 2010, met with mine investigators before the release of the McAteer report. (AP/Jeff Gentner)