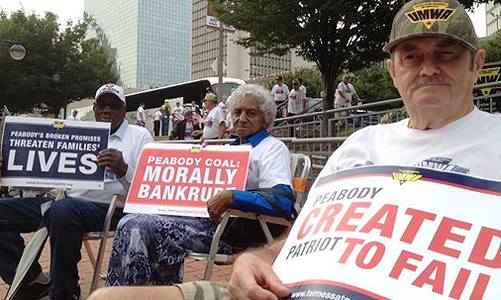 St. LOUIS – "We have reached a tentative settlement with Patriot Coal which will lessen the impact of severe cutbacks on active and retired miners, but as we've said all along, Patriot really is bankrupt and just does not have sufficient resources to pay for the contractual promises made to retired miners and their families by Peabody and Arch," said United Mineworkers of America President Cecil Roberts.
"We're back at Peabody because that's where this problem started. Executives at Peabody Energy created Patriot, they failed to give it enough assets to meet its obligations, and we're not going to sit idly by and let miners and their families pay the price."
On July 30, more than 3,000 mine workers and supporters protested outside the headquarters of Arch Coal in Creve Coeur, Mo. Ten people were arrested in an act of civil disobedience.
Arch Coal created Magnum Coal in 2005, loading up the new company with health care and retirement obligations. Patriot acquired Magnum in 2008.
"Our bargaining team worked day and night to recover all we could from Patriot, but this fight is not over," UMWA Secretary Treasurer Dan Kane said. "Retired miners and their families are being shortchanged, even though Arch and Peabody are still profitable companies. It's just plain wrong to use a corporate shell game to deny workers the benefits they rightfully earned during a lifetime of labor in the coalmines. We're going to stay on this case until justice is done."
UMWA members at Patriot will vote on the tentative agreement on Friday, August 16, with some 1,800 active or laid-off members in West Virginia and Kentucky eligible to vote. The union will not release details of the settlement until after those members have had a chance to hear its terms.
The union is continuing its fight for retired miners and their families in the courts, in Congress and through community action.
A lawsuit on behalf of UMWA members, filed in West Virginia, charges that Peabody and Arch violated the federal Employment Retirement Income Security Act (ERISA) by scheming to eliminate contractually-guaranteed lifetime health care benefits for retirees.
The union is working with a bipartisan group of more than 20 U.S. representatives and senators from California, Indiana, Illinois, Kentucky, Massachusetts, Missouri, Ohio, Oklahoma, Pennsylvania, Virginia and West Virginia on legislation that will provide significant help to retired miners and widows whose health care is threatened.
UMWA members are conducting an ongoing public education and advertising campaign about issues facing active and retired mine workers and their families.
Photo: Fairness at Patriot Facebook page.