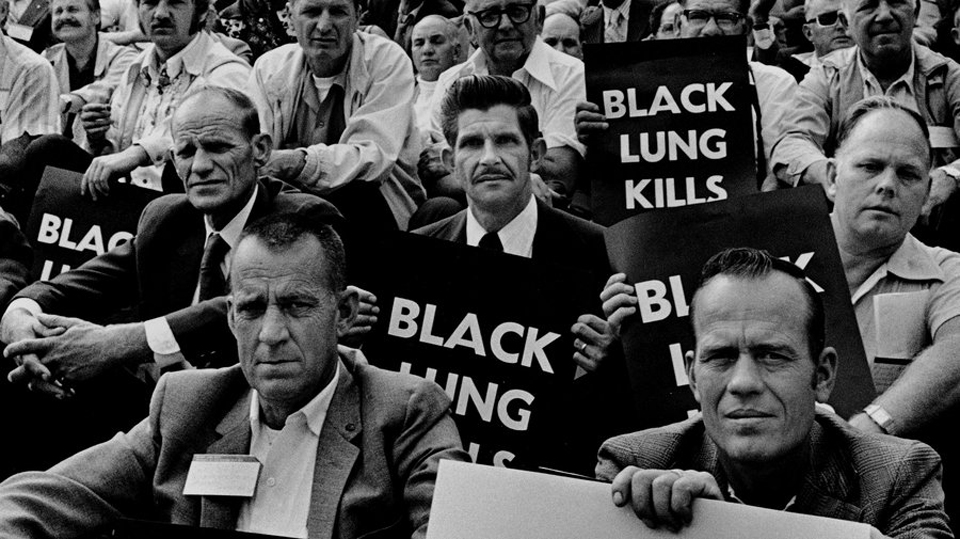 TRIANGLE, Va. – A tax cut for coal companies, scheduled to take effect on January 1, threatens to undermine the black lung benefits which desperately ill retired miners and their survivors depend upon, the Mine Workers say.
Their solution? Keep the current tax each coal company pays for every ton it mines, which funds the trust fund that pays the benefits, at its present level – or even increase the tax to cut the fund's deficit.
The Mine Workers took that stand for keeping the current tax for every ton of coal after the non-partisan Government Accountability Office reported the scheduled 55 per-cent tax cut at the end of this year could blow a $12 billion hole in the trust fund over the next decade.
Even the GOP Trump administration's proposed budget for the year starting Oct. 1 agrees: Trust fund income would drop 38 percent ($183 million), to $290 million. Operators of traditional underground coal mines pay double what strip mine operators pay. Both get the cut.
Aides to top Democrats on the tax-writing House Ways and Means Committee told reporters in a background conference call their bosses would oppose any attempt by Congress' ruling Republicans, or the National Mining Association, which represents the mine owners, to cut miners' black lung benefits.
Black lung benefits aren't large to begin with. The average retiree gets $650-$1,300 a month for living expenses, and the fund pays around $7,000 per retiree in medical bills.
But Mine Workers President Cecil Roberts was adamant that retirees, who sacrificed their lungs and their lives – through black lung disease caused by inhaling coal dust – to keep coal going to electric power plants and thus keep the nation's lights on, not have to sacrifice their small benefits, too.
"The modest benefits paid to black lung victims or their widows are small compensation for the constant pain and suffering caused by this disease," Roberts said. "These workers contracted this always-fatal occupational disease because they went to work in coal mines whose operators did not take the necessary steps to properly protect them."
​"Miners get black lung by working in a mine where the operator is not adequately controlling respirable dust," Roberts said. "This happens because the company is not complying with laws and regulations regarding proper ventilation of the mine and/or not following other required health and safety laws and regulations."
NMA did not mention a benefit cut on its website. But it favors the scheduled tax cut. It says the ailing industry, hit with competition from fracking and declining demand, can't even afford the current taxes.
The GAO report, requested by several lawmakers, also did not recommend what to do about the looming red ink, which could reach as high as $16 billion by 2048. The trust fund has a $4 billion deficit now.
GAO laid out alternative scenarios for the trust fund's future.
The black lung trust fund is in the red because it had to borrow money from the U.S. Treasury in past years to pay benefits as coal company revenues fell, mines closed and miners thrown out of jobs retired. Current revenues of $475 million yearly cover current benefits ($419 million), including medical benefits.
The black lung trust fund could face an even more forbidding financial future, Roberts noted. Citing an investigative report by National Public Radio, he noted the incidence of black lung disease, after declining for decades, is on the rise again – and especially among younger miners. The GAO report did not cover that recent spike in black lung disease.
And Trump's Labor Department is considering weakening the rules to control respirable dust. That would increase miners' future coal dust exposure – and the number of black lung cases. The fund now pays 25,700 retirees and dependents, combined.
"Coal operators caused this problem, and they're the ones who should be responsible for funding the compensation these workers receive," Roberts said. "Letting them off the hook by reducing the amount they are required to pay is not just wrong, it is rewarding bad corporate behavior. At a time when black lung is on the rise, especially among younger miners, Congress should not be even considering allowing the coal industry contribution to be cut."
"Miners are going to need these benefits for decades to come. There is a system to help the victims of this disease already in place that the coal industry pays for, and I see no reason why we would put the taxpayers on the hook instead."
Trump's coal dust rule rollback also upset Sens. Sherrod Brown, D-Ohio, Bob Casey, D-Pa., Tim Kaine, D-Va., Joe Manchin, D-W. Va., and Elizabeth Warren, D-Mass. They protested it in a letter late last year to Trump Labor Secretary Alex Acosta. All but Warren are from top underground coal-mining states, and all five are up for re-election this fall.
"We believe worker safety is of the utmost importance and we unequivocally oppose rolling back the Respirable Dust Rule which is meant to protect the safety, health, and – in effect – the livelihood of our coal miners."
The four-year-old rule, from the Mine Safety and Health Administration is "an effort to reduce occupational lung diseases – namely coal workers pneumoconiosis (CWP), commonly known as 'black lung disease.' Black lung disease is a common but preventable disease that has plagued coal miners in Appalachia for decades.  The impacts of black lung disease are debilitating and, in the most serious cases, fatal," they told Acosta.