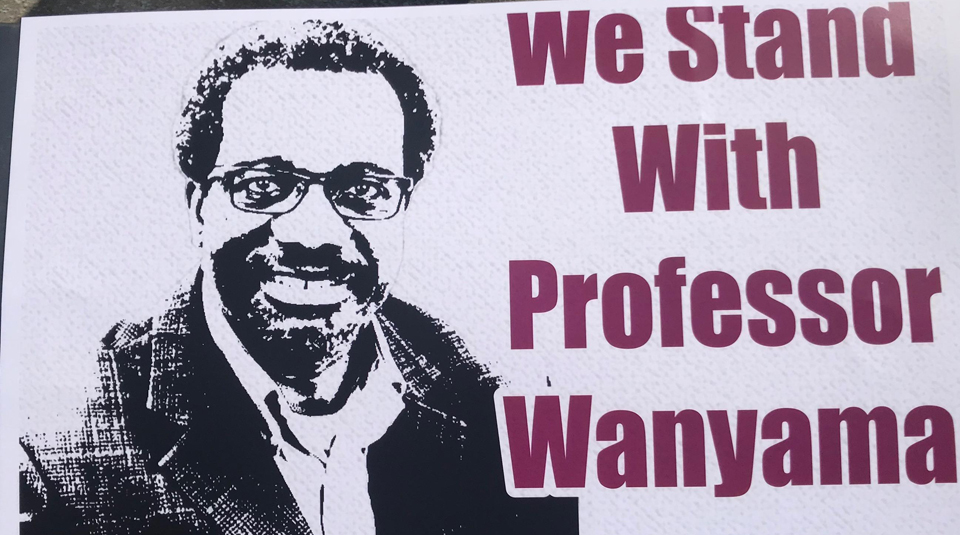 MINNEAPOLIS —In a case Workday Minnesota has been following closely – and yet another example of the GOP Trump administration's expulsion of migrants and refugees no matter how long they've been in the U.S.– Augsburg University tenured English professor Dr. Mzenga Wanyama has been facing deportation since March.
In a statement released on July 30, Wanyama says he is committed to teaching his students this fall at the Minneapolis-based university, despite ongoing threats from Trump's Immigration and Customs Enforcement Service (ICE) to deport him.
"I am determined to teach my fall courses while the courts consider the motions my attorneys have filed. I will do my job for the sake of the students, my department, my discipline, and my community," he stated.
"Refugees and immigrants, including many of our students, are facing great difficulty existing in the U.S. in this historical moment. I stand with my students and community," Wanyama said.
Professors at Augsburg declared their support for Wanyama and his family with a resolution that passed unanimously at a faculty meeting.
It reads, "The Augsburg University faculty calls on the U.S. government to halt plans for the unjust deportation of our colleague Professor Mzenga Wanyama and his spouse, and Augsburg nursing student, Mary Mzenga and to permit their continued work and residence in the U.S."
"We stand against the anti-immigrant sentiment that is prompting the current wave of deportations and proudly affirm our status as an institution that supports the many immigrant and refugee members of our academic community," the faculty resolution adds.
The threat of the couple's deportation to Kenya continues though Wanyama has two relief motions pending. One would reopen his asylum case based on changed country conditions. The other would grant a waiver of one of the terms of his original non-immigrant visa, permitting him to stay and work here.
ICE usually has not deported people while their asylum cases are pending, but that changed under Trump's "zero-tolerance" policy. ICE has pushed the boundaries of constitutionality in recent cases, giving the local community cause for concern.
Wanyama gained national attention with student-led protests and rallies at the ICE building, on campus, and outside the office of Sen. Amy Klobuchar, DFL-Minn., just as investigative journalists were revealing the scale of the mass detention of children and separation of families in the southwestern United States.
Wanyama's attorney is currently filing for a stay of deportation with the Board of Immigration Appeals (BIA) so the courts can do their work and make decisions on the motions that were filed. Supporters have started a gofundme.com page to help pay his legal bills.
ICE first hauled Wanyama in, by letter, demanding his presence on March 9 to review his case and discuss "plans for removal." Supportive students and faculty, alerted to his peril, marched on ICE's St. Paul offices that day.
Wanyama is a University of Minnesota PhD graduate and previously taught at St. Cloud State University. He has resided in the Midwest for the last 26 years. Wanyama lives with his wife and has three sons in Minnesota. One son is a U.S. citizen.
ICE has required Wanyama, a native of Kenya, to comply with stringent guidelines, including regular visits to the ICE headquarters in St. Paul every one to three months. He has not missed a single visit. But the deportation discussion demand was outside of that schedule and reflects Trump's policy.
It also put him at risk for detention and deportation. Wanyama's case had been deemed a low priority by ICE, in part because he is a full-time professor with no criminal record. The March 9 demand, and his continuing struggle to stay in the U.S., suggests the scope and reach of the deportation regime continues to widen.
Meg Novak, a Minnesota-based advocate for families of immigrants, responded to the March meeting by telling Workday Minnesota, "It is an outrage for ICE to remove our community members from their homes, disrupt their lives and rip apart families."
Wanyama's students and colleagues know him as a beloved mentor and expert in writing, post-colonial literature and theory, and African-American literature. "Professor Mzenga Wanyama is an invaluable tenured member of the Augsburg University Community. Augsburg's students need Professor Wanyama," said Robert Cowgill, the university's English Dept. chair.
Wanyama's case also stood out since he has no history of opposition to ICE policies. Augsburg University Political Science Professor Dr. Sarah Combellick-Bidney observed "ICE is emboldened and they are going after specific types of people to create a climate of fear. They are beginning to go after people who are deeply rooted in the community, who are mentors and educators, people we rely on."
Filberto Gomez is editor of Workday Minnesota