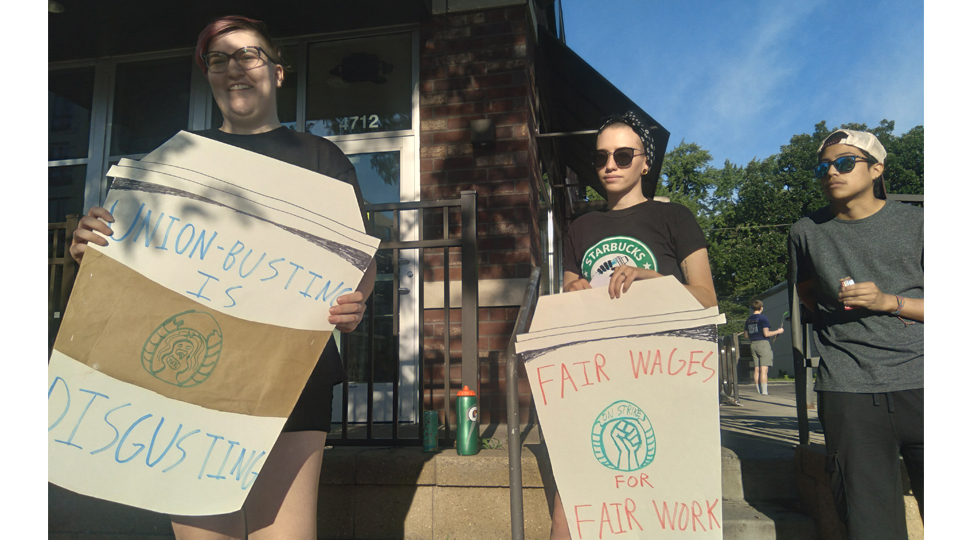 MINNEAPOLIS—Starbucks workers made local history on Sunday and Monday, shutting down their store at 47th and Cedar Avenues in South Minneapolis in a surprise two-day strike.
Three months after baristas won an election to be represented by Starbucks Workers United, an affiliate of SEIU, they successfully led the first strike by a unionized Starbucks in Minnesota.
With signs reading "Seize the Beans of Production," "Union Coffee Tastes Better," and "Living Wage Nation Now," the workers here joined a wave of other SBWU baristas around the nation demanding timely contract negotiations and bringing attention to unfair labor practices and understaffing issues.
"This strike is a warning. It sends a signal to management that we are capable of doing this. Now we need to sit down and seriously negotiate," said Ethan Tinklenberg, a barista at the store. Workers on the picket line outlined a variety of labor violations and poor working conditions that are occurring at the store, months after workers successfully unionized in the spring.
Management has systematically cut workers' hours, changed the opening and closing times of the store without consulting with workers, and refused to negotiate or take requests for bargaining seriously. "We are sick of management doing illegal things," said Tinklenberg.
After Starbucks workers in Buffalo, N.Y., first successfully organized a union in December 2021, workers at Minneapolis/St. Paul stores followed suit. In April 2022, the first Minnesota Starbucks store was unionized in St. Paul on busy Snelling Avenue. Throughout the spring, three other Minneapolis/St. Paul metro area stores unionized: Cedar Avenue, St. Anthony, and Mall of America. Starbucks workers in Edina, Roseville, and Rochester, Minn., will hold elections soon.
Minnesota Starbucks workers are part of a wave of successful union organizing occurring throughout the nation. Jen Lenz, an organizer with SBWU and a worker who provided assistance to the 47th/Cedar bargaining committee during the strike, told People's World, "It's necessary to recognize that the Starbucks Workers United movement owes its success to those that came before it and those that will come after. It is one component of a larger proletarian [working class] movement."
As Starbucks workers won victory after victory in their unionization drives, the company ramped up its anti-union tricks, including reinstating union-busting CEO Howard Schultz. Several signs on the picket line referenced Schultz's history of anti-union behavior and corporate greed, including pictures of the coffee boss with the messages: "Wanted for Union Busting and Unfair Labor Practices: Howard Schultz, Billionaire!" and "Howard Schultz, You have to bargain at all to be bargaining in good faith!"
Emily Mahoney, Starbucks worker and member of the 47th/Cedar bargaining committee, noted, "If the bonus that Howard Schultz granted himself were divided equally among his employees, we would all receive about $5,000 extra per year, which would certainly help us pay our rent."
Starbucks workers recognized the significance of their strike action in relation to the resurgence of the current labor struggles and disparity of wealth facing workers everywhere.
"The SBWU struggle represents an opportunity for the world to invalidate their misconceptions of organized labor as having only been relevant at the advent of the industrial revolution. This notion is especially apparent as it relates to extreme wealth inequality experienced in the United States and elsewhere," Lenz said.
"It is also critical to acknowledge the United States' much larger complicity in the subjugation of the developing world as the raw materials used in the production of Starbucks goods are derived from the labor of alienated workers in other countries."
Starbucks has an ongoing pattern of unfair labor practices throughout the country. The company refuses to ratify a first contract for any store in the nation and is charged with over 200 complaints for labor violations, including by workers in south Minneapolis.
Workers at the 47th/Cedar Avenue Starbucks submitted a statement to store management demanding an end to the union-busting tactics used by local bosses: "Stop enforcing corporate rules which are contested or found to be illegal, including unilateral hour changes, placing false anti-union materials inside the store, and taking down official union publications."
In addition to the workers on the picket line, community residents, union members from other locals, and supporters from out of state came to show solidarity. Among the workers themselves, this strike helped to solidify a sense of camaraderie. "Now, as a result of our strike action, the morning shift has come to know the night shift better," said Tinklenberg.
Mahoney explained, "My sense of unity with my co-workers is much more tangible now."