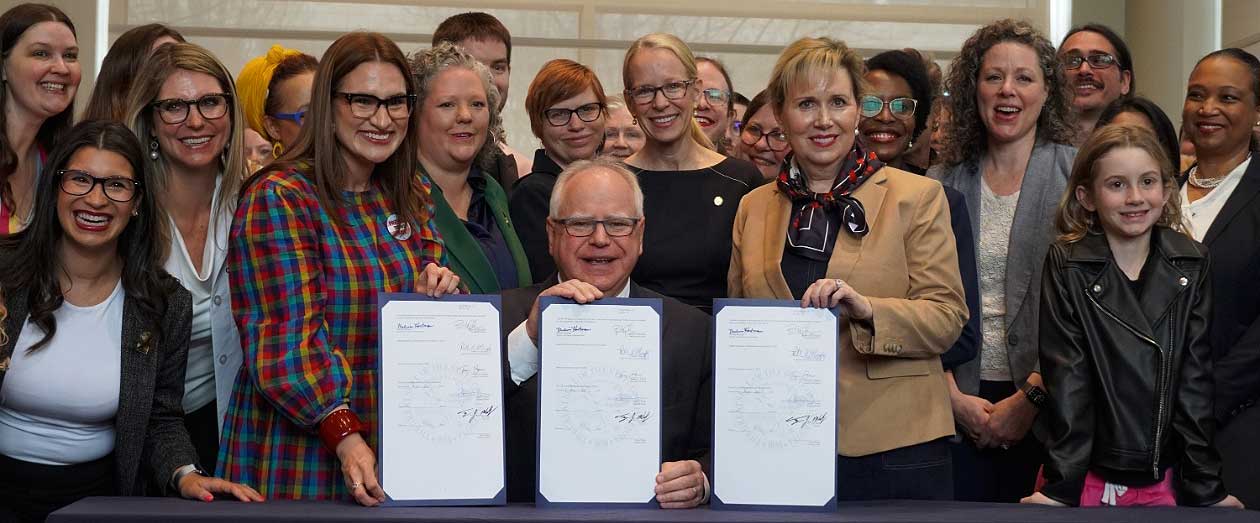 ST. PAUL, Minn.—"Whoa, holy buckets," declared Minnesota House Speaker Melissa Hortman after the close of a state legislative session that saw the passage of an "avalanche" of progressive bills, including the most sweeping pro-labor legislation in state history.
The "transformational and historic" session came on the heels of a Democratic-Farmer-Labor Party (DFL) trifecta victory in the 2022 midterm elections that swept into office Gov. Tim Walz and majorities in both chambers of the state legislature, including by a single-seat in the Senate.
The new legislature wasted no time passing laws expanding workers' rights, reproductive rights, voting rights, gun safety, clean energy, and the social safety net.
The legislative action flowed from DFL legislative majorities, a progressive agenda, and a mass democratic coalition led by Minnesota labor and social and environmental justice movements mobilizing voters and organizing for the agenda, sometimes for decades. Minnesotans call this political arrangement the "Wellstone triangle," after the beloved late Sen. Paul Wellstone.
The "Minnesota Miracle" goes further on some fronts than the bold legislative action in other states with Democratic trifectas, including Michigan, Illinois, California, Maryland, and New York, in sharp contrast to attacks on democracy in GOP-dominated states. The victories highlight the critical nature of winning governorships and statehouse majorities in the 2024 elections.
Every item of the DFL agenda and nearly every item on the Minnesota AFL-CIO agenda passed, along with priority items of reproductive rights, environmental rights, and other social justice movements. It helped that the legislature had a record budget surplus to work with.
"Our elected leaders listened to the thousands of union volunteers who knocked on doors last fall and continued to show up at the Capitol this year to enact the most pro-worker policy agendas Minnesotans have seen in more than a generation," said Minnesota AFL-CIO President Bernie Burnham.
"Thanks to legislation passed this year, working Minnesotans will have the economic security and freedom to care for themselves and their loved ones, safer workplaces, more wage protections, tens of thousands of new construction jobs, fully funded schools and public services, and greater freedom to organize unions at their workplaces," she said.
For nearly a decade, Minnesotans for Paid Family Medical Leave—a coalition of 70 labor, faith, and community groups—fought for the landmark legislation that grants up to 12 weeks of paid family and medical leave.
The legislature passed other bills to massively expand labor rights, including strengthening state labor department enforcement of worker protections, barring non-compete agreements in labor contracts, creating a sectoral bargaining system for nursing homes, allowing workers to opt out of anti-union captive audience meetings, protections against wage theft, safety standards for Amazon and meatpacking workers, and an expansion of public sector collective bargaining.
The laws also boost possibilities for union organizing. A stronger labor movement, allied with the DFL, can defend and grow legislative majorities.
Big business also put enormous pressure on Walz, however, resulting in the veto of a bill to establish a minimum wage for Uber and Lyft drivers. Uber threatened to pull its operations from Greater Minneapolis. Many of the drivers are immigrants, including from Somalia, who endure anti-immigrant hate, assaults, and racism. Walz ordered the establishment of a commission to draft recommendations for legislation next year benefiting drivers.
The governor also vetoed a bill increasing nurse staffing levels under pressure from the Mayo Clinic.
In January, Minnesota became the first state since the Dobbs decision to further codify reproductive rights with the passage of the Protect Reproductive Options Act, the first bill passed by the legislature. Abortion rights are protected even if the State Supreme Court moves to the right.
Minnesota, surrounded by anti-abortion states, is a refuge in the Upper Midwest for reproductive health care. Reproductive rights groups are planning a constitutional amendment to enshrine abortion rights in the state constitution.
The legislature also adopted bills to expand LGBTQ protections and transgender rights, ban conversion therapy, and protect gender-affirming care, including visitors to the state.
"This incredible progress starkly contrasts with what happened in surrounding states, where politicians banned abortions and gender-affirming care, attacked drag shows, and invested more tax dollars into deceptive anti-abortion crisis pregnancy centers," read a statement by Minnesota Planned Parenthood.
In February, the state legislature passed a bill, though it has shortcomings, to transition to 100% clean energy by 2040, making Minnesota the leader in the transition to renewables among Midwestern states. According to Walz, the ambitious goal was only possible with the passage of President Joe Biden's CHIPS Act, Jobs and Infrastructure Act, and Inflation Reduction Act.
Minnesota joins 21 other states and Puerto Rico in committing to net-zero emissions and only trails California and Massachusetts in actions taken. Minnesota boasts the largest solar manufacturing facility in North America.
Minnesota is now one of three states offering free meals to all public school children, regardless of income. "If you're looking for good news, this was certainly the place to be," said Walz. "I'm honored and I do think this is one piece of that puzzle in reducing both childhood poverty and hunger insecurity."
The legislature passed The Restore the Vote Law, granting voting rights to 50,000 formerly incarcerated people on parole or probation, disproportionately impacting African Americans. Another law makes voter registration automatic.
"Minnesota is making sure parents have the time and resources to care for and sustain their families; while other states ban books in our schools and libraries, Minnesota is making sure no student goes hungry at school; and while other states make it harder to vote, Minnesota is expanding our Democracy to make sure every eligible voter has the freedom to make their voice heard," added Burnham.
The legislature also passed bills granting driver's licenses for undocumented residents, a historic investment of $1 billion in affordable housing, a $2.6 billion capital construction package, and the legalization of recreational marijuana. Another bill expands gun safety, including a "red flag" law that confiscates firearms from those judicially deemed a threat to themselves or others and imposes background checks for private gun purchases.
GOP control of the state Senate or House blocked much of this legislation for years. DFL elected officials hesitated to pass some progressive aspects of their agenda the last time they won a trifecta in 2012, thinking they would have another chance. They lived to regret it when they lost their majority in 2014.
Once the DFL won the trifecta in the 2022 elections, they committed to going all out and achieving everything possible. This moment might not come by again for a while, they appear to have concluded.
"I thought this would be a once-in-a-generation opportunity, and it should be viewed that way," Walz told the Washington Post. "And I've always said you don't win elections to bank political capital. You win elections to burn the capital to improve lives."