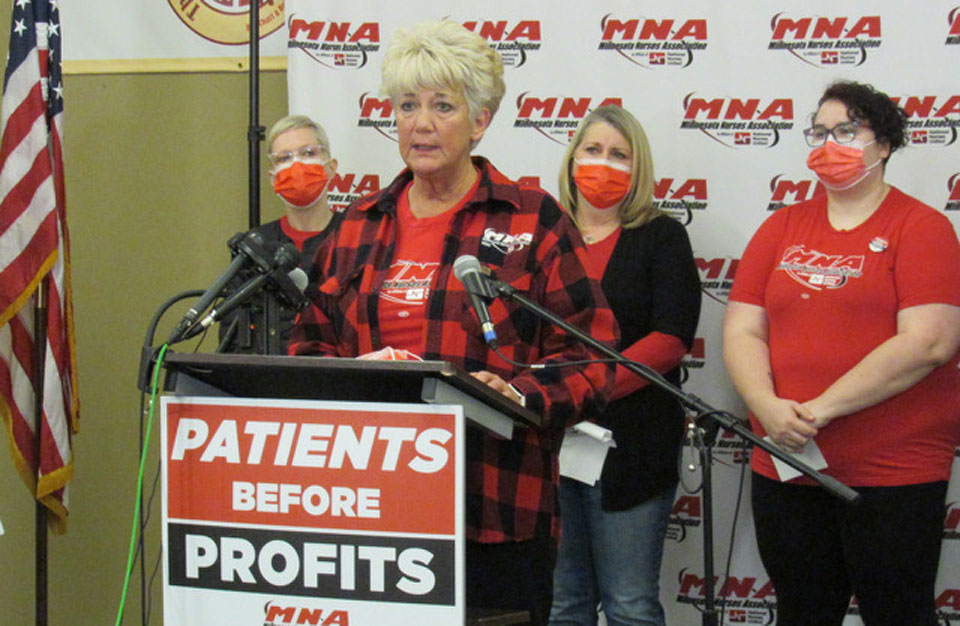 MINNEAPOLIS-ST. PAUL—A prior overwhelming strike authorization vote by members of the Minnesota Nurses Association drove Twin Cities-area and Duluth hospitals to bargain with and agree to new contracts with the union, whose 15,000 nurses then ratified them. And nurses won their key issue, a say on safe-staffing levels which lead to better patient care.
Union President Mary Turner, RN, announced on Dec. 14 that the pacts with the hospitals were ratified in voting over several days. They covered seven different hospital systems in the Twin Cities and the Duluth-Superior Twin Ports area on the Minnesota-Wisconsin border. The two sides reached tentative agreements a week before.
While the agreements with each hospital system differ, all give nurses a greater voice in safe staffing levels, Turner said. "This is a win, not only for nurses, but for our patients," added Victoria Zeehandelaar, RN, a nurse at Methodist Hospital.
Turner said the hospitals began to bargain about staffing concerns only after nurses voted for the second time this fall to strike. After the legally mandatory 10-day notice to the hospitals expired, the planned unfair labor practices strike would have begun Dec. 11 and lasted through the end of 2022, and beyond that in Duluth-Superior.
Had they been forced to strike—again—MNA's 15,000 nurse members would have been the largest group of striking nurses nationwide in decades. And safe staffing is a top cause not just of the Minnesota Nurses Association, but of its parent union, National Nurses United. Both repeat the same theme: "Patients over profits."
"This tentative agreement is a historic win for nurses and patients at the bedside," said  Turner, an ICU nurse at North Memorial Hospital. "For years, hospital executives have been pushing nurses out of the profession by under-staffing our units and under-valuing our nurses.
"This agreement will help to keep nurses at the bedside, where we will keep fighting to oppose the corporate healthcare policies which threaten our hospital systems and the care our patients deserve."
Far more than just wages
In addition to significant wage increases, the agreements provide nurses with a long-sought goal: A role for nurses in how hospitals set staffing levels.
The agreements cover 15 hospitals run by seven different hospital systems: Allina Health, Children's Minnesota, Essentia Health, HealthPartners, M Health Fairview, North Memorial, and St. Luke's.
In a statement, MNA said: "The new contracts include unprecedented language won by MNA nurses to address chronic understaffing in our hospitals for the first time in history… Staffing changes won by MNA nurses in the agreements will give nurses a say in how staffing levels are set and to ensure changes to staffing levels benefit nurses and patients at the bedside." The staffing changes won by nurses will vary by each agreement with each hospital system.
The union said the new contracts include "historic pay raises of 18% over three years for nurses in the Twin Cities, and 17& for nurses in the Twin Ports, with pay retroactive to the previous contract's expiration. These wage increases represent the largest won by MNA nurses in over two decades."
As nurses streamed into a Bloomington hotel Nov. 30 to cast strike authorization votes, Southdale ICU nurse Ericka Helling, RN—a  nurse since 1998—greeted everyone and asked if they had any questions. That vote got the hospitals back to bargaining in earnest.
One young nurse she welcomed said, "I've only been a RN for a month." Replied Heilling: "No one can work this hard for the rest of their career, they can't."
Helling explained the reasons driving the strike authorization vote: "You need better support and you need to be able to stay in this profession for 25 years. What I think is awesome is there are still nurses who care enough."
"For decades, MNA nurses have fought for contract language and legislation to ensure safe staffing at the bedside, while hospital executives denied the problem and insisted on the status quo," the union said in a statement.
"Staffing changes won by MNA nurses in the contracts will give nurses a say in how staffing levels are set and to ensure changes to staffing levels benefit nurses and patients at the bedside.
"Staffing changes won by nurses include language to prevent reductions in staffing levels without consensus between nurses and management; help protect nurses from discipline when they raise concerns about unsafe assignments; and to trigger reviews of staffing levels by nurses and management in response to key measures of patient and nurse wellbeing and outcomes," MNA added.
"It took nine months of negotiations for our hospital executives to understand that nurses would not back down in the fight for better care and working conditions in our hospitals," said Chris Rubesch, RN at Essentia in Duluth and the union's First Vice President.
"These contracts are a critical step to address the chronic short-staffing and other corporate healthcare policies hurting patients and nurses at the bedside. Now, we must pass the Keeping Nurses at the Bedside Act to ensure safe staffing levels to retain nurses and protect patient care in communities throughout Minnesota."