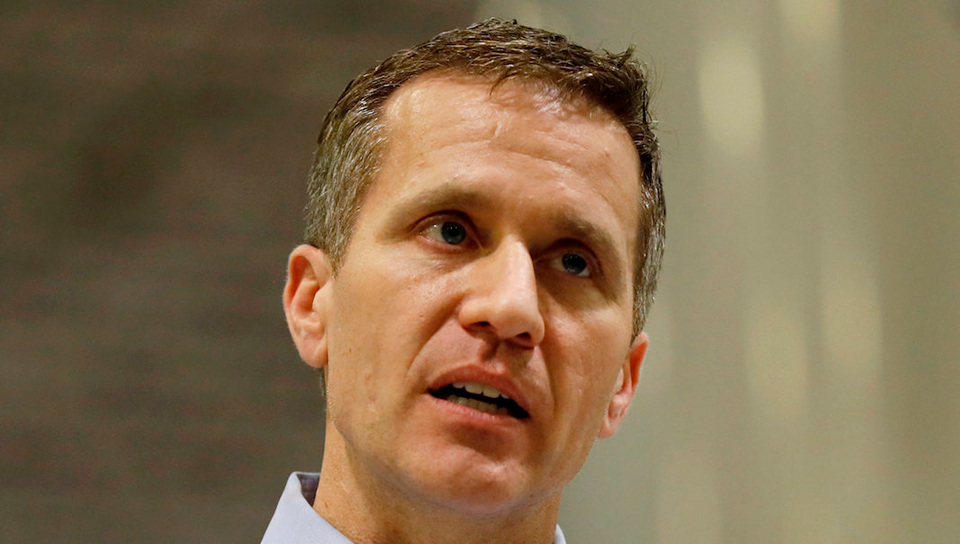 The moment of utter disbelief hit me unexpectedly Monday afternoon—the lack of coffee flowing through my veins didn't help either.  In a bizarre twist of events, St. Louis City prosecutors dropped the invasion of privacy criminal charge against scummy Missouri Gov. Eric Greitens.
The dismissal follows a judge's earlier ruling Monday allowing Greitens's defense team to call on St. Louis City Circuit Attorney Kim Gardner to the witness stand—if they choose too.
This procedural move follows several private filings in state court and the state court of appeals over the past several days. The circuit attorney's office said it would refile the felony charge through either a special prosecutor or by Gardner assigning it to one of her assistant attorneys.  Under the statute of limitations Gardner's office has less than a month to refile the case.
Greitens, along with his bottom feeder defense team, applauded the move as a "great victory" and said they do not think the charge will be refiled.
"The real reason why the case was dismissed was there was no evidence," said defense attorney Jim Bennet.
Emerging from within the courthouse, Greitens gave a brief statement to reporters gathered outside (my comments on this statement are included and italicized):
"Today, the prosecutor dropped the false charges against me. This was a great victory and a long time coming." –It's like Trump's pulling the puppet strings from D.C.
"I've said from the beginning that I am innocent."–The dictionary definition of innocent was not looked up. 
"This experience has also been humbling, and I've emerged from it a changed man."–Yes, humbled and changed by the fact they he can no longer get away with being a sexual predator. 
"I believe that in all of our lives, we have to deal with pain, and that if we deal with it in the right way, we can learn wisdom."–The wisdom of hiring an expensive team of defense lawyers willing to do anything to win. 
"We all have to deal with suffering, but if we deal with it in the right way, we can emerge with strength."–Too bad the poor woman who's suffering because of you will only emerge with scars.
"I also believe, as many people of faith do, that even in the hardest situations, we can find blessings."–You've lost the right to consider yourself a person of faith. "So in everything, do unto others what you would have want done unto you, for this sums up the law and the prophets." Matthew 7:12—I suggest you start re-reading the Bible.
"Above all, I am sorry for the pain that this process and my actions have caused my family, my friends, and the people of Missouri.
"I am extraordinarily grateful for the tremendous patience and courage of friends, family, and people of faith, who have all recognized that in time comes the truth."–False truth maybe, but you're still on the corruption chopping block.
"We have a great mission before us. And at this time, I'd ask people of goodwill to come together so that we may continue to do good together."–Your interpretation of  "good" serves to screw over the people of Missouri. Time to exit stage right.
Susan Ryan, spokesperson for Gardner, said in a statement that Judge Burlison's "unprecedented order" "places the circuit attorney in the impossible position of being a witness, subject to cross-examination within the offer of proof by her own subordinates."
The statement goes on to mention that Greitens and his defense team "have taken a scorched-earth legal and media strategy and relentlessly attacked the intentions, character and integrity of every person involved in investigating the Governor's behavior including Missouri House Committee members, the Attorney General, the Circuit Attorney and her team, his victim, her family and those who have called for his resignation."
From the get-go, the governor's defense team wanted to call Gardner to the stand after accusing her of prosecutorial misconduct.
The defense accused investigator William Don Tisaby of putting "words in the mouth" of witnesses and removing information favorable to Greitens from reports.
According to St. Louis Post-Dispatch reporters, a transcript of the discussions by lawyers for both sides showed defense lawyers arguing that Gardner was the only potential witness for parts of the case they wanted to make.
Adding to the bombshell dismissal was the lack of evidence showing that a photo had been deleted by Greitens on the day his relationship with the hairdresser became sexual, in 2015, before his run for office.
A special master reviewed over 16,833 images and 610 videos from Greitens's mobile phone and "found none that were associated with the woman," read the motion.
"When you come to a fork in the road, take it."–Yogi Berra, catcher for the New York Yankees.
While this is indeed a fork in the road for Missourians who want Greitens gone, it sure as Hell doesn't mean his political and legal troubles are over—they're far from it.
Greitens still faces another felony charge for computer tampering during his campaign tied to allegations of improperly using donor lists from a veterans' charity to raise funds for his race.
Legislative leaders of the Republican-controlled Senate intend to continue their investigation of the governor and are scheduled to go into a special session to discuss impeachment.
"There are unfortunately a lot of disturbing allegations surfacing besides the original allegation," said Senate Majority Floor Leader Mike Kehoe (R) to the St. Louis Post-Dispatch. "When the committee is ready, they will present what they found to the full House and they will make a decision based on the facts, and not from what you may or may not be seeing in St. Louis. We owe it to Missourians to have a fair and thorough investigation of the facts."
Greitens may choose to celebrate this supposed victory all he wants– it won't amount to much more than just another example of the delusional office holders we're needing to kick out of office.
Pride comes before the fall.
And this Midwestern Nixon-Trump hybrid will assuredly fall hard.