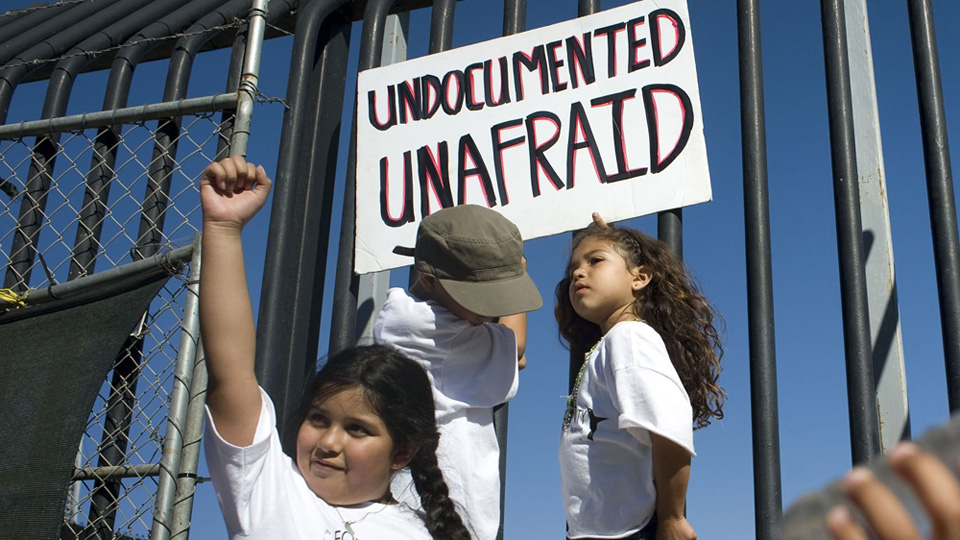 This week Trump shocked people across the political spectrum June 15 when he issued a series of memos announcing that he was tentatively suspending his earlier decision to do away with the Deferred Action for Childhood Arrivals Act. The policy was first put in place during the Obama administration, in June of 2012, and allowed for limited protection of about 800,000 undocumented minors who entered the country at a young age. Not only did the legislation make room for DACA recipients to receive a renewable two-year period of deferred action from deportation, and eligibility for a work permit, but it became it also became a way for deprioritize individuals with no criminal records. Trump had indicated earlier this year that he would end the program.
DACA was widely popular, especially within the undocumented student population, but also failed to address a number of existing issues, including concerns that  "unauthorized" immigrants would have to "out" themselves by providing their names, addresses, and other personal information to the government when applying. This led to growing security concerns, and a pushback from communities that were being encouraged to seek relief under the DACA/DAPA programs.
While many rejoiced last week at the rare "good news," immigration advocates called into question how good the news really was. Immigration and Customs Enforcement Acting Director, Thomas Homan stated that all undocumented immigrants "should be afraid" of being deported. According to CNN, during a follow up press conference Homan claimed that the administration is prioritizing for arrest criminals, national security threats, individuals who reenter the country after being legally deported and those who have a final order for deportation. Homan failed to address the fact that because local police forces often collaborate with ICE, undocumented individuals constantly run the risk of arrest; especially for minute infractions that might otherwise go unnoticed. Stories of immigrants who have been deported over jaywalking tickets, or minor traffic violations range far and wide. These narratives depict the chilling culture of fear in which many undocumented communities live.
Whether or not Dreamers will remain under political sanctuary, undocumented communities remain doubtful of their safety. According to Homan the Trump administration have made clear that any undocumented immigrant still face deportation and arrest at any time, unless they have current and valid protection under DACA. Earlier this year however, the deportation of DACA applicant Juan Manuel Montes-Bojorquez, raised questions in regards to the guarantee of the current administration's promises. Montes-Bojorquez is now suing the U.S. government, with the assistance of the National Immigration Law Center.
While in theory DACA would remain in place, DAPA, Deferred Action for Parents of Americans and Lawful Permanent Residents (DAPA) remains in jeopardy. DAPA, similar to DACA, was an executive policy that was enacted under Obama-era, and was available to undocumented parents of Americans or lawful permanent residents (green card holders) who have lived in the U.S. since January 1, 2010 can apply for permission to work and permission to stay in the U.S. for three years. This would mean that while children are "allowed" to remain in the country, their undocumented parents would continue to live with a target on their backs.
According to a research study conducted by the MPI-Urban Institute, DACA over 3.6 million undocumented immigrant parents were potentially eligible for DAPA. The report also stated that "more than 10 million people live in households with at least one potentially DAPA-eligible adult, including some 4.3 million children under age 18—an estimated 85 percent of whom are U.S. citizens." The retraction of such a program would put both undocumented children and adults at risk, and would likely result in many more families being separated.
Despite these unfolding developments, Trump has continued to voice his thoughts on the necessity of programs like DACA. When asked, during a Feb. 16 press conference, about his thoughts on whether he considered keeping the programs intact, he stated "We're going to show great heart. DACA is a very, very difficult subject for me, I will tell you. To me, it's one of the most difficult subjects I have because you have these incredible kids."
Nevertheless, Republicans continue to push for a tougher stance on immigration and have continued the raids and deportations that have left so many families fearing for their safety. Whether or not Trump will follow through on his numerous anti-immigrant campaign promises remains in question.