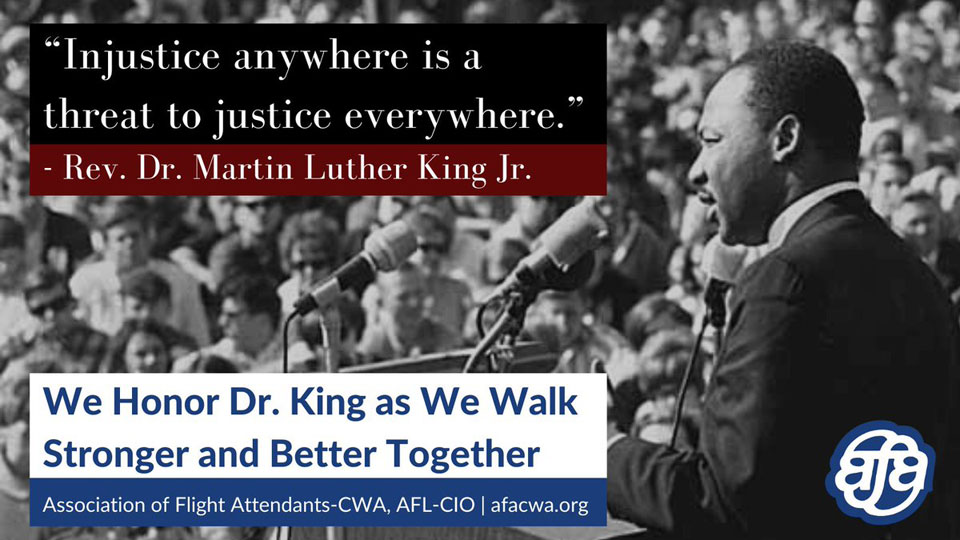 WASHINGTON—Some 400 delegates, attending the AFL-CIO's annual Martin Luther King commemorative conference by zoom and video, spent their two-day event strategizing on how to gain more political power—and use it—for people of color.
But they also had a few words for fair-weather friends, political, and organizational, too.
The conference, held annually to commemorate the martyred civil rights leader's birthday, revolved around the political activism that sent people of color into the streets and into politics in record numbers starting in 2018, with African-American women leading the way.
In 2020, African-Americans challenged the nation on eradicating systemic racism and campaigned to elect officeholders pledged to tackle it, principally Democratic President Joe Biden and Vice President Kamala Harris, the first African-American and first South Asian-American ever elected to the nation's #2 job.
"The legacy of Martin Luther King is in each of us," AFL-CIO President Richard Trumka said in his Jan. 15 keynote address. "We have a moral responsibility to carry the torch he lit."
And that's not only the torch for civil rights, for voting rights and for eradicating systemic racism, Trumka said. It's also the torch of "working people demanding dignity and a union" as King did when he traveled to Memphis, Tenn., in 1968 to campaign for exploited sanitation workers who demanded unionization with AFSCME. King was assassinated there.
"We cannot settle down into…comfort or complacency," Trumka warned, sounding a theme delegates later discussed: How to maintain pressure on politicians for radical change. Workshops tackled that issue in a variety of ways, as did other speakers. Links to the major addresses are on the AFL-CIO's website, or on YouTube.
Speakers also put systemic racism into the context of current events, specifically the white nationalist male-led invasion of tens of thousands of people into the U.S. Capitol on Jan. 6. The insurrection led to House impeachment of GOP Oval Office occupant Donald Trump, who incited it.
"Look at the attempted coup. Look who committed it, look who enabled it, and look who urged it on…We in the labor movement are the counterforce to racism and sexism and hate," said AFL-CIO Executive Vice President Tefere Gebre, a former East African refugee.
One key way to keep the pressure on politicians, speakers said, is to keep organizing and talking political issues, especially on the local level, led by individuals—rank-and-file unionists and others—whom leaders must convince to come forward and act. Leaders must be friends, co-workers and neighbors, and year-round.
"That's the only type of leadership that's effective. It's intergenerational" and transcends race, gender and class, NAACP President Derrick Johnson said.
Keeping pressure on won't be easy, he said. It will take more union organizing, especially in the anti-union South. Johnson grew up in Detroit, son of Black parents who moved there as part of the Great Migration north for jobs—especially union jobs—before and during World War II.
But now the migration is, to some extent, heading in reverse, as jobs have left Northern unionized cities for Southern union-hating, white nationalist-heavy states.
"There are no campaigns" by unions "to organize the workers" for either economic or political justice there, Johnson explained. As a result, Southern workers "want you to come and get them organized." That won't work, he declared.
"The failure of any organizing campaign," in labor and in politics "is when we invest too much in one person, because when that one person is off the scene, people are going to say, 'Now, what?'"
There are, however, Black-led—particularly Black women-led—political organizing drives, year-round in the South. Their foremost leader, 2018 Georgia Democratic gubernatorial nominee Stacey Abrams, received one of five special awards at the conference, honoring her efforts.
"So much is owed to Black women. They're carrying this country and they were carrying this country before it was a country," AFL-CIO Secretary-Treasurer Liz Shuler said on Jan. 16, introducing Abrams.
Abrams-led and Abrams-motivated organizations, in coalition with unions and other progressives, stepped into the void an emasculated Georgia Democratic Party left. They delivered Georgia to Biden, the first Democratic presidential nominee to carry the state in a quarter of a century.
Abrams also led the large coalitions that produced Democratic wins on Jan. 5—the day before the Capitol invasion—in two U.S. Senate special elections. Those victories by the Rev. Raphael Warnock, now preacher at Dr. King's old church, and journalist Jon Ossoff, delivered razor-thin Senate control, due to Harris's tie-breaking vote, to Biden, Democrats and pro-worker forces.
After GOP purging of Blacks from voter rolls cost her the 2018 Georgia gubernatorial election, Abrams told the group, "I had the obligation to keep going at the work" of organizing. "My mission was to create work for working families" by increasing blacks' and workers' political clout and economic gains—a mission she has expanded beyond Georgia.
"We helped to make sure our voices were heard and our people were seen," Abrams stated. Now workers and their allies must move from politics and voting to talking policies, year-round. Which is what her grass-roots groups are doing. And unions must do so, too, she urged.
"As we fight covid and the economic crisis, our responsibility is to open doors for all," she added, using the official name for the coronavirus, which has now killed 400,000 people in the U.S. in the year since the first case was officially discovered.
Both Abrams and Johnson warned white racism and white nationalism would be a big obstacle to aspirations of Blacks, other people of color, women and workers.
Johnson, however, also faulted white progressives—politicians and organizations—who mouth pro-worker  and pro-equality words and don't follow through. "Task forces," such as the one the AFL-CIO has set up to combat systemic racism within organized labor, "and statements are not enough."
"And sometimes our friends are not our friends, because the concept of power is misplaced."
Meanwhile, the white nationalists have "a construct" of a society where they're privileged, and are scared of a changing, multi-racial society, he added. It is up to people of color, organized labor, the NAACP and allied groups to destroy that construct.
But workers and their allies should do so without descending to the level of those "domestic terrorists" who invaded the Capitol, Abrams declared "I refuse to let their darkness dim my joy" in the political wins. "And I refuse to let their traitorous behavior dim our belief in our democracy.
"We get the democracy we demand, we work for, we fight for and that lives up to our credos."
"White supremacy constantly asks for silence, and we can no longer be silent," said April Sims, secretary-treasurer of the Washington State Labor Council.