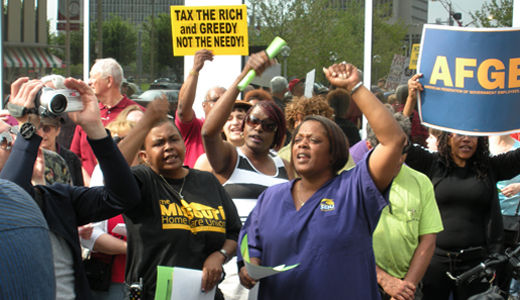 JEFFERSON CITY, Mo. – "Elections matter. They really do make a difference," State Treasurer Clint Zweifel told about 300 union activists as the Missouri AFL-CIO convened its annual Labor Legislative Conference here on March 26.
Zweifel, a member of the Teamsters' union, emphasized the importance of the up-coming November elections for working families and urged everyone to vote. He said, "Elections are won or lost by just a few votes."
The Missouri AFL-CIO Labor Legislative Conference provides union members from all over the Show-Me State with a two-day opportunity to talk with their state representatives and state senators about issues important to working families.
Hugh McVey, Missouri AFL-CIO president, told the assembled union leaders, "It's no secret. We're under attack – not only here, but all across the country."
McVey reminded the assembled union members of the recent attacks on workers' rights in Wisconsin, Ohio and Indiana and said, "They are going after the core, the foundation of our society."
In fact, he added, the Republicans have "done nothing to address the real problems facing our country."
"Their grand plan is to make us spend all of our money on state fights so we won't have the resources for November."
Some Missouri politicians – like their counterparts in other states – want to strip workers of their democratic right to join a union and bargain collectively .
Right-wing republican legislatures here are hoping to pass legislation barring union shops (so-called "Right-to-Work," SB-438) and automatic union dues deductions (so-called "Pay-Check Protection," SB-553) for public workers.
"Right-to-Work" legislation has been passed in 23 other states. According to the AFL-CIO it drives down wages for everybody. In fact, workers living in so-called "Right-to-Work" states make about $5,333 less per-year than their union counterparts in other states ($35,500 compared to $30,167).
Missouri labor leaders are also concerned about SB-439, which would suspend prevailing wage laws in natural disaster areas. Prevailing wage is simply defined as the hourly wage, usual benefits and overtime paid to workers in a given area based on trade, occupation and skill level.
Republicans want to cynically use the tornado disaster in Joplin, Missouri as a pretext to drive down wages and living conditions in an already devastated area.
Additionally, a voter ID bill (SB-442) has been introduced requiring Missouri voters to produce a non-expired photo ID in order to vote in up-coming elections. Republicans claim it is necessary to prevent voter fraud.
However, according to state auditor Susan Montee, "The last documented case of voter fraud in Missouri was in 1936. There is no voter fraud in Missouri."
Montee, who is also running for the lieutenant governor's seat, continued, "They are determined to suppress our vote – because we don't vote the right way."
Montee added, "Voter suppression is alive and well in Missouri. And there are around 250,000 long-time, current Missouri voters who do not have photo IDs. That's 250,000 people who may not be able to vote."
She concluded by saying we are in the "midst of a shameless season of intolerance."
Missouri Governor Jay Nixon also addressed the Conference and said to loud applause, "We are making measurable progress. There are more union members in Missouri today than when I was elected."
According to the Governor, Missouri has gained 41,000 union members since 2008. Union membership in Missouri is currently 316,000.
He added, "It is clear we have turned the corner. We are heading in the right direction. We are working hand-in-glove to rebuild the economy. We need to make a loud statement in November."
"Now is the time. Organization is more important than ever," Nixon continued. "Now is the time. We have to stand together. Our steps must be forward and our unity must be absolute."
Photo: Missouri labor unionists at 2011 tax day rally in St. Louis. Courtesy of Jason Fedarow/SEIU state council.