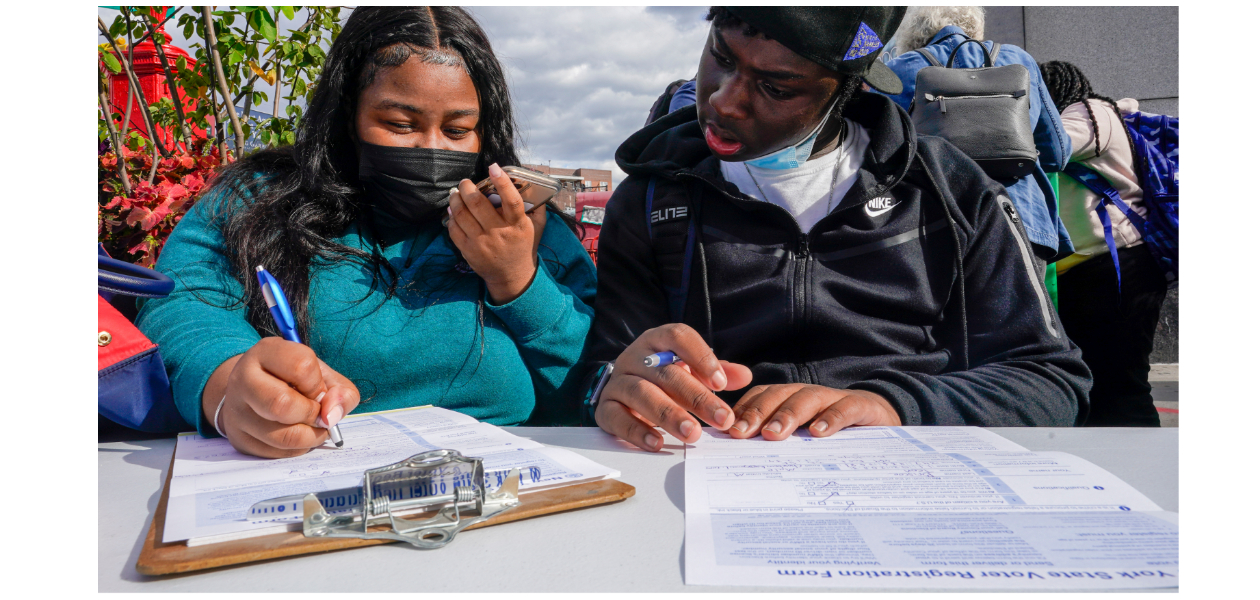 If Democrats successfully defend and expand their U.S. Senate and House majorities in the November elections, young voters taking their wrath out on Republican candidates will be a big reason.
Passage of historic climate legislation by Democrats, ongoing gun violence and mass shootings, and the Republican assault on abortion rights and democracy are energizing young voters to turn out in huge numbers as they did in 2018 and 2020.
Traditionally the president's party takes a beating in the mid-term following the general election, leading many pundits to predict a Republican wave in November. But since the Uvalde school massacre, the Supreme Court rulings rolling back rights, and revelations from the Jan. 6 Select House committee about the ongoing insurrection, the electorate has shifted against GOP extremism.
The anti-MAGA majority, which defeated Republicans in 2018 and 2020, has reawakened. Democrats now lead or are tied in most battleground Senate races and lead the generic polling average for the House of Representatives by 44.7% to 42.5%. But young voters prefer Democratic control over Congress by an even wider margin, 55% vs. 34%.
Overturning Roe led to spike in registrations
"Once Roe v. Wade was overturned, there was a huge increase in enrollment dealing with the upcoming midterms," Zion Sykes of PA Youth Vote said about registering young voters in Pennsylvania. "It really has galvanized a lot of people on campus, I think. it's brought a lot of groups together in unison to try and increase voter turnout."
Voters under 30 years of age, dubbed Millennials and the younger Gen Z, make up the most racially diverse young generations ever. Over 70 million young people comprise the voting bloc, 40% of the electorate. In the past, youth have turned out at lower rates than older generations, and many candidates wrote them off. Only 20% of youth voted in the 2014 mid-terms when Democrats lost.
But something has been boiling among youth ever since Donald Trump took office in 2017. Young voters are turning on the Republican Party in droves, disgusted by their stances on climate, abortion rights, racial justice, LGBTQIA and immigrant rights, and gun control. An inability to make big enough inroads among young voters only underscores the existential crisis facing the GOP.
The growth of fascist movements and assault on democracy and the planet has created huge anxieties among youth and spurred an increasing number into action. A record youth voter turnout of 36% was integral to the Democratic victory in 2018, nearly doubling the turnout of 2014. In 2020, young voters turned out again in record numbers, over 50%, part of a diverse multi-generational, multi-racial coalition to oust Trump and Republicans.
Youth are the only age group to vote in a majority against Trump in 2020, and their hatred of GOP policies and rolling back rights has only grown. Youth is a core of the anti-MAGA majority. By all indications, young voters, especially young women and youth of color, are preparing to turn out in the same record numbers this year.
The Supreme Court ruling against abortion rights is a pivotal issue galvanizing young voters. "Seventy-seven percent of young voters are opposed to the Supreme Court (abortion) decision," said Cristina Tzintzun Ramirez, president of NextGen America. "We've seen thousands and thousands of young people take to the streets, and they are chanting, "Vote them out!"
"We are expecting record breaking turnout from young people being mobilized that are completely appalled by the (SCOTUS) decision to roll back rights," she said. "We're going to see young voters turn out because they are a very pissed off generation."
Young voters were a big part of the majority that voted against GOP attempts to amend the Kansas constitution to outlaw abortions. Voter registration in Kansas shot up 1000% after the Dobbs decision. Seventy percent of new registrants were women, and half were young people. Polls showed 75% of 18-34-year-olds opposed the referendum, and they turned out in record numbers.
Youth are repeating this electoral activism in campaigns across the country. Young women were also instrumental in gathering the record number of signatures needed to put an abortion rights amendment on the ballot in Michigan. Youth are increasingly running for office, too, best exemplified by hundreds of young candidates stepping up to "Run for Something."
And youth voter mobilization is just getting started. "This month, NextGen America will have boots on the ground in eight battleground states – leveraging our army of 25,000 volunteers and 200 field organizers across 186 college campuses – to register new voters!" announced Antonio Arellano, NextGen America VP of Communications.
Will register heavily in Texas
The $32 million campaign will register nearly 300,000 young people in Texas, Arizona, North Carolina, Pennsylvania, New Hampshire, Michigan, Wisconsin, and Nevada and educate and mobilize voters to the polls. Nearly half of the new registrants will be in Texas, where Beto O'Rourke is battling to unseat GOP Gov. Greg Abbott.
"We aren't sitting on the sidelines waiting for history to turn our way — we're mobilizing the power of young Americans to bend the arc of history and set a new direction for our country," said Ramirez. "NextGen America is organizing in the largest voter-suppression states in the country to empower the largest and most diverse generation in American history to make the change we need," she added.
Many young voters may have felt disappointed by what they perceive as a lack of accomplishments by the Biden administration, resulting from a narrowly Democratic Senate majority working against total GOP obstruction. None of that is impacting the youth's desire to vote.
"The conventional wisdom is young people are not as enthusiastic. That's true because they are turning away from (day to day) politics to protect their mental health," said John Della Volpe at Harvard's Institute of Politics. "I have seen no indication in the polling that young people are any less likely to vote in these mid-terms than in 2018. All the polling indicates we are on track for the same voter turnout."
And that was before Senate passage of the historic Inflation Reduction Act, the "most significant federal investment in history to counter climate change…" opposed by every GOP senator. "This is a very big piece of business for the record number of #GenZ and #millennials who turned out to support @POTUS less than two years ago," tweeted Della Volpe.
"The Inflation Reduction Act is making a great start on climate investment, but we can't stop here. The next generation of voters are sending a clear message to Congress: We want a safe planet to live on," tweeted Voters of Tomorrow, a youth-led movement. "Fifty (Republican) senators voting against the most significant climate investment in history is a slap in the face of young people who'll have to live with the consequences."
In contrast, Democratic Senate Majority Leader Chuck Schumer tweeted, "To the tens of millions of young Americans who have spent years marching, rallying, demanding that Congress act on climate change: THIS BILL IS FOR YOU!"
Another critical issue facing young voters is the $2 trillion student debt affecting 45 million borrowers. Biden's executive order pausing debt payments expires at the end of August. Biden promised to cancel $10,000 in debt for each borrower during the 2020 campaign. While Biden has forgiven some selected debts, he hasn't fulfilled his promise. However, the Department of Education is reportedly preparing to carry out any cancelation policy Biden approves, which would add to voter turnout enthusiasm.
Stacey Abrams, candidate for Georgia governor, and the New Georgia Project are building a multi-racial coalition that targets African Americans, women, and young voters. Young activists were the core of Abrams's 2018 campaign and the campaigns to elect Biden and Senators Raphael Warnock and Jon Ossoff in 2020. Abrams and Warnock are tapping into a network centered around the historically Black colleges and universities in Atlanta and students across the state.
The mass democratic movement in alliance with the Democratic Party is mindful a massive voter turnout among youth is essential for victory in November. And young voters are determined to make their voices heard and remake the nation in the process.