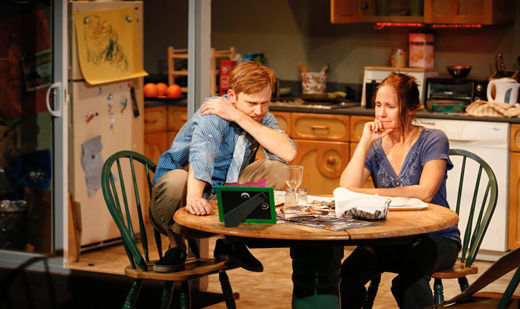 LOS ANGELES, Calif. – Circle X Theatre Co.'s production of Trevor is a true gem that makes venturing forth to L.A.'s live stages a rewarding endeavor well worth the effort.
Upon learning that Laurie Metcalf was the female lead in Trevor, I immediately decided to see this play, because long before she co-starred as the sister on Roseanne, I saw Metcalf co-star in Lanford Wilson's Balm in Gilead opposite Danton Stone Off-Broadway.
But when the proverbial curtain rose, I started to dislike Trevor. Wearing a tie, button-up shirt, and long pants, Jimmi Simpson as the title character loped onstage and mused about not getting a Dunkin Donuts gig. Enter Metcalf, who scolds Trevor for being a bad boy, and I cringed in my seat, fearing for the next two hours of Metcalf doing her sitcom shtick ad nauseam in yet another work about a manchild who won't/can't grow up.
But within a couple of minutes I was disabused of this erroneous notion as I realized that Trevor is no "manchild" but rather a "man monkey" who has been raised by, and is living with, humans, as if he is one of us Homo sapiens. Once the proverbial light bulb went off above my skull, playwright Nick Jones' Trevor became a compelling tragicomedy of the first order.
This subject of inter-species cohabitation can be extremely fascinating, especially between humans and creatures who have 98 percent of our genetic makeup. Living near Covina a while back, I sometimes drove past the former home of Moe the Chimp, festooned with signs demanding "Free Moe!" – the chimpanzee who'd grown up among humans and was treated like one, until authorities deemed his behavior to be dangerous and he was confined to an animal sanctuary. Through Trevor's publicist, Jones was asked if the Covina monkey influenced his play, and the response was: "The play was loosely informed by Travis the chimp, although we know about Moe too."
As Travis lived in Connecticut, not Covina, I'd never heard of this actual chimp raised by humans in captivity in Stamford. But what made Travis so interesting as a character is that he had a show biz career and Trevor skillfully mines this nugget for all it's worth. As the New York Times noted in 2009, Travis "was a natural ham, leading to commercials for Coca-Cola and Old Navy, in which he played the role of Gilligan, starring with a klatch of B-list icons, pedaling a bamboo bike attached to a palm frond to fan Morgan Fairchild, with whom he then sipped tropical drinks." Brenda Strong (a Desperate Housewives and Dallas alum) plays a sexually alluring Fairchild.
Jones and Simpson successfully take us into the mind of this fish out of water character. While pursuing the whole inter-species storyline, Trevor also explores the acting life (although some wags among us might crack wise that actors, too, are a different species). There are great insider show biz jokes and insights into the nature of acting and the entertainment industry. So Trevor is a marvelous mixture of monkey business and show biz. (Fun fact of the day: Travis even appeared in a TV pilot with Michael Moore!)
In addition, Jones and Simpson take us into the chimp's libido. Do monkeys have sexual fantasies? The interplay between Trevor and Fairchild suggests so. (Can you say: "Me Trevor, you Jane?") Plus another show biz simian, Oliver (Bob Clendenin of the TV sitcom Cougar Town), who is clad in white tie and tails, has supposedly wed not one but two human females, and has half-human offspring. Chimpanzees may make for cuddly, cute companions when they are youngsters but once they hit puberty, it seems that all bets (and pets) are off.
But the complexities and nuances of Jones' script do not end there, as Trevor is very much about family, too. Metcalf conveys this through her character's ongoing fixation with the monkey, the one being who has never let her down. The dramatist also makes us ponder, how do chimpanzees process death? One African American at the premiere commented that Trevor could even be a metaphor about racism.
The abundant laughs in the first act pay off in Act II, when all hell breaks loose (as, alas, they did in real life). Features and documentaries have also explored this absorbing notion of monkeys being raised by and living as humans, but Trevor is by far the best one I've seen.
The acting, staging and direction (by Stella Powell-Jones) are all top notch. Scenic designer Stephanie Kerley Schwartz's set perfectly captures the suburban squalor that looks like, well, a chimp lives there. Special kudos to the uncanny Simpson, who without wearing a hairy monkey suit or some other artifices manages to not only physically transform himself into a chimpanzee with the way he walks and behaves, but also enters into the mind and very thought process of this critter out of sorts. Simpson's transformation sans costuming, prosthetics, wigs, etc., calls to mind Bradley Cooper's Broadway transmogrification in The Elephant Man solely through, you know, acting.
Trevor epitomizes the L.A. theatrical trend of actors with big and little screen credits (Metcalf concurrently has comedies on cable and network TV) stretching their artistic muscles by treading the boards – and perhaps showcasing a production in hope that it might be picked up by Broadway or Hollywood. Angeleno audiences are the beneficiaries of this legit stage vogue per the vagaries of La-La-Land thee-a-tuh. The opening night star-studded audience included Danny DeVito, Rhea Pearlman, Scandal's new veep Artemis Pebdani, etc., at the Atwater Village Theatre, which with four stages and a welcoming courtyard is quite a cultural venue and attraction. Circle X marks the spot for great theater.
Although this edgy show with some touchy subject matter may not be for children and very sensitive viewers, all of the above enhanced the fact that seeing Trevor is, well, more fun than a barrel of monkeys.
Trevor runs Thursdays, Fridays and Saturdays at 8:00 pm; Sundays at 2:00 pm through April 19 at Atwater Village Theatre, Theatre #1, 3269 Casitas Ave., Atwater Village, CA 90039. Reservations: www.circlextheatre.org
Photo: Ryan Miller/Capture Imaging for Circle X Theatre Co.