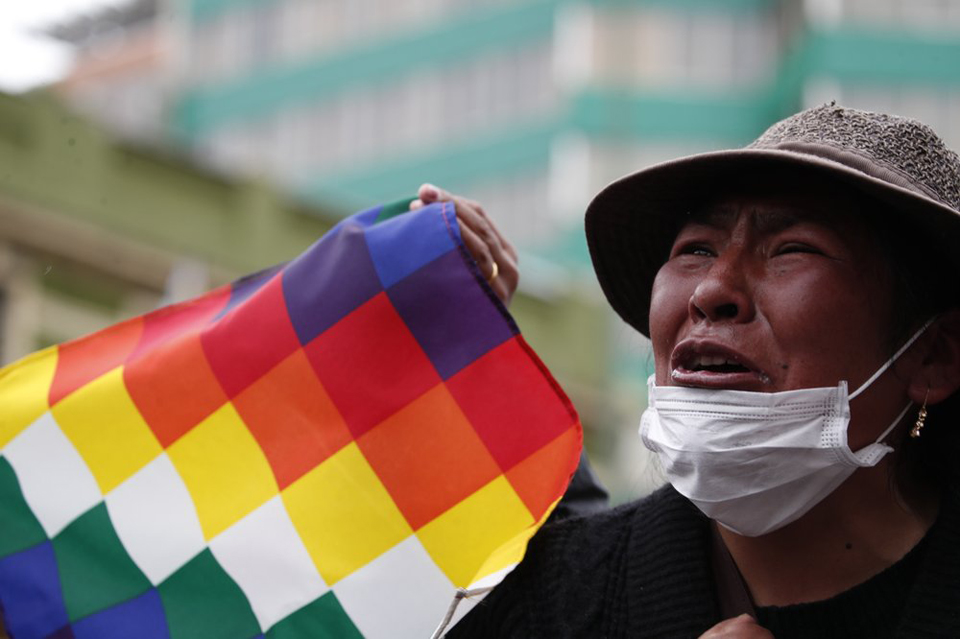 Bolivia's ousted President Evo Morales landed in Mexico yesterday after its government offered him sanctuary. "It pains me to leave the country for political reasons, but I'll return soon, with more strength and energy," he tweeted, as police and army violence against his supporters was reported across Bolivia.
Mexican Foreign Minister Marcelo Ebrard said the plane had to scramble a new route as "some nations" closed their airspace to it. The far-right Brazilian regime of Jair Bolsonaro has welcomed the military coup that forced Morales's resignation on Sunday night, just days after he had won re-election as president with 47% of the vote in the first round.
Though Argentina's left candidate Alberto Fernandez won the country's election last month, right-winger Mauricio Macri remains in office until December and he reportedly refused safe passage to Morales. Argentina's press workers' union SIPREBA said that National Radio had forbidden journalists from using the term "coup" to describe the army's ousting of Morales following violent protests by opposition parties that refused to accept their election loss.
Meanwhile, the Bolivian army moved to crush demonstrators against the coup in El Alto. At least six people were shot, 30 injured, and a girl attacked by soldiers but rescued by supporters of Morales's Movement Towards Socialism (MAS) party, as far as can be pieced together from video released on social media.
Morales supporters in El Alto had pledged to march on the capital, but army chief General Williams Kaliman, who on Sunday forced Morales to resign, said this had been put down in a "police-military operation" to "avoid bloodshed."
Read People's World analysis of the coup in Bolivia:

Bolivia coup against Morales opens opportunity for multinational mining companies
A citizen in the capital, La Paz, tweeted that there was "terror in Bolivia" and that helicopter gunships had fired on a crowd of indigenous supporters of Morales, South America's first indigenous president.
The defense minister Javier Zavaleta resigned on Monday, saying he had never authorized the military "to wield its weapons against the people. Bullets are not the answer," he said.
It is unclear who wields authority in Bolivia now, as all those in the line of succession to Morales were part of the MAS, which had majorities in both houses of the nation's parliament, and have resigned.
Opposition politician Jeanine Añez summoned a legislative session to accept Morales's resignation and designate a replacement, but MAS deputies did not attend, denying a quorum. Añez proceeded to declare herself president anyway. Reports are emerging that MAS deputies plan to meet later on Wednesday to decree the nullification of Añez's actions and officially disregard the resignation of Morales.
In the U.S., Sen. Bernie Sanders and Reps. Ilhan Omar and Alexandra Ocasio-Cortez added their voices to international condemnation of the coup against Morales late on Monday.
This Morning Star article has been slightly updated with breaking information.