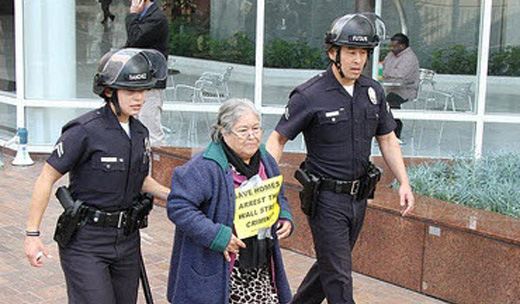 On the heels of homeowner arrests last week protesting bank foreclosure and eviction in Los Angeles, six people were arrested December 20 when they locked arms as they attempted to enter a Bank of America branch at 7800 Forsyth Boulevard in Clayton, Missouri, refusing police orders to turn back.
After an hour of chanting and singing parody Christmas carols by 80 protesters manifesting their solidarity with Mike and Mary Boehm, the six demonstrators headed for BofA's door when bank officials broke their promise to have a representative familiar with the couple's modification request address the group.
The six were then arrested, booked and released on misdemeanor charges that carry a maximum penalty of up to a year in jail and a $1,000 fine, according to Nancy Cambria in stltoday.com.
The Boehms said that despite being current on the modified payments the bank had originally granted them, they were notified foreclosure proceedings would begin the day after Christmas.
Out of necessity, the south St. Louis couple had been trying to re-modify their mortgage through the Making Home Affordable Program but the bank kept stalling.
The bank told them the re-modification process would take 45 days to complete. After hundreds of fruitless calls, on day 408 members with Missourians Organizing for Reform and Empowerment (MORE), the group that organized the action, joined the Boehms for the protest at the bank.
This is one of a number of campaigns MORE has organized on a variety of community-based issues, including more recently similar protests at banks.
In a statement after the protest, BofA said the Boehm's home was not in any immediate danger of foreclosure and would be willing to work with the couple on an alternative modification loan if they did not qualify under the plan they were seeking, Cambria reported.
At the earlier protest in Los Angeles, organized by the Alliance of Californians for Community Empowerment (ACCE), 22 protesters were arrested as they sat-in at the entrance to a Chase Bank branch in that city.
Among the arrested was Julia Botello, an 85-year-old ACCE member and great-grandmother of 32, and a long-time community activist.
"I refuse to sit here and watch my neighbors and their children kicked out of their home with no place to go," Botello said. "These bank CEOs may have the money, but they just don't understand that if we stand together there is nothing we can't accomplish."
"And," she concluded, "I owe it to my grandchildren, my great-grandchildren and my community to keep fighting until they listen."
Photo: Community activist Julia Botello is arrested. Courtesy of the Alliance of Californians for Community Empowerment at http://www.calorganize.org/