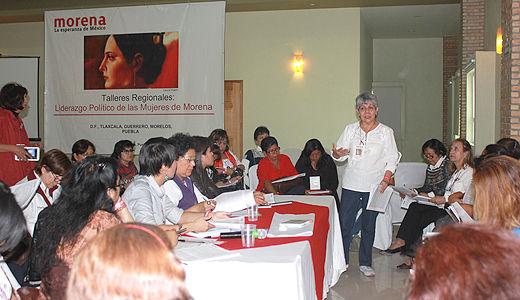 MEXICO CITY – Movimiento Regeneración Nacional, Morena, the new left party of Mexico, has organized a series of leadership workshops to empower women.
In the months of September and October and leading up to Morena's second congress on Nov.19-20, five major cities in Mexico held workshops which are part of an education plan to help women develop politically. The goal was to set up a safe space for women to learn and practice leadership skills so they can participate in the political transformation of Mexico.
Over 500 women attended the workshops that were held in five locations – each corresponding to one of the five districts of the country. Workshops were broken down into three majors themes: women's equality, ending discrimination, and building leadership skills among women.
In the section on women's equality the focus was on revisiting the institutional alignments orientated towards equality in both the public and private sectors. Emphasis was placed on promoting personal mechanisms that empower women, actions that facilitate the equal participation of men and women in the decision making process and promoting the participation and equal representation of men and women within party structures.
The main aim at the workshop on ending discrimination was to create an understanding that discrimination must be fought on all fronts whether it is based on ethnic or national origin, gender, age, physical limitations, social or economic conditions, health status, pregnancy, language, religion, sexual preferences, marital status, or anything else.
The women's political leadership workshops aimed to develop women as leaders and emphasized that leadership is a capacity that can be developed and nourished it is not an innate attribute but rather can be developed by education, opportunity, specific economic and social conditions, as well as interaction with others.
Each weekend workshop included an action relevant to issues women face. In Chihuahua, for example, women placed flowers at a memorial set up to recognize the women who have been killed or disappeared and whose perpetrators have not been found or charged.
As Morena committees throughout Mexico and outside of Mexico met to select their delegates to their congress there was a conscious effort to send an equal number of men and women in an effort to insure equal participation.
Photo: Courtesy Morena party