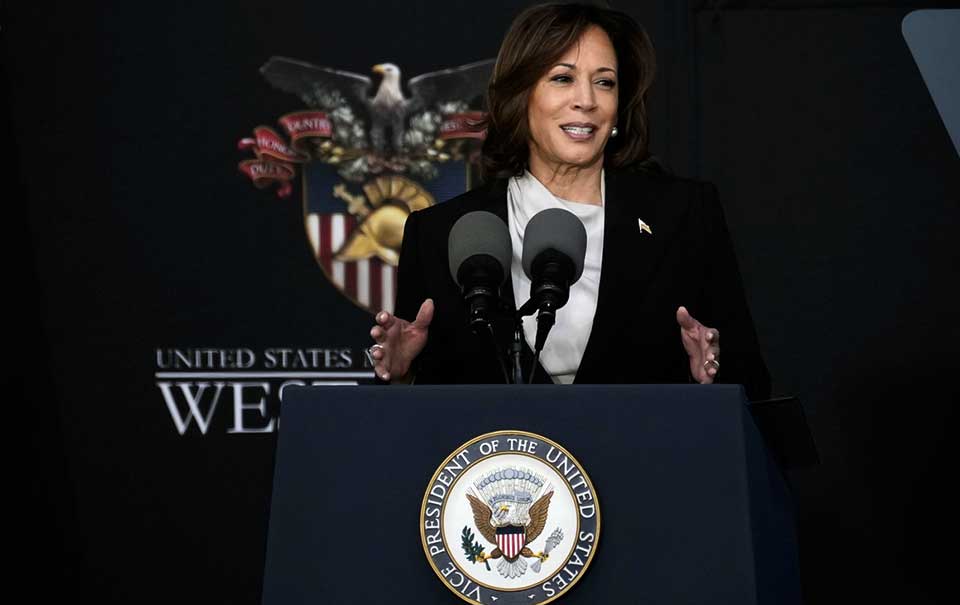 NEW ORLEANS—With a few reservations about his age, Coalition of Black Trade Unionists convention delegates agree with CBTU President Terry Melvin that Democratic President Joe Biden will be the nominee again next year, and they agree CBTU should support him.
Georgia AFL-CIO President Yvonne Brooks crisply summarized why Biden, who seeks a second term, still has overwhelming Black support.
"Let's not fix what's not broken," she says.
But when it comes to who will be Biden's foe in the November 2024 balloting, most delegates People's World interviewed named Biden's predecessor, Donald Trump. So did Melvin. Some mentioned Florida GOP Gov. Ron DeSantis. And all the delegates interviewed can't stand either of them.
"I don't want Trump to be anything," one AFSCME District Council 37 retiree, a delegate, said vehemently. "He's a crook. He should be in jail. He said about Hillary in 2016, 'Lock her up.' Now it should be 'Lock him up.'" The man declined to give his name.
Black support for Biden is important as he campaigns for a second term.
In 2020, Black women in particular jump-started Biden's then-faltering campaign in the South Carolina primary—after he picked up the key endorsement from respected Black Democratic Rep. Jim Clyburn.
And Black voters gave Biden overwhelming victories in metro Philadelphia, carrying Pennsylvania, in Detroit, to carry Michigan, in Atlanta and its metro area, to carry Georgia, and in Milwaukee, to carry Wisconsin. Those key "purple" states swung the 2020 final electoral count to Biden.
Unionists interviewed were confident of Biden's support, for Black Americans in general and Black unionists in particular, given that Biden publicly proclaims he's pro-union every chance he gets, and follows his words with action, even when Republicans stymie his initiatives.
Unionists know that whole record, too, and factor it in. "We want to have someone in leadership who cares about everyone, not just the wealthy," explained Simboa Wright of Service Employees Local 721 of Southern California.
And that was their other point: That when Biden fails to keep his 2020 campaign promises, it isn't his fault, as the united Republican bloc in the 50-50 Senate in his first two years as president halted many of his initiatives. One after another, the unionists interviewed want to re-elect him "to finish the job."
Added Laquita Honeysucker of one United Food and Commercial Workers D.C. local: "He's had to fix a lot of stuff" Trump broke, while at the same time, "encouraging and welcoming unions."
"I know of the connection he's provided to working families," says Georgia's Brooks, who's often on the phone with Biden's Labor Department or the White House. As for Biden's foes, Brooks warns that "It's not just Trump" who's a threat to workers, Blacks, and others of color.
While most of those interviewed believe Trump will be Biden's foe, Erkeisha Terry of the Washington-Baltimore News Guild's United Way unit has another view. She agrees Trump will be the Republican nominee, but believes DeSantis would be easier to beat next year.
"He's so far to the right and so divisive that I don't see the country electing him," Terry explained. Her reasons: "Banning these books" about Blacks, Latinos, and LGBT people from Florida schools and the governor's "deliberate hate speech." Added UFCW's Honeysucker: "I wouldn't put it past him (DeSantis) to run as an independent, if he doesn't get" the GOP nod.
Emphasized unity
Maryland delegate Akela Snow emphasized unity behind Biden and educating younger workers are extremely important, no matter who his foe will be. "Some people are not concerned and they should be," Snow told People's World writer Eric Brooks.
"We all got to make sure that we are all in solidarity. And then we move as one. I like the fact that they're educating us on Black history. Our perspective is different. We've got to move the" younger generation "forward. There are a lot of older and seasoned CBTU members that try to educate us younger generations as to how things are." Educating, yes, and "engagement, yes. Getting them registered as well.
"When we fight together, we win together."
Several delegates brought up Biden's age but split on its impact. If he wins re-election, Biden, already the oldest president in U.S. history, would be 82 on Jan. 20, 2025, the next Inauguration Day.
Two Brooklyn elementary school teachers, both AFT members who declined to give their names, would not vote for either Republican. One said of Biden, "He's aging and we want him to live his life." Added the other: "I'm glad Ms. Harris is the vice president in case there should be need for immediate replacement."
The DC37 retiree dismissed such concerns as "ageism." But Mac, a Black tuba player and Musicians' union member who declined to give his last name while waiting with his combo to perform warned that "it's not just white Republicans who are uncomfortable" about Biden's age.
"Some white men in particular would be turned off by the thought of a Black woman, Kamala Harris, succeeding Biden. They're trying to turn Black people against Kamala," the tuba player said.
Three people, including AFSCME retiree Letitia Taylor from Chicago's South Side, a delegate, preferred to talk issues and societal splits rather than the Biden-versus-whomever tilt. Taylor started by saying people mistakenly believe electing a chief executive would solve all the issues. Wrong.
You have to keep lobbying lawmakers to agree to the top person's agenda, she explained. That's regardless of whether the name atop the ticket is Joe Biden or Barack Obama or the late Chicago Mayor Harold Washington or new Chicago Mayor Brandon Johnson, a Chicago Teachers Union member and former organizer. All but Biden are Black.
"He's done a helluva job and nobody can do everything," Taylor said of Biden. As for the Republicans, she warned, "It's a white mentality that wants to take back everything."
"I look at issues, at who's supporting the education system, providing equity" for all students "and funding to give our members living wages, health benefits, and paid time off," said delegate Ahmad Swinton of the 200,000-member California School Employees Association. "If your ideas are in line with that, we'll support you."
His CSEA colleague, Ron Walker, a guest, agreed school support issues must be paramount in his choice. Walker was the sole person to offer a possible Democratic alternative: California Gov. Gavin Newsom. "I'm hearing some grumblings on the Democratic side" for Biden to step aside, Walker explained. "Newsom has done great things" in California, "but I want to hear more."
People's World writer Eric Brooks contributed material for this story.