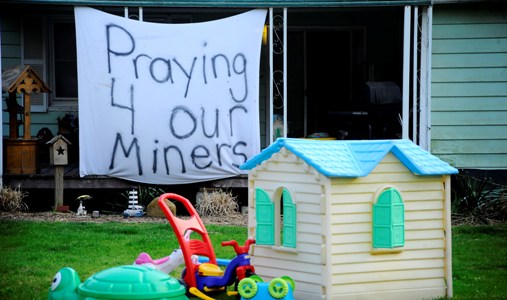 Hundreds of mourners staged candlelight vigils in West Virginia towns the evening of April 7 honoring the 29 coal miners who died in the explosion at Massey Energy's Upper Big Branch Mine, Monday April 5, and for the four missing miners. Rescuers were forced to turn back, once again, by heavy concentrations of explosive methane in the five-miles-long mine.
The biggest vigil was in Cabin Creek, site of coalfield wars a century ago as miners struggled to win union rights in the face of vicious coal company union-busting and brutal exploitation. W. Va. Gov. Joe Manchin, a Democrat, came to the Cabin Creek vigil to comfort the families of miners of those who died and of those still missing.
Former Whitesville, W. Va. Mayor, Earl Howell, 85, himself a retired coal miner told Reuters that safety and health in the coal mines has sharply declined as the number of unionized mines has plummeted.
That charge was echoed by Jimmy Platt, 54, a former Massey miner now employed as a chef. Platt said the mine "was an accident waiting to happen" as Massey ran roughshod over safety and health regulations. Ten of the citations issued against Massey were for poor ventilation to clear the mine of explosive methane. Pratt said the main difference between a non-union and a unionized mine "is the right to say no" and refuse to work in a gas-filled mine.
In Washington, Labor Secretary Hilda Solis promised to find out how such a tragedy could happen. "Twenty-five hardworking men died unnecessarily. The very best way we can honor them is to do our job. The investigating team is committed to finding out what happened and we will take action."
Meanwhile, more muck oozed out on Massey CEO Don Blankenship. First, at about 9 a.m. April 8, Blankenship updated his Twitter page, which infuriated readers of the Charleston Daily Mail.
But the real muck, came when Alternet posted an expose that first appeared on Hullabaloo. "Blankenship spent over $1 million dollars along with other U.S. Chamber (of Commerce) buddies like Verizon to sponsor last year's Labor Day Tea Party, also known as the 'Friends of America Rally' with Blankenship, himself, among the featured speakers."
In a November 2008 interview with the Williamson Daily News of West Virginia, Blankenship sneered that environmentalists are "crazy greeniacs" who are "taking over the world."
Denise Winebrenner Edwards, a veteran writer for the PW, reports that the Labor Day tea party rally was held at the "remains" of a mountaintop removal mine just south of Logan, W.Va. It underlined Massey Energy's spearhead role in this devastating form of coal mining that has destroyed 400,000 acres of mountaintops in Appalachia and buried or poisoned 1,200 miles of once pristine rivers and streams. Edwards describes Blankenship as a corporate "mobster…buying and selling Republican politicians, resorting to violence and defying the law in the name of profit."
Massey broke a union-recognition strike by the United Mine Workers in the mid-1980s. President Reagan, fresh from destroying PATCO, the air traffic controllers union, gave full support to Massey's use of strikebreakers, guarded by gun thugs, armored cars and machine guns.
Blankenship is a director of the National Mining Association and a director of the U.S. Chamber of Commerce.
In a news special, "Is God Green?" broadcast Sept. 7, 2007, Bill Moyers Journal featured working people from southern Appalachia who are fighting mountaintop removal mining. Moyers interviewed Carmelita Brown, who charged that Massey poisoned the water in her well. "In taking on Massey, the Browns and their neighbors are taking on Massey's president and CEO, Don Blankenship," Moyers said.
A video clip flashes on the screen with Blankenship proclaiming pompously, "Unions, communities, people, everybody's gonna have to learn to accept that in the United States you have a capitalist society, and that capitalism, from a business viewpoint, is survival of the most productive."
Photo: Jeff Gentner/AP