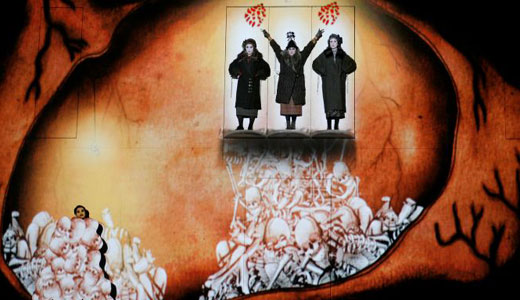 LOS ANGELES – The current version of Wolfgang Amadeus Mozart's The Magic Flute at Los Angeles Opera raises two essential artistic questions (plus, perhaps, eyebrows). Pouring vintage works into new bottles can be problematic: This year in L.A. I saw three modern-dress Greek tragedies and, sans togas, only the Getty Villa's Prometheus Bound worked. Of course, every once in a while, a company of Leonard Bernstein and friends comes along, updating Shakespeare's Romeo and Juliet, whipping up a whole new, relevant concoction called West Side Story.
Happily, the British "1927" theater company and Komische Oper Berlin rendition of Mozart's 1791 Flute – the planet's most produced German-language opera – falls into this latter category of reconfigured classics.
1927 takes its name from the year talking film emerged, displacing silent cinema. The company's artistic conceit is to draw upon the conventions and esthetics of silent films in order to reinterpret the fairy tale by Mozart and librettist Schikaneder. We have some Hollywood studio slapstick and German expressionist elements, with references from Clara Bow's "It Girl" to The Cabinet of Dr. Caligari to Fritz Lang's Dr. Mabuse.
The character Monostatos (tenor Rodell Rosel), chief of the temple slaves who is identified (perhaps in a racist way) as a "Moor," is straight out of Nosferatu, F. W. Murnau's 1922 creepy forerunner to Dracula. Pamina (soprano Janai Brugger) is suggestive of those Jazz-Age sexually liberated flappers like Louise Brooks, the American-born actress who starred in G. W. Pabst's 1920s German films, such as the daring Pandora's Box: One half expects her to burst out dancing the charleston. Papageno (baritone Rodion Pogossov) is dressed like none other than that king of silent comedians, Buster Keaton.
In addition to silent movie artistry, this production uses lots of animation (by Paul Barritt), projected as the non-live action imagery onto the wall Esther Bialas (who's also the costume designer) has constructed in lieu of LA Opera's usually lavish sets.
Mozart's fable is about love, but the storyline leads to the other thought-provoking aspect of the opera. Mozart was a Freemason, and this opera, his last, is redolent with the ideals of the Age of Reason and the French Revolution. Indeed, like Voltaire's Candide (about whom the aforementioned Mr. Bernstein had a thing or two to say musically), much of Flute revolves about the quest for Enlightenment. And Papageno is reminiscent of philosopher Jean-Jacques Rousseau's "noble savage," man born free in a state of nature.
Freemasons have alternately been viewed as a benevolent fraternal organization and as a secret society with surreptitious handshakes and a network of shadowy Masonic lodges, linked to conspiratorial plots to establish a "New World Order." Some founders of the United States, such as George Washington, were confirmed Masons.
The opera's enigmatic Sarastro (Evan Boyer) is the "Fidel Castro" of the piece, insofar as people with radically different world views project their own agendas onto him. Is this high priest of the ancient Egyptian goddess Isis a totalitarian despot – or the enlightened leader of his realm?
The issue of art for art's sake vs. artistry intended to change the world has long been a debate. There is that oft-quoted dictum of a Hollywood mogul, that if a filmmaker "wants to send a message, use Western Union." The word "propaganda" is usually used pejoratively, but Mozart encodes his philosophy in rapturous, luminous form. From the rousing overture to the Queen of the Night's stunning coloratura soliloquy, Mozart conveys his ideas with high esthetic expressiveness. Soprano Erika Miklosa is sublimely sonorous as a spider-like queen.
Mozart realized he wasn't writing a leaflet, but rather creating a mass entertainment and work of exalted art. So he doesn't beat you over the head with his point of view. Mozart's ideal that music conquers all is expressed through Tamino's (tenor Lawrence Brownlee) enchanted flute and Papageno's charmed glockenspiel.
This production is gloriously and painstakingly co-directed by 1927's Suzanne Andrade and Barrie Kosky, who is the intendant (chief administrator) of the Komische Oper Berlin. In our violent world, Mozart's opera persuasively argues in favor of fewer Glocks – and more glockenspiels.
The Magic Flute is being performed Nov. 30, Dec. 5 and 11 at 7:30 pm; on Dec. 8 and 15 at 2:00 pm; and on Dec. 13 at 8:30 pm at the Dorothy Chandler Pavilion, 135 N. Grand Ave., Los Angeles. For more info: (213)972-8001; www.laopera.com.
Photo: laopera.org