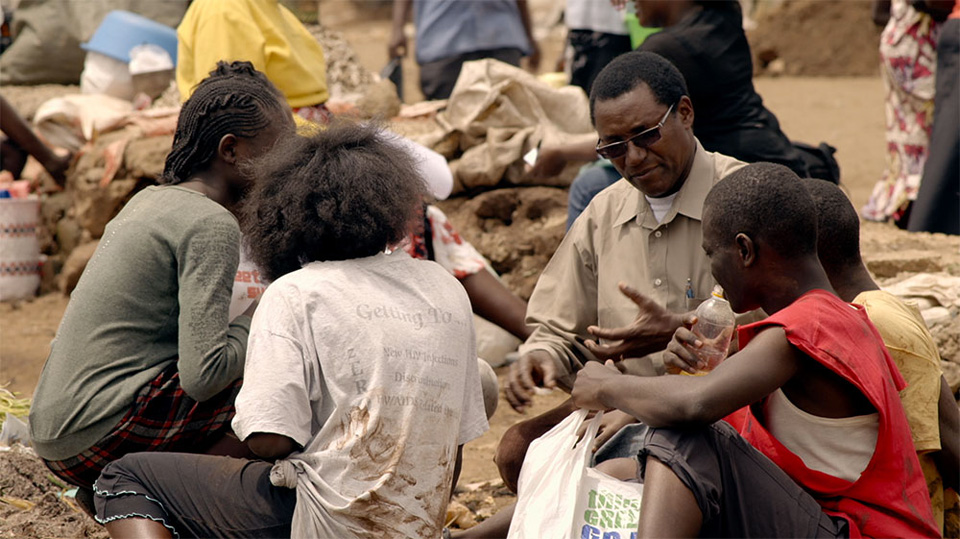 In the midst of troubling events, such as the crisis in Puerto Rico, the massacre in Las Vegas, and the ongoing attacks on the healthcare of millions across the country, one movie, Mully, is attempting to spark a movement of hope and action. It is the newly released docu-drama that uses famed social entrepreneur Dr. Charles Mully's story of saving thousands of orphans in Kenya to inspire others to get involved in the plight of lost children around the globe. The film tells a straightforward story that could inspire huge social impact if taken to heart by its audience.
Premiering on October 3 for a limited three-night engagement in U.S. theaters, Mully tells the story of what happens when a six-year-old boy is abandoned by his family and left to raise himself on the rough streets and dirt roads of Kenya. The film is a portrayal of the true story of Charles Mully, an orphaned child who grew up to be a man with wealth and power who ultimately gave up his riches in order to lead a social movement to save the millions of orphaned children in his home country.
In the late 1980s, Mully sold all of his businesses and dedicated the proceeds to helping street children in Kenya through means of rescue, shelter, medical care, emotional support, and education. He went on to be deemed "Father to the Fatherless," and through his resilience, and the support of his wife Esther Mully, plus his eight biological children, saved more than 23,000 abandoned children and counting.
To understand the importance of Mully's story, one would need an understanding of the dire situation of adolescents in Kenya. As recently as the year 2013, there are an estimate 3-million-plus orphans in the country, and of those, 47 percent are orphaned as a result of HIV and AIDS. 700 children are orphaned every day. In addition, over 25 percent of the country lives on less than $1 per day.
Kenya, like many developing countries ravished by poverty, political unrest, and the ongoing legacy of colonialism, is essentially losing its future as millions of its children – the future adults of society – are perishing in the streets.
The film uses interviews, dramatizations, and actual footage of the events, when possible, to showcase Mully's journey and hardships as he attempts to save Kenya one child at a time. At times comical, others heartwrenching, and at all times inspirational, the movie, directed by Scott Haze (Child of God, Thank You For Your Service) with musical score by Benjamin Wallfisch (12 Years a Slave) also briefly touches upon the political upheaval and poverty experienced by the Kenyan people.
There is an element in the film that speaks to Mully's faith and religious motivation, but it places it in a framework that explains why, through his faith, he felt the need to fight for justice and human rights. Like other modern religious leaders, such as Rev. William Barber, who through the revival of the Poor People's Campaign is aiming to combat injustice here in the United States, Mully explains that his faith inspired him to act for the greater good. The decision by Mully's producers to partner with Focus on the Family, one of the most notorious anti-LGBTQ Christian fundamentalist groups and enthusiastic backer of Donald Trump, in promoting the film is a questionable one, though.
On the flip side, a major backer of the film has been the organization FOR GOOD, which is described as an "impact production company" that has focused on such issues as raising awareness against campus rape and combating animal cruelty. The organization is headed by Mully executive producer Paul Blavin.
Speaking with People's World at the October 3 screening in Los Angeles, Dr. Charles Mully explained one of the lessons he hoped audiences would walk away with. "[For the people] to join together in America, Canada, and other countries and say 'we will help our children even though they are not [biologically] our own.' We can help through education and other resources. We need to wake up. Hopefully people will come away from this movie willing to leave their comfort zones and realize everyone, including the poor, deserve good lives."
Esther Mully, Dr. Charles Mully's wife and partner in his endeavor to save the orphans of the world, added during the question-and-answer period after the screening, "With love you can do great things. We should not give up when we see poverty. The movie is about great power and surrender. Great things are possible when we come together."
Although the film doesn't go into depth with regard to the systemic issues affecting developing countries or the policies needed to change those conditions, it does draw on one of the components needed to combat inequality and poverty – people power. As explained by one of the executive producers of the film, Paul Blavin, "There is potential to replicate what Mully is doing around the world. It's just the beginning. The goal is to reach 100 million people with a message of hope."
It was explained that at the end of each showing of the film, depending on which country it is in, a special message from Mully himself would appear on how audience members could advocate for children in their particular country. The issue of lost children isn't isolated to Kenya alone, as there are over 140 million orphans globally. This includes 61 million in Asia, 52 million in Africa, and 10 million in Latin America and the Caribbean. There are over 100,000 children in the U.S. foster care system, which doesn't account for the thousands living on the streets.
Audience members were also encouraged to get involved by texting "MULLY" to the number 91065 in order to stay connected to Dr. Mully's organization, MCF (Mully's Children's Family), which continues to provide social and economic service to disadvantaged children.
Overall, Mully is a film that may make many of us feel like we're not doing nearly enough given the magnitude of what the Mully family took on, but it also inspires the viewer to aim for the standard they have provided.
Mully had a special three-day screening event in U.S. theatres from October 3-5, with a limited release in Canada set for October 12. More information about the film and future screenings can be found here.