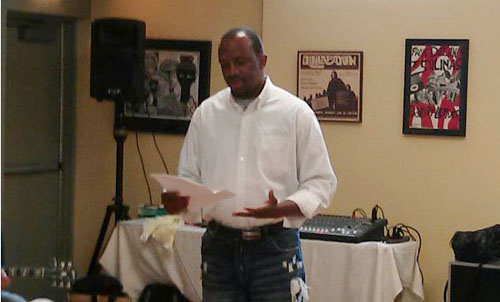 Editor's note: The following poem was read by the poet at a May 19 People's World party, potluck and fundraiser celebrating international labor solidarity and the fight for immigrant rights. Held at Chicago's Unity Center, which houses the website's editorial offices, Artemio Arreola from the Illinois Coalition for Immigrant and Refugee Rights spoke on the current struggle for immigration reform. Musicians performed traditional songs from Vera Cruz, Mexico, called Son Jarocho. The event, emceed by Melissa Parks, director of a low-income energy program at Unity Center, ended with Ethnic Dance's Paul Collins leading audience members in group folk dances, from countries such as Turkey, Bulgaria, Bolivia and the United States (scroll to end to see video).
I am sprinkling Spanish, Moroccan,
African, Asian, and Middle Eastern
culture and understanding into my
life morsel after morsel.
I am a universal man, so I delve into
all our world has to offer. That offering
is far beyond my house, my couch,
my city and even my country.
We live in an ever engaging world
that is getting smaller and smaller.
We are mixing and mingling at markets,
libraries, poetry readings,
community centers, schools.
This is cool. This enhances what we
know. This helps us grow.
This soup that we are creating is by
need and by circumstance. The bright
yellows vibrant oranges, cocktail reds,
and delicious greens are the things that
warm our souls. That provides for us and
nurtures us.
We are not in this world alone. We don't
have all the answers as individuals. So it
is critical (that) we come together and share.
That we get together and talk. That we
come together and learn.
Mi tierra es tu tierra.
Mein Lan ist dein Land.
Nchi yangu ni nchi yenu.
My land is your land.
We stir together. We live amongst
one another. We share our cultures.
We value our uniqueness in this
multicultural soup.
Photo: Christopher Sims reads Multicultural Soup at People's World solidarity event (PW/Earchiel Johnson).