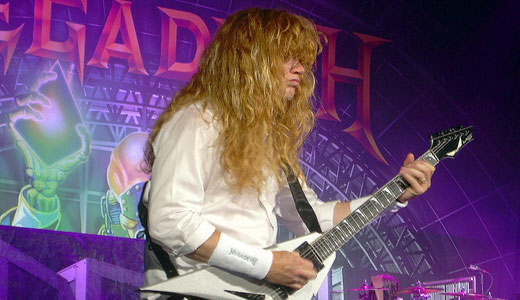 Dave Mustaine, frontman of thrash metal band Megadeth, has recently generated much controversy with his continuous flow of hateful, right-wing comments. But at an August 7 show in Singapore, he downright outraged musicians and an Aurora massacre victim when he suggested that President Obama was somehow responsible for various recent U.S. shootings.
The 50 year-old born-again Christian remarked, "Back in my country, my president is trying to pass a gun ban, so he's staging all of these murders, like the 'Fast and Furious' thing down at the border, and Aurora, Colorado, all the people that were killed there, and now the people at the Sikh temple.
"I don't know where I'm gonna live if America keeps going the way it's going, because it looks like it's turning into Nazi America."
The singer-guitarist, who outed himself as a birther in March when he stated he believed President Obama was not born in the U.S., once again deeply enraged and embarrassed many members of the metal community, who rushed to handle damage control and explain that these right-wing remarks were not representative of the music genre on the whole.
Nikki Sixx, of glam metal band Motley Crue, took to his Facebook page and responded, "Dave Mustaine is [an] assh*le. I can't even imagine how deep this cuts the victims' families of these shootings. He owes every family an apology as well as our great country.
"Hey, Dave, if you think America is turning into 'Nazi America,' as you are quoted saying, move out."
Oderus, frontman of metal band GWAR, got on Twitter and said of Mustaine, "I don't need to berate him to make him look like an assh*le. He does fine just by opening his mouth. To say something as ignorant and insensitive as Obama 'staged' the recent U.S. mass shootings … I just can't think of anything [worse] right now off the top of my head."
This was not the first time Oderus, known for being extremely vocal about his opinions, criticized the singer. During March, he suggested that Mustaine keep his mouth closed and play his guitar. He added, "We don't want to hear about how Obama was 'born in Africa;' we don't want to hear about how Rick Santorum is your man – he hates heavy metal."
Mustaine, apparently embarrassed by criticisms that came his way, later retracted his birther statement, saying, "I don't want to talk about my president," and admitting he was going to "have to do some more homework on where Obama came from."
The ultra-right conspiracy theories of Mustaine mark a drastic change from the musician when compared to his political positions many years ago. During the 1992 presidential election, Mustaine reported from the Democratic National Convention for MTV News at New Jersey's Madison Square Garden, supporting Bill Clinton.
And prior to that, the singer-guitarist had written the lyrics to the politically-charged song "Foreclosure of a Dream," which heavily criticized the policies of the George H.W. Bush administration.
His complete flip-flop on politics has confused many Megadeth fans and musicians, but Mustaine said his change of views came after he "ditched alcohol and became a born-again Christian."
Since then, he has spoken in interviews with conspiracy theorist radio host Alex Jones' Infowars show, repeatedly supported Rick Santorum while he was running as GOP presidential candidate, and apparently continues to advocate right-wing ideologies.
Perhaps the most important and profound reaction to Mustaine's statements came from one of the Aurora shooting survivors – Carli Richards. "Some people think the president is a good scapegoat," she said. "But he didn't shoot me. This is obviously absurd, and people who make up conspiracies just want attention."
Richards said that the only person who ought to be blamed for the Aurora shootings was the shooter himself. "I don't think people realize the consequences of not being responsible for their own actions," she concluded. "James Holmes needs to be held accountable for his – to whatever way the justice system deems fit."
Photo: Though highly regarded for his musicianship by metal fans, Mustaine has recently drawn intense outrage for his insensitive, right-wing comments. Flickr