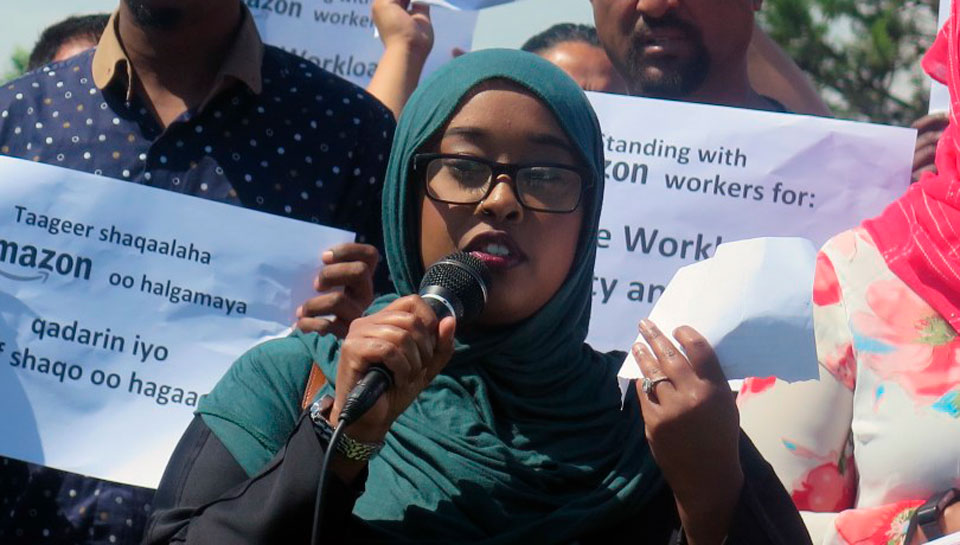 SHAKOPEE, Minn.—Amazon, notorious for the mistreatment of its thousands of warehouse workers from coast to coast, is in legal hot water over it again – this time for rampant racial and religious discrimination at its Shakopee, Minn., warehouse in the Twin Cities suburbs, and retaliation against three black Muslim-American Somali refugee working women there.
Amazon wound up by creating such a hostile work environment at Shakopee that it forced the three workers, Ms. A, Ms. B, and Ms. C. to quit, Muslim Advocates, a national legal defense and advocacy group for Muslim-Americans and Muslim refugees from persecution, told the Minneapolis area office of the federal Equal Employment Opportunity Commission.
Forcing workers to quit is known as "constructive discharge" in labor law. Firms use constructive discharge – though it's illegal – to make life untenable for workers who speak up for themselves. It's a way for firms to try to evade being found guilty of retaliatory firings.
The EEOC investigates and — if mediation doesn't work — enforces federal civil rights acts that bar discrimination on the basis of race, religion, sex, gender, and several other factors.
The three, and their colleagues, spoke up late last year, when Amazon workers in Shakopee, mistreated and exploited by bad working conditions and religious discrimination, were forced to walk out on Dec. 14 and hold a public protest to alert the community to their grievances. Company retaliation started almost immediately, Muslim Advocates told the EEOC. The three women were among leaders of the protest, and they were prominently quoted in local and national news.
But while conditions are particularly bad at Shakopee for the three – who did not give their names for fear of further Amazon retaliation – they affect other Somali-Americans, Somali refugees and East African natives, both refugees and permanent residents, who toil there.
"While employed with Amazon, our clients have experienced discriminatory treatment, hostile work environment, retaliation, and constructive discharge on the basis of their race, religion and national origin," thus violating both Title VII of the 1964 Civil Rights Act – the nation's rep-eminent civil rights law – and the Minnesota Human Rights Act, the group's letter to the EEOC says.
"These women are not alone: The conditions described in their charges reflect a broader pattern and practice of unlawful employment discrimination against Muslim, Somali, and East African workers at Amazon."
Those conditions include Amazon's refusal to accommodate Muslim workers' religious beliefs, by refusing to allow devout Muslims time to pray and threatening to write them up if they did. Write-ups, or failure to meet Amazon package rate standards, could lead to discipline up to and including firing, the letter said.
"Ms. B feared a decrease in her rate and its potential for adverse employment action to such an extent that she stopped taking breaks to perform ablutions before prayer, break her Ramadan fast, and even stopped going to the bathroom. Although the workers raised the issue of prayer accommodation at the Dec. 14, 2018 rally, their religious needs remain unaccommodated."
But the discrimination didn't stop there. Muslim workers were routinely passed over, despite superior experience and qualifications, for promotions in favor of whites. And retaliation against Ms. B and Ms. C began almost immediately after the December rally and included illegal company videorecording of Ms. B's conversations and negative write-ups for "pretextual" reasons.
"The charges show that Amazon's message to Somali workers has been clear: since they protested Amazon's discriminatory actions, Amazon management would now create an environment so harassing and hostile that they would be forced to quit. The charges allege that the harassment grew so severe that Ms. A, in fact, was constructively discharged," the letter says.
All that violates civil rights laws, the Muslim Advocates told the EEOC Twin Cities office supervisor, with a copy to the regional office in Chicago.
By law, the EEOC is supposed to probe the case and try to mediate between the two sides. But EEOC workers, represented by the Government Employees, have often complained about high case backlogs and orders by agency political appointees to handle only two types of cases: Those that can be ended quickly or those that receive publicity.
And if the Somali workers' case goes to the full EEOC in D.C., the Shakopee warehouse workers may face a new obstacle: GOP President Donald Trump's latest appointee to the full 5-person board.
EEOC nominees usually don't draw senatorial flak. But Sen. Patty Murray, D-Wash., ranking Democrat on the GOP-run Senate committee that handles the EEOC, the National Labor Relations Board, and the Labor Department, spoke up against Trump's latest pick, Janet Dhillon.
Dhillon, Murray said, "has devoted her career to making it easier for corporations to violate workers' rights without consequences." Dhillon would take a GOP seat on the board, but Trump did not send up a corresponding Democrat for a vacancy there, Murray noted. The EEOC has three seats for the president's party and two for the other party.
"She has fought against positions the EEOC has taken that helped ensure workers have the protections they need. And in her confirmation hearing, she refused to commit to maintaining the EEOC's current — and critical — position that LGBTQ workers are protected under the Civil Rights Act, which is something that should not be up for debate."
"If Ms. Dhillon is confirmed, another step backward under Republican leadership for workers who simply want to be treated fairly on the job — especially those workers who historically haven't had the rights or resources to come forward."