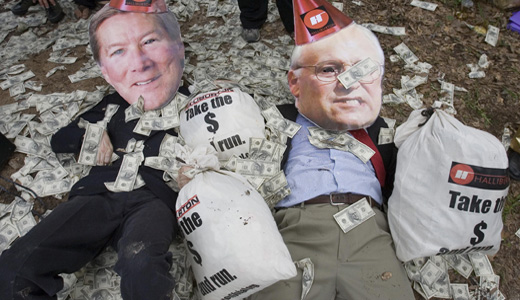 WASHINGTON (PAI) – Must public pension funds, or any other investors, prove they lost money before they can sue as a class against the corporations involved?
That's the problem the Supreme Court wrestled with, in a case that ironically pitted a non-profit foundation representing Catholic church workers against former GOP Vice President Dick Cheney's old company, Halliburton, on April 25.
The Erika P. John Fund, the private foundation of the Archdiocese of Milwaukee, sued Halliburton for perpetrating a "fraud on the market," prompting the archdiocese to invest in the stock.
Specifically, Halliburton said its costs for asbestos-related payments in 1999-2001 would be around $60 million and it had the money to cover them. The archdiocese invested in Halliburton – and then the actual losses turned out to be at least $781 million and Halliburton stock dropped by 43%.
The archdiocese's fund said Halliburton perpetrated a fraud, but the 5th U.S. Circuit Court of Appeals said the fund had to prove it lost money before it could file a class action suit. The fund and the Obama administration, backing it, disputed that.
The best summation of the case for the pension funds – and for class action – was from Nicole Saharsky, of the Obama administration's Justice Department.
The lower court was wrong, she said, to require "proof of loss causation" before certifying the class action suit. The lower court "is conducting an inquiry on the merits" of the case, which it isn't supposed to do yet under class action case rules. And the appellate judges were "taking a presumption and requiring plaintiffs" – the archdiocese and other investors whom Halliburton misled – "to prove it" in advance.
"It's putting an affirmative burden" on the pension funds "that they have to meet in every single case" even if Halliburton and other defendants "don't come to court with any evidence," she added. "Loss causation is the question at the end of the day."
Associate Justice Elena Kagan got Halliburton lawyer David Sterling to admit the 5th Circuit may have been wrong in requiring proof of fraud before pension funds – or anyone else – could go ahead and sue as a class.
"If I disagree with you and think that loss causation needs to be shown at the certification stage, you agree that is not a correct statement of the law?" Kagan asked. "We do agree with that, but our opinion is…the test is simply price impact," Sterling said.
Photo: Protesters hold bags of fake money and wear masks of David J. Lesar, CEO of Halliburton Energy Services, left, and VP Richard Cheney, right, outside the Halliburton annual shareholders meeting, May 16, 2007, in The Woodlands, Texas. The company had announced earlier it was moving it's corporate headquarters to Dubai, UAE. (Dave Einsel/AP)