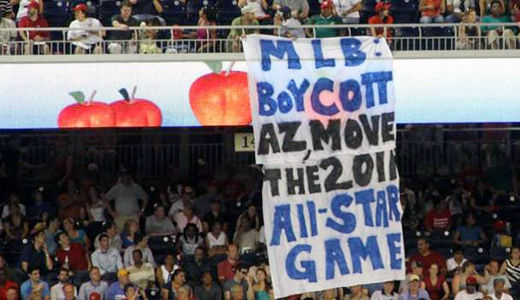 For this writer when it comes to enjoying sports there's no hesitation, it's as easy as apple pie. Whether it's soccer and the World Cup, supporting my home team the Chicago Bulls in the NBA Finals or cheering for the Bears in the winter, it's not hard for me to soak in the pleasure.
But above all it's really baseball that has a special place in my heart.
After much struggle, major league baseball was compelled to lead the way in breaking down racial and ethnic barriers in professional sports when Jackie Robinson joined the Dodgers in the 1940s. Integrating baseball was a beautiful display of courage and audacity that paved the way for minority athletes.
Today baseball is in the spotlight again regarding the controversial anti-immigrant Arizona law that arguably invites racial profiling and outright discrimination especially against Latinos.
The law, SB 1070, signed in April by Arizona's Republican Governor Jan Brewer is scheduled to take effect July 29. It would allow local police to stop anyone in the state they "suspect" of being an undocumented immigrant.
Meanwhile dozens of civil rights, labor, faith, and immigrant rights groups have filed lawsuits, petitions and statements denouncing the draconian law including the Obama administration.
Most agree the measure does not address the dire need for real comprehensive immigration reform.
It's no surprise that many major league players, of which nearly 30 percent are foreign born and 40 percent Latino, oppose the law.
St. Louis Cardinals first baseman and three-time Most Valuable Player Albert Pujols is one of them.
"I'm opposed to it," he told USA Today. "How are you going to tell me that, me being Hispanic, if you stop me and I don't have my ID, you're going to arrest me? That can't be?"
Others include Milwaukee Brewers All-Star pitcher Yovani Gallardo and Adrian Gonzalez, a three-time All-Star with the San Diego Padres. Both said they would boycott next year's All-Star game, scheduled to take place in Phoenix, if they were voted in.
Speaking to ESPN Jerry Hairston with the Padres said the law "reminds me of seeing the old movies with the Nazis when they ask you to show your papers. It's not right. I can't imagine my mom – who's been a U.S. citizen longer than I've been alive, who was born and raised in Mexico – being asked to show her papers. I can't imagine that happening. So it kind of hits home for me."
Yorvit Torrealba, also with the Padres is a native of Venezuela who has played in the major leagues for 15 years. He told ESPN he worries that if he were at a restaurant in Arizona with his family talking in Spanish, would someone register a complaint and ask them for their legal documents?
"I don't think it's fair," he said. "I don't think anyone has the right to approach me or my family just because we are Latino."
Torrealba's teammate Heath Bell said if he was voted into next year's All-Star game he would really have to think about participating.
"Because I have a lot friends that are not white," said Bell. "Sometimes you need to stick up for your friends and family."
These guys are the real heroes of modern day baseball. As fans we should support their right to free speech and commend them for their courage to speak out. It's athletes like these who should feel inclined to stand up for their fans and share their opinions on issues.
After all it's the baseball way.
They're an example to others like New York Yankees Robinson Cano who calls the matter a "political thing," or his teammate and superstar Alex Rodriguez who avoids the issue altogether.
Baseball is a game that transcends barriers and brings America together and reminds us what makes our nation and the sport so unique: our diversity. It's in the best interest of the game to maintain a welcoming environment for its players and support the millions of fans who are Latino, Asian or other ethnic minorities.
It's only fair then that we ask Commissioner Bud Selig to move the 2011 All-Star game out of Arizona.
Selig should recall the rich history of baseball in this country and follow the example of his current players who oppose SB 1070. He should do the right thing and take a stand against bigotry and intolerance. Because professional sports have a responsibility to the community to exercise leadership. And Selig and MLB ought to adhere to the same standard.
Photo: http://colorlines.com/archives/2010/07/latino_ballplayers_want_all-star_game_outta_there.html