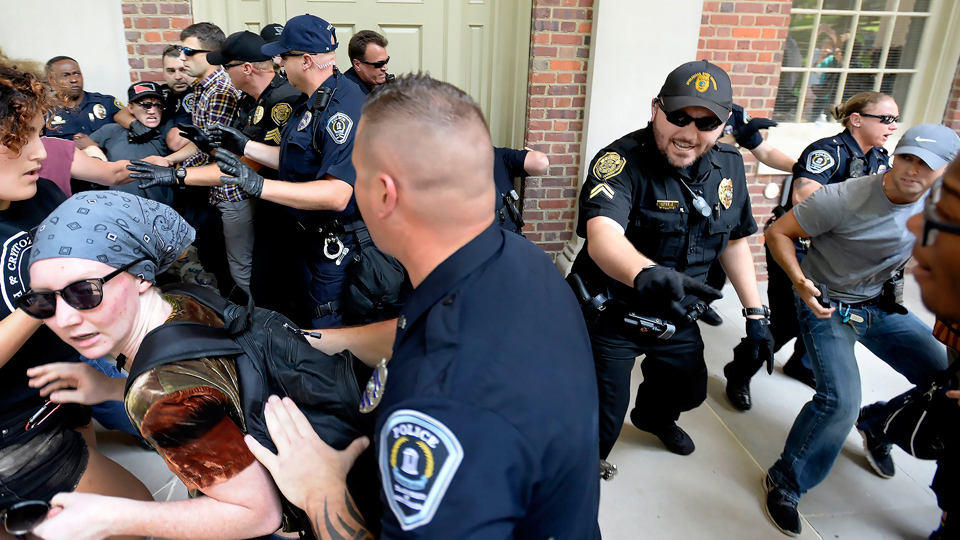 On Sunday morning, August 26, booksellers opening The Regulator Bookshop in Durham, North Carolina, found that the store had been defaced with the phrases "Sam was silent we aren't" and "Marxists get out" spray-painted on the storefront windows.
The vandalism was apparently in reaction to last week's protests at University of North Carolina (UNC) in Chapel Hill that resulted in protestors toppling the Silent Sam statue of a Confederate soldier on the university's campus.
Silent Sam was given to the university by the Daughters of the Confederacy and erected in 1913. The statue has been the source of controversy in recent years, as critics like the UNC History Department have argued that the statue venerates "slavery, the 'Old South,' the Confederacy, and the ideology of white supremacy." After the statue was pulled down, hundreds of protestors on both sides gathered at its base on Saturday, August 25. This clash resulted in the arrest of seven people, many of whom were charged with assault, according to the Washington Post.
Regulator co-owner Elliot Berger told the Duke Chronicle that he was unsurprised by the timing of the incident, given the current events in the area. The day before the discovery of the vandalism at Regulator, a sign at the Mary Lou Williams Center for Black Culture at nearby Duke University was defaced with a racial slur. Berger also told the Chronicle that he believed that Regulator was targeted due to its reputation as a communist bookstore, despite the fact that it sells books from various viewpoints.
Though staff have not contacted police, the bookstore issued a statement on Sunday, August 26, on its Facebook and Twitter accounts in response to the vandalism: "We arrived today to find 'Sam was silent we aren't' and 'Marxists get out' painted on our storefront windows. The Regulator Bookshop welcomes knowledge seekers. We stock titles on divergent views: ranging from Marxism, to Ayn Rand novels, and much more. As an independent bookstore, we encourage folks to read, and learn as much as possible in order to reach a nuanced understanding of complex issues. We strongly condemn racism of any kind."
Reprinted with permission from Bookselling This Week.