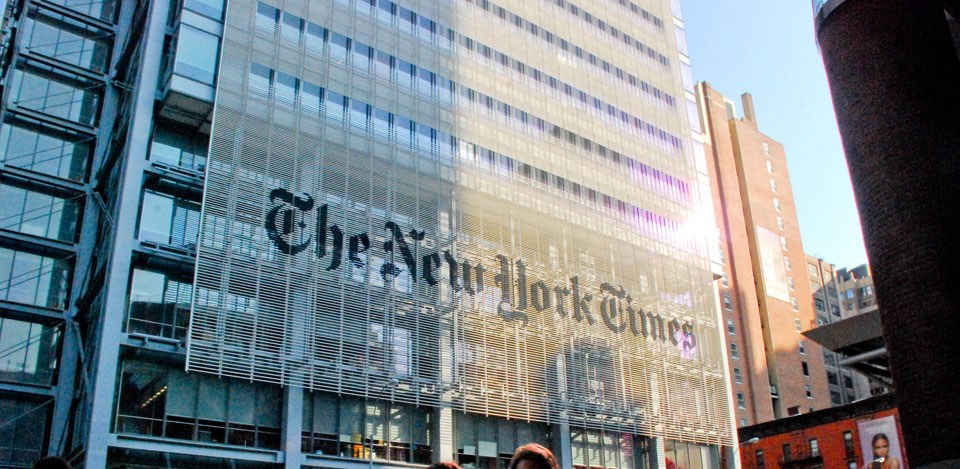 NEW YORK —A majority of workers at The New York Times are rebelling against management's mandate to return to the office despite the continuing, but at a lower level, coronavirus pandemic. They say they have worked, and can work, just as well from home, and that health and safety is a mandatory subject for bargaining between their union, the News Guild, and bosses.
The conflict, also discussed by News Guild President Jon Schleuss in his update to Guild members, highlights the continuing tensions nationwide about fully reopening businesses and schools even as the modern-day plague, and its variants, continues.
Democratic President Joe Biden optimistically told 60 Minutes on September 18 the  pandemic is past—a statement that is crippling his efforts in Congress to get more money for vaccines and tests. He's since walked it back.
Congressional Republicans, following the lead of Biden's predecessor, Donald Trump, deny the plague exists, demand immediate national return to work and vote and demagogue against pandemic aid for workers.
The coronavirus (Covid-19) figures tell another story.
The Johns Hopkins coronavirus resource dashboard, one of the nation's most comprehensive trackers, reports that as of the morning of September 20, there have been 612.55 million worldwide confirmed coronavirus cases—equal to one of every 13 people globally–and 6.528 million deaths. That's like wiping out El Salvador, plus 200,000 people.
The world total includes 95.715 million U.S. cases—equivalent to more than a fourth of the population —and 1,053,862 deaths. That's 27,000 more people than live in San Jose, Calif.
All this, plus New York City's record as the original, but since-overtaken, center of the pandemic, makes the Times workers leery of coming back to their office without safety and health safeguards. And those safeguards must be bargained with the New York News Guild, they pointed out. Management ordered the return to work starting September 12.
"We will continue to produce high-quality, award-winning work, while reminding the company it cannot unilaterally change our working conditions," the Times workers tweeted.
"Any return-to-office policy, as a matter of workplace health and safety, should be a part of our negotiated contracts, alongside provisions for fair wages, equitable treatment for members and more," their follow-up tweet added. Their prior contract expired in March 2021.
On the return-to-work day, the staffers delivered a petition of protest to Times bosses, signed by 1,300 workers, more than 60% of the News Guild's workforce at the paper.
"We are joined in this pledge by our colleagues @NYTGuildTech and @wirecutterunion members also signed in solidarity. Though we are three separate units, we are united in our goal to make The New York Times the best place it can be for all of its workers," they tweeted.
Instead of heeding the workers, or offering a better contract, the Times handed out free lunchboxes. The management meant well, the workers responded, but "instead of free trinkets or dictates about where we have to work, we want respect and a fair contract, without delay."
"The company's 'expected return' is not based on any bargained agreement with us or @NYTGuildTech," another tweet said. "Any RTO policy, as a matter of workplace health and safety, should be a part of our negotiated contracts, alongside provisions for fair wages, equitable treatment for members & more."
One worker, who signed her reply tweet "Andrea is ready for a fair contract for all," added: "It is often portrayed that 'The Guild' is in conflict with 'the company.' But the Guild is made of NYT employees who love this place and love our jobs and want to make it one of the best places to work, for everyone."
The September return to work order wasn't the first time Times bosses tried to force their workers back into the paper's midtown Manhattan offices. They tried in June, but had to drop the effort when a spike in city coronavirus cases forced its government to reimpose some restrictions on crowds and public gatherings.