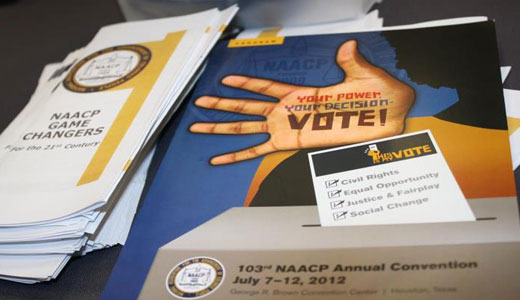 HOUSTON – With a rousing call to action, NAACP Chairman Roslyn M. Brock opened the 103rd NAACP Annual Convention here last week. She was addressing national delegates and observers from all over the country. The increased militancy of the nation's largest civil rights organization has resulted in increased membership during the last three years, and the number of online activists has swelled from 175,000 to more than 600,000. The donor base has also increased from 12,000 per year to more than 120,000 in response to the increased attacks on civil rights from the ultra-right.
As the theme for this year's convention, "NAACP: Your Power, Your Decision – VOTE," indicated, the attack on voting rights has become a critical issue.
"Our right to vote is under attack more than at any time since we passed the Voting Rights Act of 1965. We overcame then and we shall overcome now – but only if we are willing to dedicate ourselves to fighting a battle that many of us thought we had won," Brock said.
There have been more attacks on voting rights in the last two years than in the last 45 years.
A case in point is the recent voter identification law passed in Texas in 2011. Similar to the poll tax and other Jim Crow laws passed in the South, it is part of a concerted effort to disfranchise the poor and minorities. This attack on the Voting Rights Act of 1965 is part of the most recent effort by ALEC (American Legislative Exchange Council), an ultra-right organization. Its membership includes ExxonMobil, Wal-Mart, AT&T, Koch, Johnson and Johnson, Pfizer, Bayer and many other multinational corporations. This law is now under review by the U.S. District Court for the District of Columbia and on a probable path to the U.S. Supreme Court. This is yet another example of how capitalism can continue to challenge and sometimes reverse prior major democratic reforms.
"This year's convention will allow us to prepare for what we feel will be an all-out assault against the Black and Latino voting bloc in November," said NAACP Texas State Conference President Gary Bledsoe.
Brock outlined the most pressing problems facing the civil rights movement:
"Millions of Americans exercised their power, made a decision and voted for change. Election night 2008 was the end of the process for many in our community when it should have been just the beginning. Instead of exerting our power again in the 2010 mid-term elections, many of us stayed at home and across this land, people who do not share our values or vision for America won majorities in the Congress and state legislatures. They immediately passed laws to remove safety net provisions for the poor and vulnerable, scaled back the rights of workers to organize, restricted women's rights, attacked the dignity of new immigrants, and – in what proved to be our wake-up call – erected systematic barriers to our right to vote."
In the face of an onslaught of state restrictions on voting, the NAACP has set a goal to register 1 million new voters by the November elections.
Voting rights is not the only challenge facing the country.
Chairman Brock eloquently emphasized, "Today, the enemies of justice are not lynching African Americans and practicing Jim Crow laws of segregation. They are more sophisticated. But they are equally sinister. They are erecting barriers to economic viability, educational quality, health care accessibility, judicial equity, and political opportunity. The opponents of justice are more refined, but they are equally threatening."
The effects of the economic crisis of 2008 have hit hardest on people of color. While there have been expressions of concern over the more than 8 percent general unemployment, there are few references in the commercial media to the 14 percent unemployment among African Americans and 11 percent among Latinos.
"To avoid another economic calamity that will fall hardest on people of color, we must demand from our elected leadership the end of casino capitalism," Brock said. "We need the banking and finance industries to be regulated in ways that prevent them from playing with money and playing with people's lives in ways that jeopardize our families and our futures."
The NAACP has also made a call for comprehensive immigration reform and has repudiated the most recent attacks on new immigrants.
Recent victories were cited as examples of what can be achieved when civil rights organizations, labor and other people's organizations stand together:
* Hard work and determination were required to overcome the malicious attacks from the ultra-right in Wake County, North Carolina. The school board was taken by conservatives promoting racial segregation. Local NAACP President and board member Rev. William Barber was arrested while protesting the destructive plan. He became the face of hope for the residents of Wake County who got organized and took back the school board from the Tea Party
*In April of this year, the NAACP, provided some of the key leadership in convincing the Connecticut state legislature and its governor to repeal the death penalty – a penalty that falls disproportionately on people of color and the poor.
* In New York City, the number of routine "stops and frisks" by police officers reached almost 700,000 a year. The majority of those being stopped and frisked were African American and Latino young men. They were being stopped as "suspects" solely because of their race. An intergenerational march of more than 70,000 people walked in silence for 32 blocks to protest this policy. Mayor Michael Bloomberg and Police Commissioner Raymond Kelly quickly changed their media statements and admitted that their procedures needed to be changed.
The NAACP National Convention continued through the week of July 8. National presidential candidates were invited to speak. Vice President Joe Biden, representing President Obama, and Republican contender Mitt Romney both spoke, with widely varying messages and audience responses.
Photo: NAACP Facebook