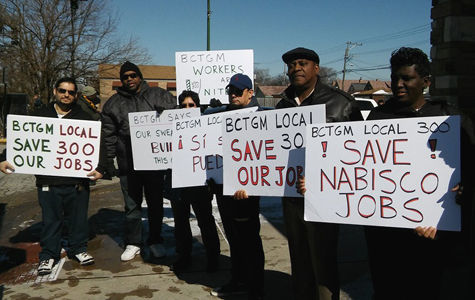 ILCA, Honorable Mention, Best Profile
CHICAGO – Barb Cimbalista has been working at the Nabisco plant at 73rd and Kedzie for 32 years. Since Nabisco's parent company Mondelēz announced plans to lay off half of their workers last summer, her middle-class life is no longer a sure thing.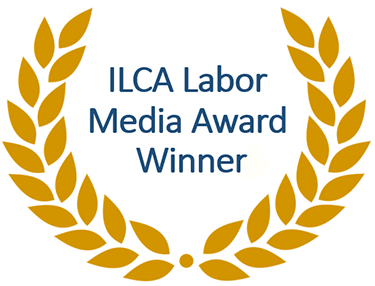 "I'm too young to retire, I can't get Medicare, I can't get Social Security. Nabisco is claiming that they're not going to close up all the way," she told the People's World last week. She is hopeful that, unlike many of her coworkers, her seniority will allow her to hold onto her job. Given her experience with Mondelēz, however, she has reason to be skeptical.
In 32 years Cimbalista has seen the Nabisco Company change hands several times, but when Kraft's snacks division changed its name to Mondelēz in 2012 and spun off from Kraft's grocery division, things changed for her and her co-workers. Cimbalista characterized her working life at the plant as having turned into a dictatorship. Write-ups and firings increased.
"This company has been very unstable," she explained. "From KKR to RJ Reynolds to Kraft. Mondelēz spun off from Kraft. After that if anything went wrong it was all your fault. Nothing was their responsibility."
Nothing, it seems, included the preservation of good middle-class jobs.
"Our core lines consist of Oreos and Honey Grahams, and they're taking those to Mexico," Cimbalista said. "So next Wednesday is the last day for 277 workers." The next round of layoffs is expected this summer. Workers with eight years or fewer seniority will see their livelihoods upended.
"They kept telling us, 'We'll give you state of the art lines if you give us $46 million in concessions' from our wages and benefits. We said 'Hell no.' That would have put us at about $10 an hour and I'm sure they wanted the insurance and the pensions too."
Cimbalista lamented: "We made money for this company and this is the thanks we get."
The Bakery, Confectionery, Tobacco Workers and Grain Millers International Union (BCTGM), Local 300, represents workers at Nabisco plants across the country. They have begun a campaign to stop Nabisco from shipping the production of Oreos and other beloved snack foods to Mexico.
The petition on the union website (www.fightforamericanjobs.org) reads, "As people of faith, conscience and social unity we call upon Mondelēz/Nabisco to reverse its decision to send production to Mexico and keep these middle class jobs in Chicago."
The petitioners pledge to take steps to "educate American consumers, engage in a national dialogue, and resist Mondelēz/Nabisco's future attempts… to destroy middle class jobs."
As we've seen this election season, they've already begun the national dialogue.
Republican candidate for president Donald Trump has frequently pointed to Nabisco as the beneficiary of "stupid" trade policies that only he knows how to fix. He fails to mention that he himself has taken advantage of those policies in numerous shady business dealings of his own.
Indeed, many point to Nabisco's flight to Mexico as more fallout from free trade deals like NAFTA that have cost millions of American jobs.
Democratic presidential candidate Hillary Clinton stopped off at the Nabisco plant on a last minute campaign tour of Illinois. She met with a small contingent of workers. Cimbalista was not one of them, but she told the People's World that Clinton's message was that "it's not right, but there's no laws to stop them."
Clinton has changed her position on free trade by renouncing her support of the Trans-Pacific Partnership and calling for steep exit taxes for corporations who want to move their production to countries with lower labor costs.
"We're surprised she came to our tiny office. There's nothing that [Clinton] can get done in the short term, but we've been pushing at the local and state levels," Cimbalista said.
Last Wednesday, Cook County passed a resolution proposed by former mayoral candidate Jesus "Chuy" Garcia calling on Nabisco and its parent company Mondelēz International to "continue its relationship with the south side of Chicago." The resolution cited the $29 million in tax savings the state of Illinois has granted Nabisco in the past.
Next week, the city of Chicago will take up a similar resolution.
Cimbalista and her co-workers are determined. "We're not going away quietly. We're going to fight for every job we can."
Photo: BCTGM Local 300, Facebook.