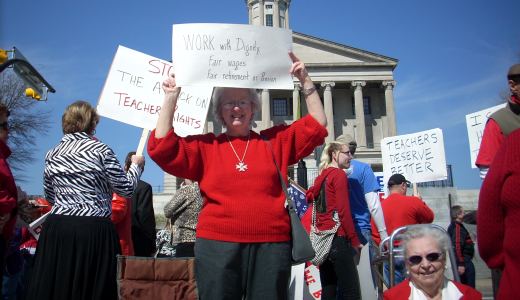 NASHVILLE, Tenn. – On Saturday, Feb. 26, over 400 union members and supporters gathered at the State Capitol here to show solidarity with workers in Wisconsin.
A sea of red and white filled the area around the Capitol as labor leaders, retired teachers and community activists joined in speeches, songs and a strong show of support for workers occupying the Wisconsin Capitol building in Madison.
"I've been a Tennessee teacher for over 50 years", said Roberta Hicks, 76, of Springfield, Tenn. "When one teacher is treated wrong, they've done us all wrong".
People carried signs and banners encouraging support for teachers and all workers, many bearing the logos and names of union locals and labor temples.
The rally showed signs of a heightened and deepening sense of the capitalist roots of the current attacks on labor and all workers.
"This is not just about unions; this is about the redistribution of wealth," one local labor leader said. "A fundamental change is what we are demanding."
Additional rallies are planned in Nashville for solidarity with workers across the country and to address the current proposed attacks on Tennessee labor by newly elected Republican Governor Bill Haslam. Recent "budget hearings," convened by Haslam days after taking office, show signs of attacks on labor rights, education and public services.
Rallies are scheduled for March 5 at noon and March 15 at noon, both at the Capitol building.
Image: Jack Stafford/PW