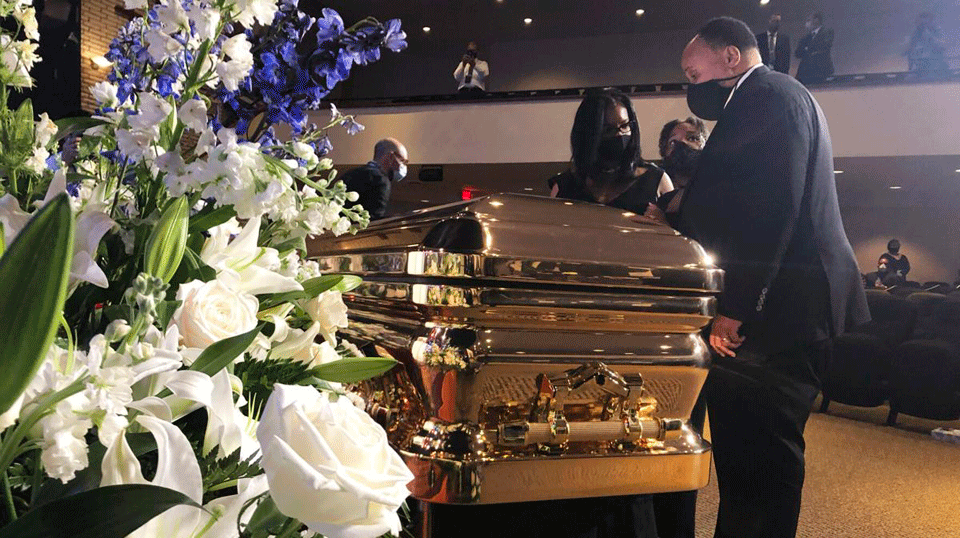 Beneath the backdrop of unrelenting coast-to-coast multi-racial protests, six days of mourning began for George Floyd with a memorial service at North Central University in Minneapolis. Mr. Floyd was murdered May 25 in a public extrajudicial racist police execution.
Others joined in prayer, left flowers, cards, played music, and sang at a memorial created at the site where Mr. Floyd was killed.
Mr. Floyd's murder ignited the most significant wave of mass protests in 50 years and reminds many of the gruesome racist murder of Emmett Till in 1955. Till's death, and his family's decision for an open casket funeral, stirred a national outcry, setting the stage for the Civil Rights uprising that followed.
Meanwhile, momentum is building among activists, the city of Minneapolis, Gov. Tim Walz, and the state legislature for new approaches to public safety. The new approaches include "sweeping structural change" to dismantle systemic racism, white supremacy, and brutality within the Minneapolis Police Department against African-American, Native American, and other communities of color.
Minnesota Attorney General Keith Ellison, leading the investigation and prosecution of Mr. Floyd's killers, elevated charges against Officer Derek Chauvin to 2nd-degree murder. Ellison also charged three other officers involved in Mr. Floyd's death with aiding and abetting.
The MPD is increasingly isolated after Minneapolis School District and Parks and Recreation Department, University of Minnesota, and Walker Museum canceled cooperation agreements. Youth activists have been pressing the Board of Education to break ties with the MPD for years.
The Minnesota Human Rights Commission announced it will charge the MPD with civil rights violations in the death of Mr. Floyd and begin an investigation into the department, including racist practices and police crimes stretching back at least ten years. Commissioner Rebecca Lucero said the goal is systemic reform of the department.
"This is not a report. This is something that will result in court action, and require change," she said.
City and state authorities don't expect assistance from Trump's Department of Justice. Trump ended policing reforms adopted by President Obama's 21st Century Policing Taskforce, instead calling for more violent police tactics advocated by right-wing led police unions, like those that ultimately took Mr. Floyd's life.
In 2017, then-Attorney General Jeff Sessions, ended the DOJ practice of consent decrees with local police departments to institute reforms and lifted restrictions to transfer military equipment. Trump has further inflamed the atmosphere by stoking hate and openly embracing white supremacists and fascists, who have infiltrated police departments nationwide.
A protection racket beyond reform
The Minneapolis police force and head of the Police Officers Federation (POF), Bob Kroll, are under intense pressure to stop blocking MPD reform efforts that date back years. The POF collective bargaining agreement with Minneapolis, as in so many other places, shields officers from misconduct. Councilman Steve Fletcher called the MPD "irredeemably beyond reform" and a "protection racket" that he, and many of his colleagues, think may need to be disbanded.
The MPD's reactionary history dates to their role in breaking the infamous 1934 Minneapolis general strike. The POF, vested with enormous power since the 1970s when one of its members was elected mayor, reflects the deeply entrenched white supremacist, fascist, and violent culture among Minneapolis cops.
Kroll, president of the POF since 2015 and an outspoken supporter of Trump, belongs to a white supremacist motorcycle gang of cops called City Heat. The gang, repeatedly referenced in the civil complaint filed by black police officers against the department in 2007, has another chapter among white officers in the Chicago Police Department.
Kroll is leading an open revolt against the African-American Police Superintendent Medaria Arradondo, who fired all four officers involved in Floyd's killing within 24 hours, and Mayor Jacob Frey.
Kroll once referred to then-Congressman Keith Ellison, a Muslim, and Black Lives Matters protesters, as "terrorists." Arredondo and a group of African-American officers filed a suit in 2007 against the MPD, and Kroll specifically, charging systematic racism, harassment, including death threats, of black cops in the department.
Both the Minnesota AFL-CIO and National AFL-CIO issued strongly worded statements calling on Kroll to resign. The POF is not an affiliate to either body.
"Today, Americans have witnessed the disastrous outcomes of unchecked power, authoritarianism, and white supremacy in our highest levels of leadership. We have seen Bob Kroll proudly stand behind this type of leadership. Kroll is no friend to working Minnesotans and should be the last person entrusted to enforce the law or protect our residents," said the Minnesota AFL-CIO, who reiterated their solidarity with the protests.
Arredondo was appointed police superintendent in 2017 by Frey's predecessor and another reformer, Betsy Hodges. Hodges had previously selected as superintendent Janeé Harteau, a Native American and first out LGBTQ police superintendent in the nation, who later resigned in the wake of the police murder of Jamar Clark.
Kroll and the POF's resistance also hindered Harteau. On June 1, she tweeted, "A disgrace to the badge! This is the battle that myself and others have been fighting against. Bob Kroll, turn in your badge!"
Frey had banned "warrior-style" training, and its "killology" methods promoting greater police force. Kroll ignored the order and offered free training to officers through the union.
"Politicians who cross the MPD find slowdowns in their wards. After the first time I cut money from the proposed police budget, I had an uptick in calls taking forever to get a response, and MPD officers telling business owners to call their councilman about why it took so long," tweeted Fletcher.
"Several of us on the council are working on finding out what it would take to disband the Minneapolis Police Department and start fresh with a community-oriented, nonviolent public safety and outreach capacity," he wrote.
Reimagining public safety
Nationwide, activists are reimagining public safety outside the traditional paradigm of policing rooted in slave patrols, and the repressive apparatus of the slavocracy. This history gives the U.S. policing its particular racist and brutal features. Activists say a new community-led paradigm focused on community investment is needed.
"We save us and will continue to save us," said Brittany Packnett Cunningham, an activist, educator, author, and leader of the Ferguson uprising, to the June 3 Obama Town Hall. "We can imagine strategies that go beyond our traditional system and figure out how we protect one another and build strong communities from the ground up."
Activists are calling for the abolition of prisons and defunding and democratic community control of the police. Chicago, which spends 40% of its budget on policing that crowds out other services, is typical of most cities. The National Alliance Against Racist and Political Repression is calling for the establishment of elected Civilian Police Accountability Councils (CPAC) with authority to hire police superintendents, charge, and fire cops for criminal conduct.
Minneapolis is one of the nation's most progressive cities but also holds the distinction as having the widest racial disparity in quality of life between black and white residents. "Over policing, criminalization, and mass incarceration have not kept our communities safer," Minneapolis Councilperson Phillipe Cunningham told the Town Hall. "What we're seeing is folks on the ground saying enough is enough. It's time for a new system of public safety."
During the mass protests, residents on the North Side, Minneapolis's historic African-American community, have been self-organizing mutual aid and defending the community against white supremacist terrorists trying to burn down black-owned businesses, said Cunningham, whose 4th ward covers the neighborhood.
Cunningham is one of two African-American transgender councilmembers and a leader in the movement to reinvent public safety. He and others are calling for a community-led public health approach to public safety that decreases investment in traditional policing and increases investment in "public systems rooted in justice and our community." Responses to 911 calls for mental health crises would be answered by mental health experts, opioid abuse by addiction experts, domestic violence by appropriate experts, instead of police.
"Ultimately, we need money. Every budget is a moral document. The police budget is $200 million, of a total of $1.6 billion. It takes up a big chunk," Councilperson Cunningham said.
The Minneapolis City Council is collaborating with Cities United and John Jay College of Criminal Justice in New York City to develop new approaches.
The Town Hall also featured President Obama, who urged the nation's mayors to adopt policies from his 21st Century Policing Taskforce, former attorney general Eric Holder, and Rashad Robinson, leader of Color of Change.
Ms. Packnett Cunningham called for instituting "8 policies that can't wait," which would immediately decrease police violence by 72%. They include the elimination of chokeholds and strangleholds, like the one that killed Mr. Floyd but banned by only 28% of police departments.
The death of Mr. Floyd may well turn out to be a turning point moment in American history, one that saw a historic shift in anti-racist consciousness, and new momentum for a future without inequality, policing, and mass incarceration.
Like free stuff? So do we. Here at People's World, we believe strongly in the mission of keeping the labor and democratic movements informed so they are prepared for the struggle. But we need your help. While our content is free for readers (something we are proud of) it takes money — a lot of it — to produce and cover the stories you see in our pages. Only you, our readers and supporters, can keep us going. Only you can make sure we keep the news that matters free of paywalls and advertisements. If you enjoy reading People's World and the stories we bring you, support our work by becoming a $5 monthly sustainer today.