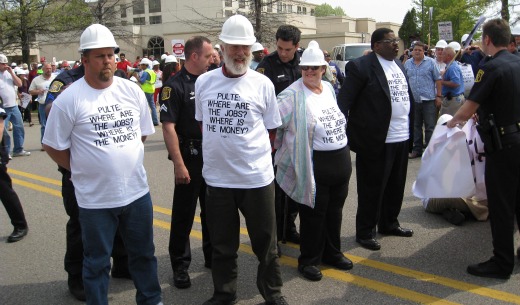 ROMULUS, Mich – A large amount of money is missing, 900 million to be exact, and people want answers. If the culprit in question were you or I, we would find ourselves in a lot of hot water, having to answer some pretty tough questions.
Unfortunately, when the thief is a CEO, a different set of rules often applies.
The person who should be on the "hot seat" is Richard Dugas, Chairman and President of Michigan-based PulteGroup Inc., the nation's largest homebuilder.
In 2010 Pulte Group received $900 million from the Worker Home Ownership and Business Assistance Act of 2009. Pulte had lobbied for the bill's passage. The act was intended by Congress and President Obama to be a job-creation measure. One year later, workers are still waiting for those jobs.
While Dugas remains free to enjoy the life a salary and compensation of $6.6 million (his total for 2010) can bring, a coalition of labor, faith and social justice advocates are increasingly putting Pulte in the spotlight. And, their anger is growing.
On May 11, at Pulte's annual shareholders meeting in a Detroit airport hotel, seven people peacefully staged a non-violent civil disobedience by sitting in the roadway and blocking a bus bringing Pulte's executives to the meeting.
At a rally preceding the civil disobedience, Saundra Williams, President of the Metropolitan Detroit AFL-CIO, said until Pulte tell us where the $900 million went, "where ever they are, we are."
"Where is the money, where are the jobs," the large crowd broke out chanting.
James White, director of organizing for the Sheet Metal Workers Union said that money was given by the President to create jobs, not a CEO bonus. "It's time somebody is held accountable and it's time somebody went to jail," he declared.
Not only has PulteGroup not hired additional workers it has laid off 350 at their Tolleson, Arizona plant and paid $10 million dollars in employee severance and related costs.
Williams and White are calling for a congressional hearing to look into the missing money.
Pulte's list of wrongs is deep. A fact-finding delegation from Interfaith Workers for Justice has previously reported that Pulte employees work in unsafe conditions, are not paid for overtime, work 60 to 70 hours a week to make ends meet and lack health care and other benefits.
Demonstrators also want them held accountable for pushing adjustable rate mortgages that contributed to the economic and foreclosure crisis.
As Williams said, labor has vowed to be everywhere Dugas appears. In December he was to be the keynote speaker at the Detroit Economic Club's luncheon. However when word got out that labor and community folks were going to be there to greet him, he "ran" and the whole luncheon was cancelled.
At the recent rally it was clear to everyone there that the wrong people were being arrested. However for Pulte, it is also becoming clear that sooner or later they will have to account for the $900 million.
Photo: Police handcuff activists after they staged a non-violent civil disobedience action against PulteGroup in Romulus, Mich. John Rummel/PW.