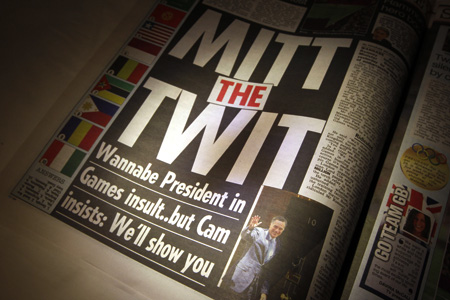 Mitt Romney, the presumptive Republican presidential nominee, has been out of the country in a multi-country tour. This was likely an effort to shore up his light foreign policy experience. That experience to date has been limited to a Swiss bank account, untold millions of dollars in the Cayman Islands, and creating thousands of jobs in low-paying countries. Unfortunately for Mitt Romney, this tour has turned out to be from one gaffe to another.
The first leg of his trip brought him to the United Kingdom, and succeeded in creating an unflattering image of Romney in the country he once referred to as "a second tier nation" and "just a small island." In fact, his trip already has a Twitter hash-tag: #Romneyshambles.
Romney first got himself in hot water by publicly stating that he was not sure if London could handle the Olympics, calling the situation "disconcerting." Not surprisingly, this offended British politicians and officials, including Prime Minister David Cameron who responded by suggesting that holding the Olympics in downtown London is a bit more tricky than in Salt Lake City, or as Cameron called it, "the middle of nowhere." Romney then told NBC that we would have to wait to see if Britons would "unite" for the Olympics, again offending Cameron and many other Brits. London's eccentric Conservative Mayor Boris Johnson publicly mocked Romney to a crowd of 60,000 Londoners. In light of all this, maybe it is easier to understand why members of the UK's Conservative Party expressed that their "heart" is with Obama.
Romney continued upon this collision course with the UK by publicly acknowledging that he met with the United Kingdom's highly secret intelligence service, MI6 – an acknowledgment that is considered a major gaffe in Britain. Then, he made the British press wonder if he even bothered to learn Labour leader Ed Miliband's name after he referred to Miliband as "Mister Leader." Romney's foreign policy advisors outraged many on both sides of the Atlantic when they told the British newspaper The Telegraph that Romney would be better for Britain because of a shared "Anglo–Saxon heritage" that Obama did not share.
The British press had a field day with Romney, who evidently united the UK's political spectrum against him. The Telegraph, a center-right newspaper, called Romney "utterly devoid of charm and mildly offensive." The UK's Channel Four News awarded Romney "the Golden Gaffe" award. The Daily Mail called his trip "humiliating." The Guardian stated that he was "worse than Palin" and The Sun referred to him as "Mitt the Twit."
Thankfully however, Romney managed to squeeze in some fundraising while in the UK, including about $1 million from executives at Barclay's bank. Barclay's has recently been in the news for its role as a key player in the scandalous LIBOR–rigging controversy* which is easily one of the largest contemporary examples of corruption within the financial industry- not an easy feat given recent history.
Moving on to Israel, Romney made news when he discussed health care costs. He praised the Israeli system for its efficiency in keeping costs low while maintaining high patient outcomes. He suggested that it was a model that the United States should follow. Israel maintains what Romney and his GOP allies vigorously oppose: an individual mandate to buy health insurance. Furthermore, as the Jewish Daily Forward notes, in Israel the government is both the key funder and regulator in health care. For a final touch of irony, Israeli health care is run by nonprofit organizations set up by labor unions.
Romney also broke with decades of American and international policy when he declared that Jerusalem is "the capital of Israel." While this is the position of the Israeli right-wing government, it is generally rejected by the international community as well as the Palestinians who claim the eastern half of the city. It goes against the policy of U.S. presidents as far back as Republican hero Ronald Reagan.
Perhaps the defining moment of his Israel trip came at a fundraiser for Jewish donors in Jerusalem, with billionaire casino magnate and GOP funder Sheldon Adelson at his side, when Romney told these donors that their culture and cultural superiority, in part, was the reason for their economic success compared to the Palestinians. He failed to mention that the Palestinian Authority only has limited self-rule and that the Israeli occupation of the West Bank stifles economic growth and limits the ability of Palestinian businesses to move or sell products – a view shared by both the World Bank and International Monetary Fund. Needless to say this remark angered Palestinians, but also some Israelis who viewed it as just another stereotypical association between Jews and money.
Romney's visit to Poland was another disaster. Although he was not invited by the Polish trade union movement, he tried to give the impression that he was by meeting with Lech Walesa, one time leader of Solidarnosc, a Polish trade union. Walesa is no longer connected to the union however, and Polish unions have expressed unanimous opposition to Romney's anti- union positions. Also, as Romney left the Polish Tomb of the Unknown Soldier, reporters tried to ask him questions, which prompted a Romney spokesman to tell them, "Kiss my a**!"
However, one cannot blame the reporters for trying, especially given Romney's dearth of contact with the press during his trip. While a press corps is traveling with Romney, he only answered three of their questions while in London and has since ignored them. This led Fox News's Greta Van Susteren to call the tour press corps "a modified petting zoo."
While Romney's camp calls his trip "a great success," it appears to have been anything but successful. In a trip that should have been a breeze, he has succeeded in angering our closest ally, as well as liberals and conservatives alike.
Libor — the "London Interbank Offered Rate" — is an important benchmark interest rate used in financial markets.
Photo: London newspaper The Sun headlines "Mitt the Twit" over comments regarding the London Olympics made by Republican presidential candidate Mitt Romney, July 27. Charles Dharapak/AP)