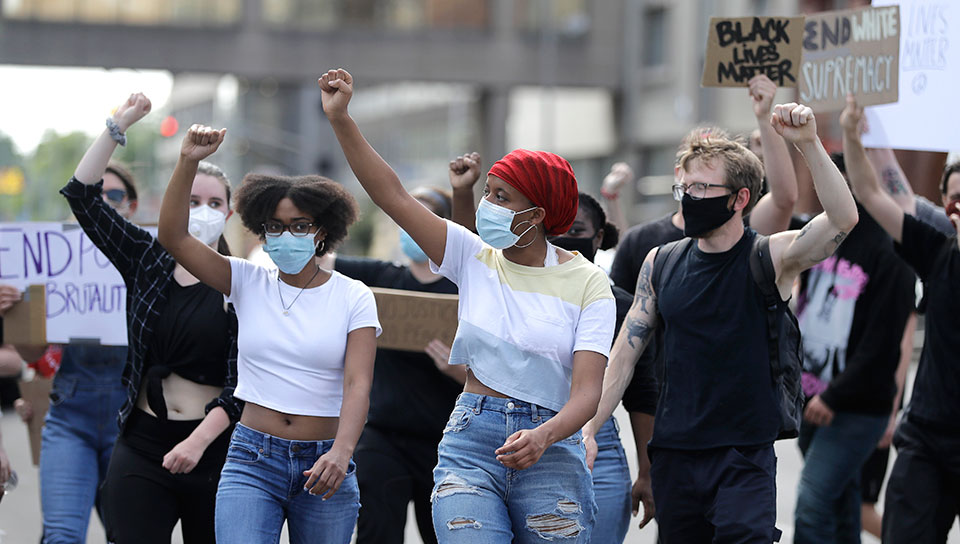 During this national uprising against racist police violence, People's World is being inundated with correspondence from local reporters and activists around the country—more than we can possibly print. Presented here are just a few recent selections submitted from towns and cities across the United States.
FREDERICK, MARYLAND
Carl Gentile
 In an unprecedented show of solidarity, a multi-racial demonstration of five thousand marched against the murder of George Floyd by the Minneapolis Police Department. Twenty-five years ago, Frederick was a sleepy agricultural town focused on dairy farming; today it is a vibrant city nestled in the Allegheny Mountains of western Maryland. Frederick is just 40 miles north of Washington, D.C.
Pouring rain did not deter the protesters. The demonstration began at Baker Park Lake with a rally and speeches by Back Lives Matter, which organized the demonstration. Frederick City Alderman Roger Wilson, an African-American, spoke at the event. Alderman Wilson was elected in 2017 on a progressive program of youth economic sustainability, affordable housing, and the revamping of the city's roads. He is one of two African Americans out of the six Alderman. He serves on Frederick's Fair Housing Commission.
After the rally, the march proceeded down Main Street in the heart of downtown. Demonstrators carried signs that read "Moratorium on Rents Now," "An Injury to one, is an Injury to all," "Free College Tuition for All,", "Stop Funding the Police,", "Free Health Care for all," and "Jobs Not Jails." Pedestrians and shoppers on the sidewalks cheered on the demonstration.
The organizers vowed to continue their actions until all of the police involved in the execution of George Floyd are charged with first degree murder. They also called for a nationwide ban on police violence.
_____
WASHINGTON, D.C.
T. Long
I had the honor of joining in the D.C., Maryland, and Virginia (DMV) Black Lives Matter-endorsed protest events this past Saturday evening in Washington, D.C., at both Freedom Plaza (a location of one of the Occupy D.C. encampments back in Fall 2011) and the newly-named Black Lives Matter Plaza. From what I've seen, heard, and read, these recent BLM protests are distinct from the past in that an unprecedented number of white people are joining in solidarity with the protests across the country.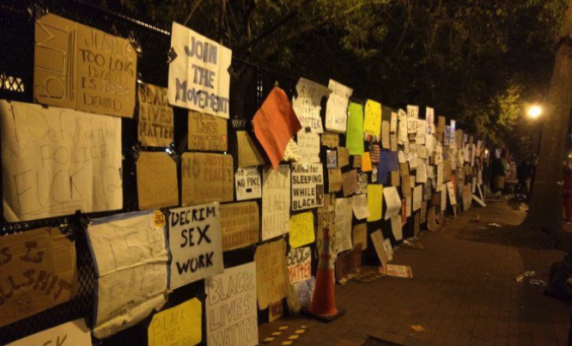 The events were Black-led and Black-voiced, and people were happy to make space in conversation for each other. There was an outpouring of mutual aid from different organizations, with distribution of hand sanitizer, masks, water, snacks, meals, and street medic services.
As the evening continued and the event became a street party in celebration of the plaza re-naming, street artists with Black Youth Project 100 took direct action to the plaza mural, painting over the stars on the DC logo and adding "DEFUND THE POLICE," making the whole plaza read "BLACK LIVES MATTER = DEFUND THE POLICE." This is directly in front of St. John's Church where Donald Trump held his Bible photo-op earlier in the week. The paint proved resistant to the street sweepers that came by after midnight.
Over the night, protest chants and songs were directed not only against the police, but also against Donald Trump. Some speeches also criticized D.C. Mayor Muriel Bowser for not doing enough to ensure racial justice from the Metropolitan Police Department, which she controls. In conversation, protesters spoke of the failure of police reform and suggested various kinds of police abolition. Some even spoke of drastic reduction in military spending to support improved social conditions at home.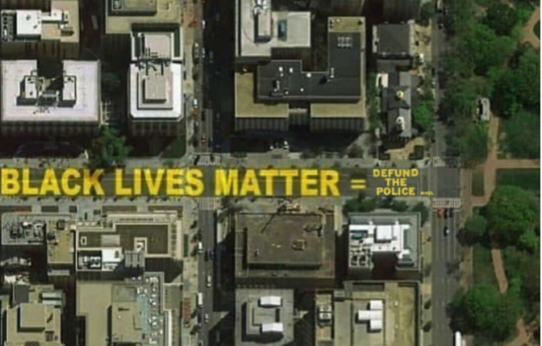 There was also concern about corporate dominance of traditional and social media shaping public view against the protests. Saturday's D.C. protests were entirely peaceful, despite me seeing an unmarked police sedan weave in-between protesters in the plaza at nearly 20 miles-per-hour. No one was reported injured, and protesters didn't rise to the obvious bait.
There was also attempted police intimidation with the stationing of rooftop snipers from an unidentified agency atop the Ronald Reagan Presidential Foundation and Institute building. Some protesters shone spotlights at them when they noticed the rooftop snipers weren't holding rifles.
_____
LOUISVILLE, KENTUCKY
Chris Scheidler
Friday, June 5th, would have been Breonna Taylor's 27th birthday, and protests here continued into their second week against the brutality of the Louisville Metro Police Department and the lack of political courage of Mayor Greg Fischer, who refuses to initiate action against the officers who killed Breonna Taylor on March 13 while she was asleep in her bed.
Although the officers in Minneapolis, the city that has garnered the most attention for its part in the national protests, have been fired, arrested, and charged in the killing of George Floyd, the officers responsible for the death of Taylor, an emergency medical technician and Black woman shot during a no-knock warrant served on the wrong house, have not faced any meaningful consequences.
Over the past week, the movement has gained steam. Branches of protest have spread out into the West End to pay tribute to David McAtee, a Black community leader and business owner, who was killed by police when they continued aggressive crowd dispersal tactics on a non-protest-related gathering outside of Dino's, a local market, on Saturday, May 30th, the first night of a citywide curfew.
Demonstrations have also been held in the more affluent eastern edge of the city, sometimes as an act of solidarity and sometimes, more notably, as an expression of frustration with ongoing racial and wealth disparities in the city.
However, the central and most attended actions are the downtown protests. During the day, protesters here have tents and tables set up with water, cold and hot foods, masks, and hand sanitizer.
With financial support generated from various online campaigns, activists restock food and water throughout the day that, by nightfall, is handed out to Louisville's unsheltered homeless community.
Since May 30th, the protesters have continued to defy the curfew, marching with allied car caravans flanking them to protect from traffic and carry the necessary food, water, and medical supplies that keep the march going late into the night.
Leading up to the nightly marches, activists give speeches and lead chants before opening the microphone and podium to the community.
During these open mics, unscheduled speakers share their grievances, lead their own chants and prayers, and call for new solutions. An emcee follows each speaker to offer context and reflection that strengthens the collective spirit of the people.
Quintez Brown, 19, a local activist, scholar, and columnist called for renaming the park, the de facto meeting place of downtown protests because of its proximity to prominent political buildings, from Jefferson Square to Breonna Taylor Park.
Rev. Charles Eliot, Jr., 85, a local civil rights icon, drew parallels with the current movement to his experiences marching with Martin Luther King, Jr., during the Civil Rights Movement of the 1950s and '60s. Gesturing toward the diversity, energy, and youth of the crowd, he insisted that, more than ever, this group "looks like winners to me."
The continued support of the people has allowed the movement to solidify their calls to hold the police accountable and has forced Mayor Fischer to rescind his curfew, fire the police chief, and, for now, keep the National Guard and police from instigating violence against protesters—a marked change from last week.
There are no signs of the movement slowing down in Louisville.
_____
STATEN ISLAND, NEW YORK
Thomas Altfather Good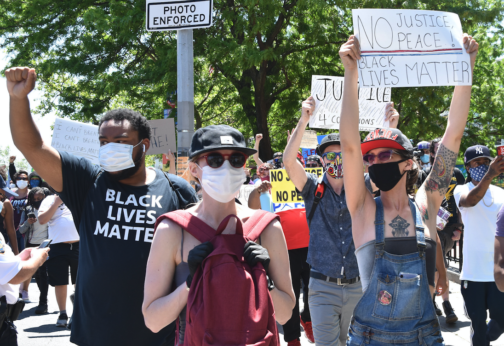 A large and spirited but peaceful protest began in Tompkinsville at the site of Eric Garner's murder and ended at the 120 Precinct in St. George. Significantly, the NYPD reported no arrests were made.
Protesters who took part in the action, organized by Al Sharpton's National Action Network (NAN), demanded justice for George Floyd. Floyd was killed in Minneapolis on May 25 by Derek Chauvin, a (former) police officer who is now charged with second-degree murder. Protesters called for the charges against ex-officer Chauvin and the other officers involved in the killing to be upped to first degree murder.
_____
DANVILLE, VIRGINIA
Art Cook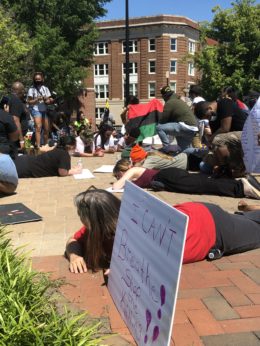 Danville, once the hot bed of Civil Rights demonstrations on the 1960s, is seeing action once more as young people peacefully protest the murder of George Floyd.
About 200 people gathered in downtown and shouted familiar slogans: "Blacks Lives Matter," "I can't breathe," and "Hey, hey. Ho, ho. Racism has got to go."
Motorists honked their horns in support of the protesters. Protesters took their message across the Martin Luther King, Jr. Bridge to fan out their message to more areas of the city. They headed into highways medians, bringing a message of peace and cooperation. They blocked traffic for two minutes.
Protesters then headed back to the city fountain and were urged to sit or lie on the ground for 8 minutes and 46 seconds to symbolize George Floyd's agonizing death.
The young speakers talked about how they want to raise their children in a society where they are not afraid of being killed by police.